Niche Market | Steve's Authentic Key Lime Pies
New York is a city of specialists from foodies to academics, laborers to shopkeepers. Every Wednesday, Niche Market will take a peek inside a different specialty store and showcase the city's purists who have made an art out of selling one commodity. Slideshow below.

Steve's Authentic Key Lime Pies
204 Van Dyke Street
Brooklyn, NY 11231
If you have a hankering for a tart key lime pie, Steve's Authentic Key Lime Pies in Red Hook, Brooklyn, is a sure thing. Steve Tarpin, a Florida native, has brought a bit of the Sunshine State to his shop in an old brick warehouse on the pier, an out-of-the-way venue he directs patrons to with signs featuring green limes throughout the neighborhood.
The counter is filled with small palm trees, over-sized sun glasses, mugs with Florida maps scrawled across them, small plastic palm trees stacked on old drift wood, fishing rods and even a fishing wall with photos of Tarpin and his friends catching fish off the pier, right out the back door of the shop. (He keeps a boat there just in case the fishing's good.)
There are limited options: a 10-inch, eight-inch or four-inch key lime pie or a four-inch pie dipped in chocolate called a "swingle."
It's a small operation — the hours are "random at best," Tarpin said — but that gives him time to fish and travel with his family. After moving to New York and working as a carpenter for many years, he made a home in Red Hook. He brought a few of his key lime pie to a barbecue one night and the owner of Frank's steakhouse in Manhattan asked if he'd be willing to make them for his restaurant. Tarpin agreed and started Steve's Authentic with just three pies a week for Frank's.
Now, along with the retail store, he and his small staff deliver pies to about 25 restaurants and shops around the city. The key to a great key lime pie are the limes, he said, and all the juice is squeezed on premise.
The filling is mixed with a hand mixer, the lime juice simmers on a normal house-sized kitchen stove and the oven is small and only fits a couple pie trays at a time. The only thing they actually bake is the crust. Once they pour in the warm filling, it just requires a good hour in the fridge to set.
As you enter the pie shop, a sign warns "no coffee" and "no apple pie," so you know some people find it hard to believe a business can survive on just one simple dessert.  But it does, and has for nearly 20 years.
Why key lime pies?
I guess like with so many things, you go into a restaurant and you order something and you expect a certain taste or a certain flavor. And after enough disappointment because it's not done right, the way you know it should be done, you just say, 'Well you know, let me try it and I'll do it myself.' That's pretty much what happened. There's access to fresh key limes in south Florida; they're all over the place. So I just started making them myself and there was no turning back.
What's the difference between a key lime and a regular lime?
A key lime is the original, the true lime. The large ones you get in the grocery store are the Persian limes. Key lime trees have really tenacious thorns on them, and they're really small so it makes them hard to harvest and you have to harvest much more of them to get the same amount of bulk. So the Persian lime was developed for commercial use and mass marketing. When key limes ripen they turn yellow, and you'll never see a yellow Persian lime because it doesn't matter if they ripen or not, they just pick them to get them off to market. If the key limes are allowed to ripen they have a much more aromatic, a much more intense flavor to them. It could be subtle to some people but we notice a very distinct difference.
What's your recipe, or is it a secret?
Five ingredients. If it was six I probably would have been out of business because I wouldn't have been able to count them on one hand! With the crust we use a graham cracker crumb from a company that only makes crumbs. Thanks to Mayor Bloomberg we are now using a trans-fat free crumb formula, but the only thing we incorporate with the crumbs is butter. The filling is sweetened and condensed milk, egg yolks and fresh squeezed lime juice.
Did you ever try to make something other than key lime pies?
Yeah. Very early on I tried the bourbon-soaked raisin chocolate ganache, which was really good but I would spend most of my business back in the day working out of my studio apartment. I'd do all this work doing the key lime pies, and I had to do such a small amount of the other one, I just finally put it aside. The people that tried it liked it, but it became too much because I know had more ingredients. It was probably more than I can count on both hands!
Do you still make the pies yourself?
They don't let me in the kitchen anymore! The thing is, my daughter was 5-years old at the time I started making the business, and I never really started work until she went to sleep. I used to use a little hand juicer, and she said she can remember going to sleep to the whirring sound of me juicing limes. So I'd start around eight at night and finish maybe one in the morning, so primarily I was concerned about doing it quickly and I wasn't as concerned about how things looked so much. When I started it didn't really seem to matter to the customers. The product tasted good, no matter how pretty it looked. My employees, they take a lot of pride in how well the product looks, so when I go back to the kitchen I just go back to my old ways of doing things. It's like, 'All right I have to make a crust, it doesn't have to be a pretty crust.' If it had to be pretty it would have another name than crust. Yes, I can't make a pretty crust. So, they do a terrific job.
When did you know you could actually make a business out of this?
I think it was when I bought an old panel truck. When I bought that, I was probably like four years into what I was doing. I bought this old truck and people would look at it and they'd call it an old pie truck. And I started driving that thing around in the city and started getting a lot of attention. It's the kind of vehicle that sort of grabs your attention. Things started picking up, and I moved out of my studio apartment and into a small bakery on Columbia Street and it was after about six months being in that commercial space that I realized it was really picking up and I needed people to help me and this could go somewhere. 
Do you eat the pies?
I do eat them, usually when I'm really hungry, and they're really good. My son, on the other hand, will eat one a day, at least one a day. He's one of my biggest fans. I think the reason I still like it is because I don't have one that often, but when I do I fall in love all over again. It's the same thing if not better than I was doing for myself years ago.
Did people eat less key lime pies during the recession?
Not really. I think people still want to treat themselves. It's a small pleasure. You know, we're not selling cars or trucks or anything so that's good. And I think people still want to treat themselves to something nice.
How many of these pies have you made over the years?
I couldn't even tell you how many we made last week! Enough, that's how many!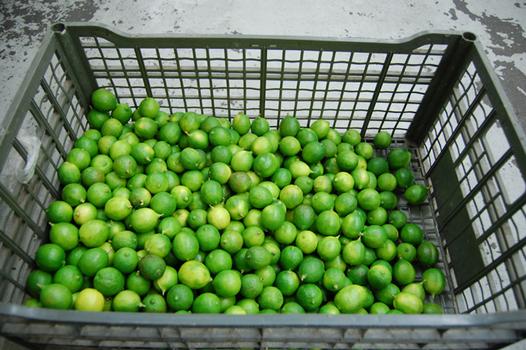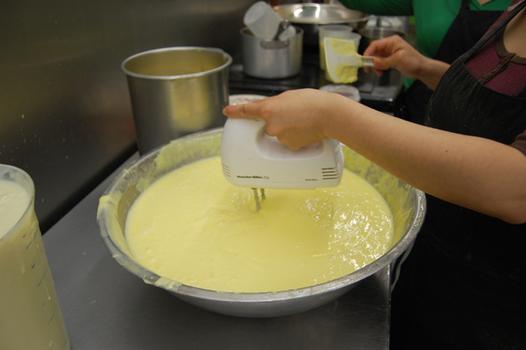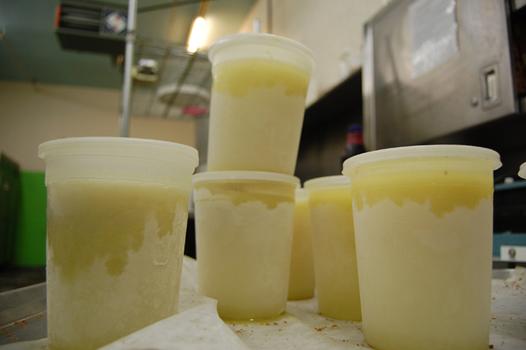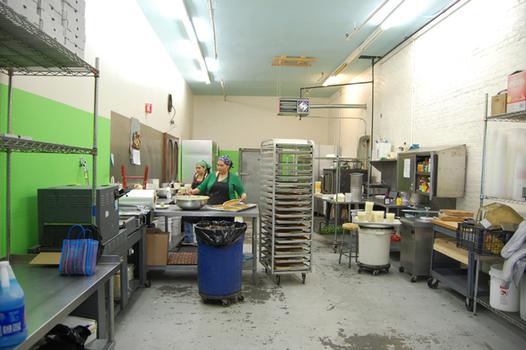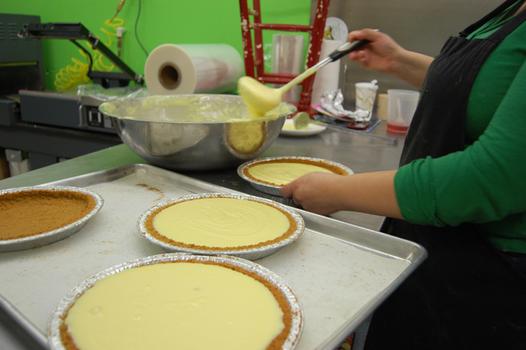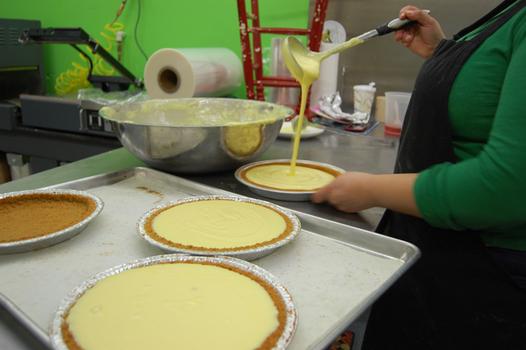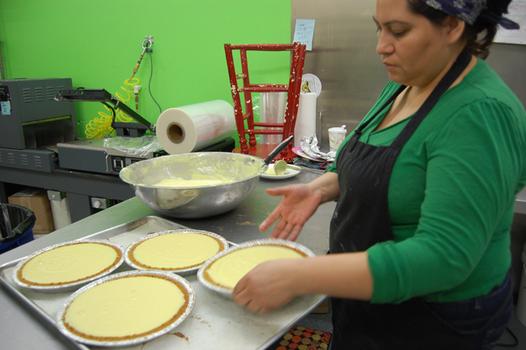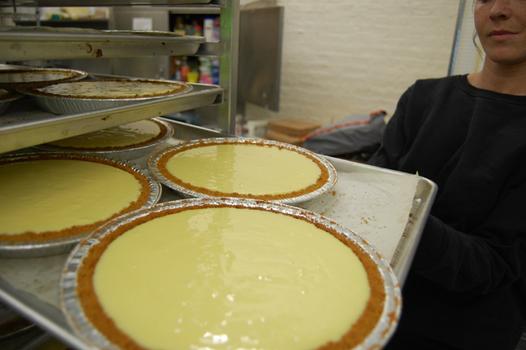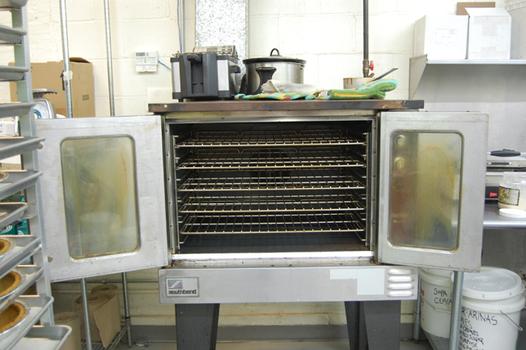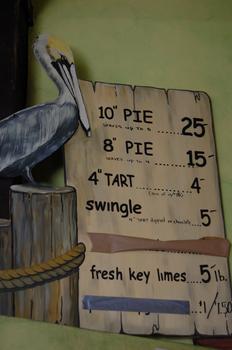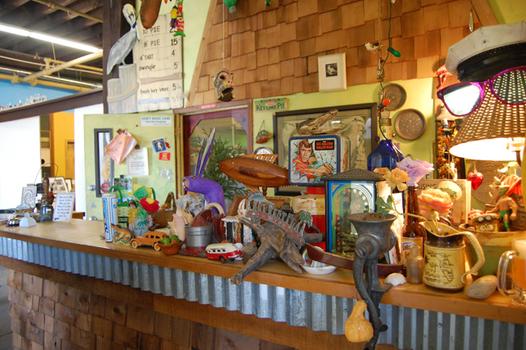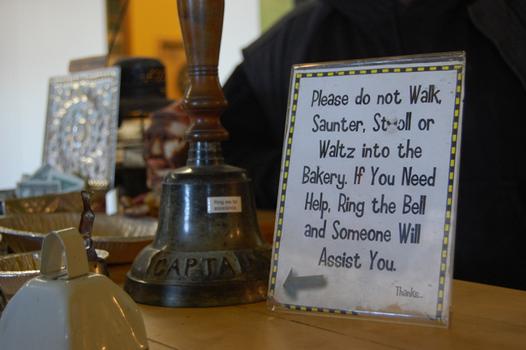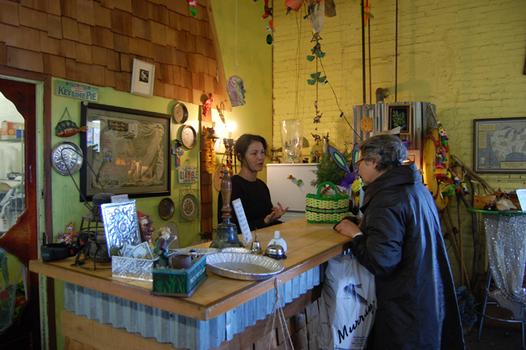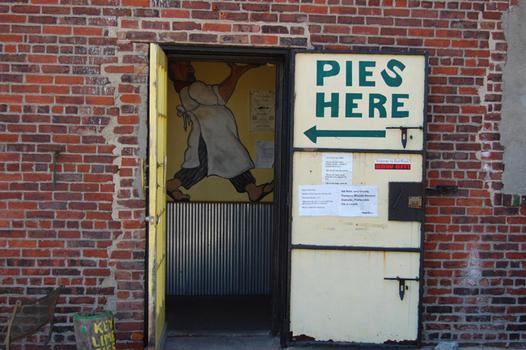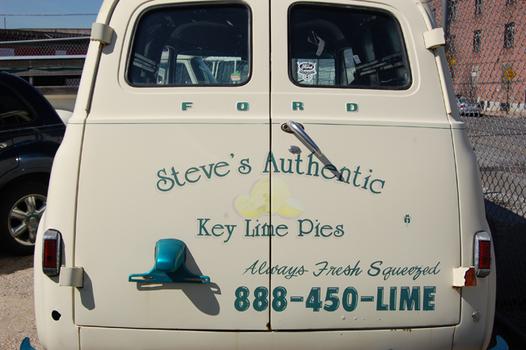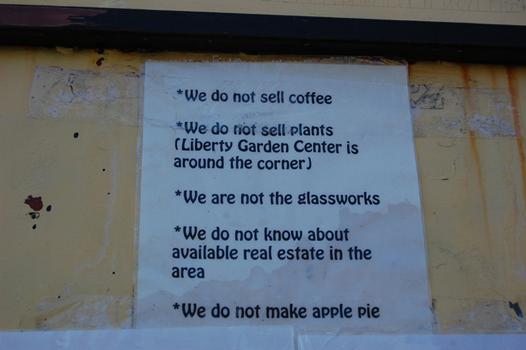 of