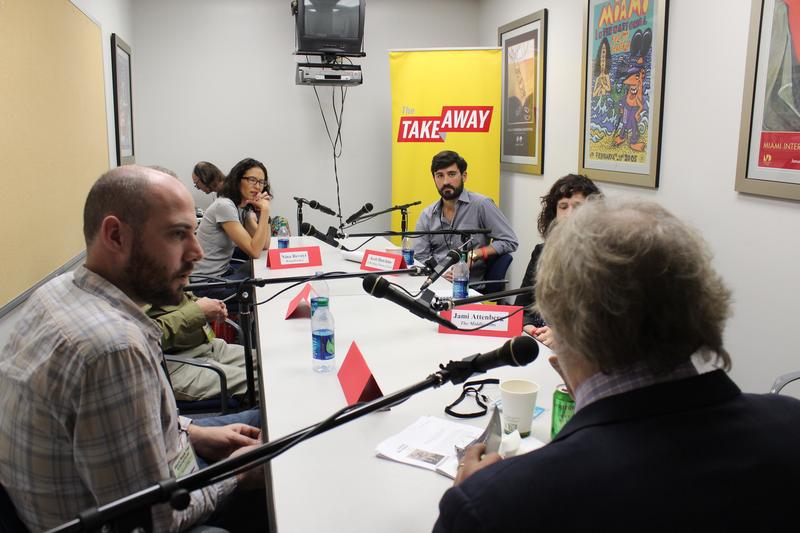 A comedian tells all in a rib-tickling memoir, and a directionless young man fishes for a life, in this edition of SELECTED SHORTS featuring two tales about young men seeking their fortunes. 
First, the comedian Mike Birbiglia returned to an uncertain period in his own life in "The Deal," a story that was featured as part of his critically acclaimed Off-Broadway show "Sleepwalk with Me," now out in book form.  The story recalls his early days in show business, as fledgling comic being sent by his manic agent out to California for a series of bewildering meetings that are meant to culminate in that Holy Grail of the entertainment industry, "a deal."  Now, of course, he has deals a plenty—he's a regular on the public radio show "This American Life," and on television appears frequently on Comedy Central and as a guest on "Conan O'Brien" and "David Letterman." Birbiglia reads his own tale in a sort of incredulous whine.
The second story, Lewis Robinson's "Seeing the World," strikes a more plaintive note, as a young man in Maine (the setting for many of Robinson's stories) follows a dubious acquaintance who boasts endlessly of sexual conquests to the coast of Canada to fish for sea urchins.  But the story is as much about an inner journey as an outer one—who is he when he leaves, and who will be become?  Robinson is the author of  "Water Dogs," and "Officer Friendly and Other Stories." He was born in Massachusetts and is a graduate of Middlebury College and the Iowa Writers' Workshop.
SHORTS literary commentator Hannah Tinti notes that Robinson is "a fellow New Englander, a great guy and a talented writer, and reminds me a lot of Cheever and Alice Munro. Most of his stories are set in Maine, and carry the same starkness and beauty as that lonely Northern state. In this tale, Robinson's narrator is trying to "see the world" by becoming a filmmaker, filtering his experiences and trying to add drama, but by the end of his adventure, he doesn't need a camera anymore. Life has plenty of excitement, all on its own."
"Seeing the World" is performed  by a veteran leading man of the SELECTED SHORTS series, and star of TV's "Criminal Minds," Thomas Gibson.
The musical interlude is from Raymond Scott's "Moment Whimsical."  The SELECTED SHORTS theme is Roger Kellaway's "Come to the Meadow."
For additional works featured on SELECTED SHORTS, please visit http://www.wnyc.org/shows/shorts/
We're interested in your response to these programs.  Please comment on this site or visit www.selectedshorts.org