Taking in the Yankees' Opener With a Pair Hired to Watch an Entire Season
As the Yankees wound up for their Bronx home opener Thursday, fan Michael O'Hara and his wingman watched the game action from the comfort of a so-called fan cave in the East Village — where they will hunker down to watch 2,430 regular season baseball games this season.
O'Hara, 37, and wingman Ryan Wagner, 23, were hired by MLB.com to watch every baseball game, Tweet about them and make videos about their experience.
The MLB.com put the pair up in a fan cave at the site of the old Tower Records on Broadway and East 4th Street where they can be observed in their surroundings — outfitted with a wall of TV monitors, 18-foot tall Willie Mays sculpture, laptops, a recliner and a couch — where passers by can peer in through 14-foot windows.
The first pitch of opening day went smoothly, but the pair had trouble getting their iPad 2s to allow them to tweet about it and the Kit Kat-sized HD camera used to shoot video took longer than expected to start up. 
The game-watching was often interrupted by choreographed stunts captured on camera. During the second inning, model Chanel Iman waltzed into the space wearing a sequined Yankees cap and plopped down on the couch. O'hara paused for a photo opp as a shutterbug instructed them to look as if they just saw a big hit.
"Does anyone feel overwhelmed?" O'Hara asked after the 20-year-old stunner left.
Wagner, who was hired for the gig, played the role of Dorothy's Uncle Harry, a guard in the Emerald Palace and was an understudy for the Cowardly Lion in the on-the-road version of The Wizard of Oz.
"I'm different than most people expect. I'm a sports fan in musical theater," he said.
The two are told to expect guests to drop by the cave throughout the season. O'Hara said he hopes Scarlett Johansson, Derek Jeter and Brian Wilson stop by for a game on the couch, and Wagner is rooting for Billy Crystal, Jay-Z or, his all-time favorite player Cal Ripkin Jr. to drop in.
Outside the cave on Broadway, 11-year-old Noah Davies marveled at the uber-fans .
"That'd be a fun career," he mused.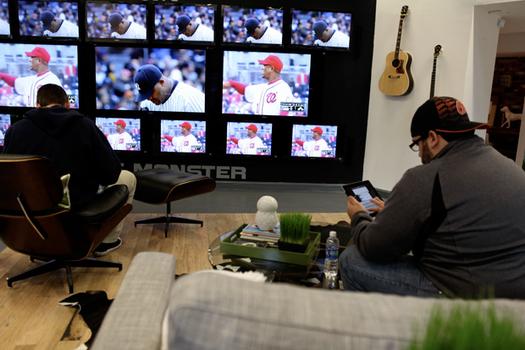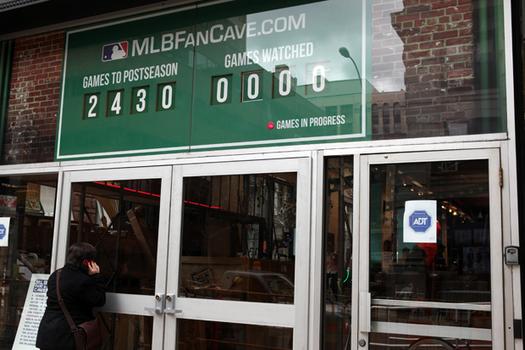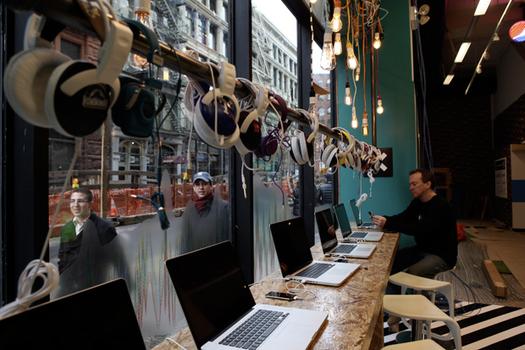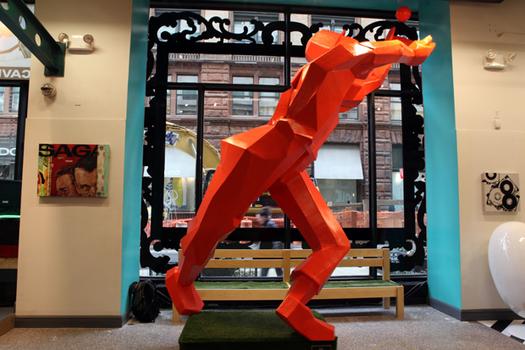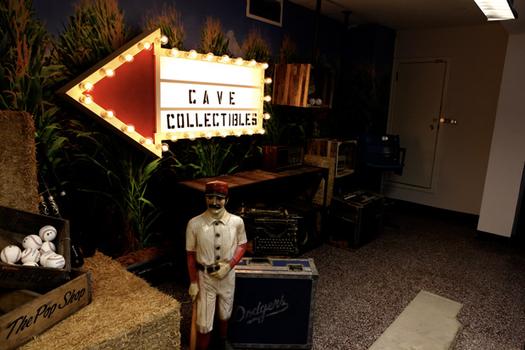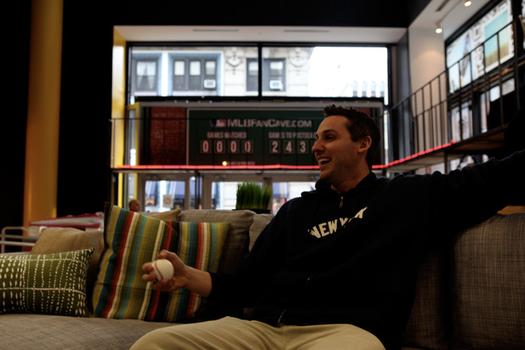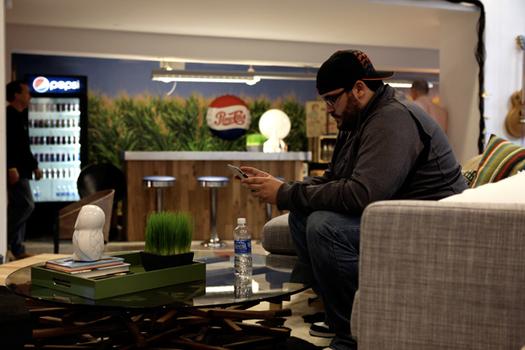 of