Muslim-Americans Rally to Fight Islamophobia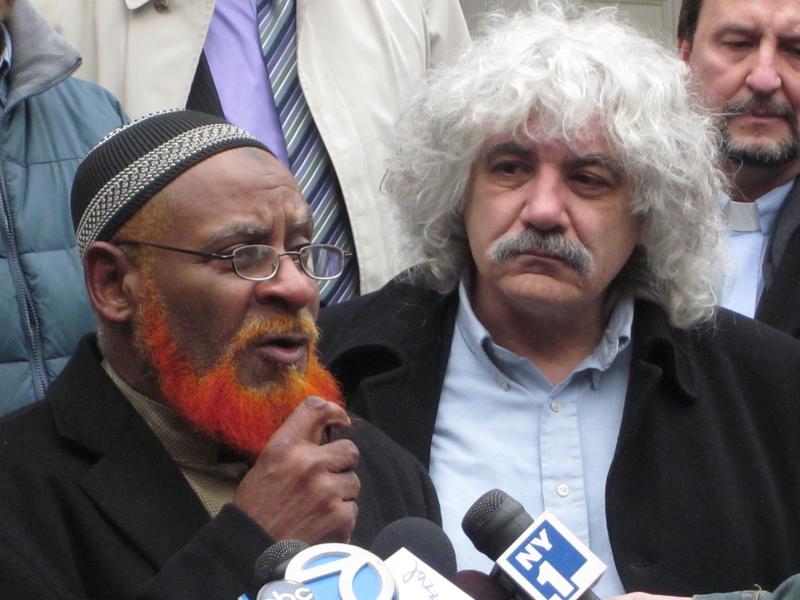 Muslim organizations and faith leaders from across the city held a press conference today on the steps of City Hall to condemn terrorism, oppose war, denounce Islamophobia, and express support for an April 9th anti-Islamophobia rally. The press conference and the rally are both part of a warm response from area organizations to Senate hearings held earlier this week at the behest of Senator Dick Durbin (D-IL) on "Protecting the Civil Rights of American Muslims".
Those hearings, by the Senate Judiciary Subcommittee on the Constitution, Civil and Human Rights, provided a counter-point to the earlier hearings held by New York Representative Peter King (R-NY3) in the "Radicalization in the American Muslim Community" . King's hearings were viewed by many as discriminatory to Muslim-Americans, and were denounced by groups both local and national.  In addition, protests were held against the hearings in Times Square.
Durbin himself told Fox News "It's wrong to blame an entire community for the wrongdoing of a few," adding, "Guilt by association is not the American way."
Senator Durbin's staff have maintained that the hearings on Muslim-American civil rights were not done in response to Rep. King's hearings. Rep, King has none-the-less had contemptuous words for Sen. Durbin's undertaking, saying the hearings are "somehow trying to create the illusion that there's a violation of civil rights of Muslims in this country. It's absolutely untrue, and to me it makes no sense."
Shaik Saad, the secretary of New York chapter of Muslim Peace Coalition-USA, said in a press release that "We are disappointed and saddened by Congressman King's anti-Muslim remarks. Instead of welcoming these bi-partisan hearings, he has continued to demonize American Muslims... Earlier Rep. King has made a racist statement that American Muslims are not American enough because they do not support American wars. What has Mr. King got to say about Rev. Martin Luther king who was against the Vietnam war?"

Organizer Seemi Ahmed, with Muslim Peace Coalition USA said the conference was not a response to Rep. King's hearings. "This is about a statement given by a hundred Imams to oppose war, to condemn terrorism, and to fight Islamophobia... There are parties that are trying to criminalize the practice of Islam in America, and that's what we are fighting against, because we have the right under the Amercian constitution to practice whatever faith you follow. "