Last Chance Foods: Pickled Herring
Comfort food is a necessity during these colder months. For some, that may involve a hearty stew or mac and cheese, but for many, that means pickled herring. In Jewish traditions, pickled herring and other preserved fish are served at important milestones in life: births, weddings, shivahs. The small fish is also traditional fare in Scandanavian, Japanese and Eastern European cuisine.
The New York tradition of pickled herring can be traced back to immigrants settling in the city, according to Joshua Russ Tupper, the fourth-generation co-owner of Russ & Daughters on East Houston Street. His family has been serving the fish for more than a century, beginning with his great-grandfather who immigrated from Germany in 1907 and sold salted, or schmaltz, herring from a pushcart on the Lower East Side. He spoke with WNYC's Amy Eddings recently about pickled herring.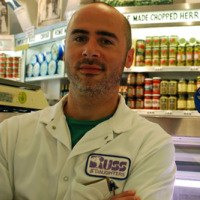 "Pickled and cured fishes were born out of necessity before there was refrigeration," he explained. "Also, immigrants didn't have very much money, and herring was, and still is, pretty inexpensive."

These days, Russ & Daughters slices up approximately 100,000 fillets of pickled herring a year. With each fillet yielding seven or eight slices, that's good news, since the small fish is high in omega-3 fatty acids and vitamin D, and it possesses another acid that has been shown to be a mood enhancer.

Tupper has fond memories of being a child and facing an extensive fish spread at his grandmother's house. He would pile all the different fish on a bagel smeared with cream cheese. At the top, he would carefully place a piece of pickled herring. Then his grandmother would scold him, saying that eating all the fish together ruined the individual flavors. Memories like that, and the idea of continuing the family business, brought the former chemical engineer back to the Lower East Side from the Northwest seven years ago.

While Tupper doesn't recommend trying to replicate Russ & Daughter's pickled herring at home — the first step would be to let the fish brine in salt for six months — he did offer a recipe for a mustard and dill sauce that makes for a great dressing for the fish.
Russ & Daughters Mustard and Dill Sauce
1 Cup Swedish mustard
1 Cup vegetable oil
2 Tablespoons water
1 Tablespoon  red wine vinegar
2 Tablespoons sugar
2 Tablespoons honey
2 Tablespoon chopped dill
Salt and pepper to taste

In a bowl, whisk together the mustard and the oil. Continue to whisk while you gradually add the honey. Dissolve the sugar in the water and then add this to the bowl. Add the vinegar, salt, and pepper to taste and mix until emulsified. Whisk in the dill just before serving.