'Drive to 25': Democrats Target GOP Seats to Win Back the House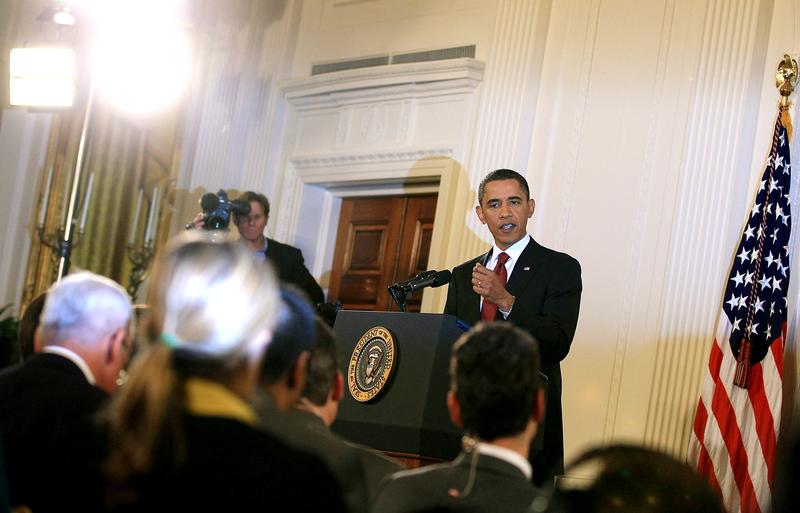 The Democrats have been been on the offensive since the 2010 midterm when they sustained huge losses to Republicans, ceding 63 seats and the House majority. To return from minority status and retake the House, the Dems need a big surge, something the Democratic Congressional Campaign calls the "Drive to 25."
Since launching the campaign in January, the DCCC, which operates as the House Democrats' election arm, has released newspaper and radio ads, emails and robocalls to hit Republicans where it hurts — in their districts.
A sign that the Dems are serious is the Republican National Committee response was the "Hope Isn't Hiring" campaign, focusing on the Democrats record on job creation, and aims to raise $270,000, which represents $1,000 for every electoral vote needed to win the White House back from President Obama.
According to the DCCC, chaired by Rep. Steve Israel, himself a New York Congressman, here are 10 Republicans on the "Drive to 25" list, and why the Democrats think they've got a shot:
Lou Barletta (PA)
In the midterm elections, Barletta beat Paul Kanjorski (D) for his seat, which had been in Democratic hands for nearly three decades. After running against Kanjorski in 2002 and 2008 without success, Barletta campaigned on tough policies against illegal immigration and ran the bulk of his campaign on TV and radio. He argued that Kanjorski was inaccessible to the 11th district's residents during his time served. This is an argument the National Republican Campaign Committee is also using on a national level against Democrats. Before his midterm defeat, Kanjorski had held the seat since 1982.
In a hard-hitting press release as part of the "25" campaign, the DCCC accused Rep. Barletta of supporting budget cuts to the National Weather Service and Tsunami Warning Centers. The press release came just after Japan's tsunami. Many Republicans responded, calling this an opportunistic low blow.
Paul Gosar (AZ)
Tea-Party endorsed Gosar is a freshman Congressman and dentist from Flagstaff who sold his practice to focus on running for office last year. He defeated Ann Kirkpatrick (D) in last fall's election, and now Kirkpatrick has announced she'll run again in 2012 to win back her seat in the sprawling district of northeastern Arizona.
In the budget debates, Gosar voted to repeal the 1099 provision in the Affordable Health Care Act, federal funding for Planned Parenthood and the termination of the FHA mortgage refinance program. The Congressman has been targeted by the DCCC for his votes to cut into entitlements for seniors and for federal funding cuts to local police forces.
Allen West (FL)
The DCCC honed in on freshman Congressman and former soldier, Allen West, who has worked with the Republican Study Committee andproposed conservative cuts to the federal deficit, including cuts to research and education.
West won a contentious congressional race in Florida's 22nd district against Democratic incumbent, Ron Klein. This district went for Obama in 2008, but only by a small percentage. West was elected to the House in Florida's 22nd swing district with big support from the Tea Party and ran a well funded campaign. He now serves on the House Armed Services Committee and the House Committee on Small Business.
"Allen West represents a district that leans to the Democrats and yet he's running as if every single constituent of his is on the Tea Party," Israel says. 
Sean Duffy (WI)
Rep. Duffy won his first term to the House in the midterm elections after defeating Wisconsin State Sen. Julie Lassa (D). He was known for his previous role on MTV's "Real World: Boston" so he entered the race with a previous national media following and then received a key endorsement from Tea Party darling, Sarah Palin. Before the race, incumbent Rep. David Obey (D) retired his long-time seat after 41 years. At the time he was a powerful Democratic Congressman and Chairman of the House Appropriations Committee.
Duffy voted against the bill to prohibit funding for NPR and seemed to prevaricate on repealing the health care repeal, saying it shouldn't be repealed until there is a replacement, but then voting for the repeal anyway.
Dan Benishek (MI)
Benishek won his race to the house in Michigan, beating Gary McDowell (D) to replace veteran Bart Stupack (D). Stupack had announced he wouldn't seek a tenth term in the House and he supported Benishek's opponent in the midterms.
Benishek is a general surgeon and a political novice who tapped into the growing Tea Party movement and voter angst in northern Michigan. He voted to preserve tax breaks for oil companies and also voted to repeal the federal health care bill, as he promised in his campaign for Congress.
Joe Heck (NV)
Heck was a Tea Party favorite who ousted Rep. Dina Titus (D) in a close midterm election. Heck is a former state senator and emergency room physician who became a spokesman for the Tea Party. He blamed Democrats for Nevada's high unemployment rate and had national Republican financial backing.
Rep. Heck has voted conservatively across the board and though he flip-flopped on his decision to repeal the health care bill, he eventually voted to repeal it.
Ann Marie Buerkle (NY)
Rep. Ann Marie Buerkle won New York's 25th District in the midterm elections. She defeated incumbent Dan Maffei, which was determined after weeks of absentee ballot counting and precinct re-canvassing. The final election difference was slightly more than 500 votes.
Buerkle, who has a professional history of health care work, voted to repeal the controversial 1099 provision in the health care law. Rep. Israel (also a Congressman for New York's 2nd Congressional District on Long Island) called Buerkle a vulnerable candidate, saying she is part of the "same old hypocritical crowd."
Blake Farenthold (TX)
In another close vote, freshman Rep. Farenthold won his seat in the House after a recount demanded by incumbent Rep. Solomon Ortiz (D). Ortiz had held the House seat in the 27th Congressional Texas District for nearly three decades. Farenthold is an attorney and before taking office was a conservative radio talk show host.
The Congressman recently introduced his first bill in March called the Federal Agency Transparency Act. The bill would require federal agencies to publish a statement of all funds received and spent within a two week period. It was co-sponsored by fellow Republican Representatives Virginia Foxx (NC) and Michael Conaway (TX). Farenthold campaigned on promises of less spending and a smaller government, like many of his party colleagues.
David McKinley (WV)
McKinley won a hard-fought race against Mike Oliverio (D) for West Virginia's 1st District seat. Oliverio defeated Congressman Alan Mollohan in the Democratic primaries to run against McKinley. Mollohan had previously held the House seat since 1983. McKinley's win also gave a majority of West Virginia house seats to Republicans for the first time since the late 1960's.
McKinley voted to prohibit federal funding of National Public Radio as well as voting to repeal the health care bill because it would "cost jobs."
Paul Ryan (WI)
Ryan is the House Budget Chairman and has proposed the Republican's budget cuts. Ryan has set the tone for the 2012 elections with his release of the House Budget plan to shrink the deficit, which calls for nearly $6 trillion in cuts from programs like Social Security, Medicaid and Medicare over the next decade.
Ryan is no freshman to politics and he may not actually be vulnerable at all, but since he's been in the limelight with the budget on the block as well as a key player to recruiting and encouraging young conservative politicians - "Young Guns" - he's been sought out by the DCCC. He's currently serving his seventh term in the House after defeating John Heckenlively (D) and Libertarian Joseph Kexel in the 2010 midterm elections.
As they claim on their Twitter account, the DCCC is "committed to electing a democratic majority" and they're driving it home.
The group is targeting 14 Republican-held House districts, some in Pennsylvania and New York, that backed President Obama in 2008 and Sen. John Kerry in 2004. Rep. Israel says these districts have "Democratic DNA." There are an additional 47 districts now represented by Republicans that carried Obama in 2008 and Rep. Israel considers these districts winnable, too.
"We woke up after the elections in November," said the DCCC Chairman. "We were depressed. We were despondent and something has happened since then. We picked ourselves up, we dusted ourselves off and we started fighting back and fighting back hard."
The group started on the offense by targeting 19 Republican House members for cutting too deep on the budget. They slammed members of the Republican Study Committee (including Allen West), the group that presented an early budget plan to cut $2.5 trillion from the federal deficit, saying their proposal was damaging to job creation. The DCCC's ads and phone calls told voters that the conservative's plan to cut into research and innovation is what stops the country from creating much needed new jobs.
On March 28, the 32nd anniversary of the Three Mile Island nuclear disaster, the DCCC struck again, targeting more than 50 Congressional Republicans with statements to their districts accusing them of voting to reduce nuclear spending. They accused the lawmakers of supporting a "dangerous plan to drastically reduce the security of nuclear facilities across the nation."
They have also targeted Republicans for their budget cuts to entitlements. "Did you know that Rep. Blake Farenthold is part of the majority of Republicans in Washington pushing to cut seniors benefits in social security in Medicare?" one automated phone message inquires. "If we don't act now, 166,405 seniors here in Texas could have their benefits cut in the middle of a recession." Farenthold barely won his seat from the longtime Democrat, Rep. Ortiz in his Texas district.
According to Rep. Israel, these are the kinds of districts where they can easily win back seats. In some states, the losing Democratic candidates from the 2010 midterm elections have already agreed to run again, like Democrats Ann Kirkpatrick in Arizona and Ann McClane Custer in New Hampshire, Rep. Israel said.
"We're not going to win back the House by being polite," Rep. Israel commented on their "Drive to 25" strategy, "We're going to win back the house by aggressively telling the truth, by aggressively pin pointing the differences between right wing Republicans and what Democrats are offering the American people."
The Republicans don't seem too concerned, but they're happy to point out the differences between liberals and conservatives, too. "A lot of voters bought into hope and change last cycle," said Tory Mazzola, a spokesman for the National Republican Congressional Committee (NRCC), "but as we head into 2012, they're looking for that receipt because they want to take a good look at the refund policy. They're not happy with what they got." Mazzola says Republicans are well positioned heading into 2012, saying it's still early to start digging in.
In a statement from Congressman Allen West, he said the DCCC has had him as a target for a long time, almost before he cast his first vote in Congress. "The American people in 2010 sent us to Washington D.C. to deal with the major issues facing our Republic," he said. "The DCCC can continue to focus on trying to defeat a person who is committed to addressing the problems in our country and who is working towards a better future for the nation."
The organizing and messaging of this early campaign from the Democrats comes as a bit of a surprise since messaging isn't their strength. "Republicans are on message all the time and they go for what they want and the Democrats are always squabbling and disagreeing," says Joyce Purnick, former political analyst for the New York Times and WNYC's political analyst. She says the slogan needs some work, but that may not matter. "They're not known for staying on message historically, but this sounds like they actually have a plausible strategy, like they know what they're doing and what they want to achieve...whatever they call it."
As for what's ahead, Rep. Israel and said they won't discount any Republican seat in the country. "It doesn't matter if that Republican has been in the seat for 30 years or for three months." He had even expected a rougher road so far, but has been impressed with the response from the Democrat's base and from candidates who are hungry to give it another go.