Niche Market | Rain or Shine Umbrellas
New York is a city of specialists from foodies to academics, laborers to shopkeepers. Every Wednesday, Niche Market will take a peek inside a different specialty store and showcase the city's purists who have made an art out of selling one commodity. Slideshow below.
Rain or Shine
45 E 45 St.
New York, NY 10017
Peggy Levee has the lonely title of being owner of the only store left in the city that sells umbrellas exclusively. Her 8-year-old shop, Rain or Shine, is the sole beacon of a once thriving New York industry that has been decimated by overseas mass production and an influx of cheap products.
Levee gets most of her wares from Europe. She said it can be a hard sell to get customers to pay more than a few dollars for an umbrella, an item many think of as disposable. But there are some devotees, like Allen Bahn, who said he always gets his umbrellas from Rain or Shine.
"Good umbrellas, good shoes, good watch, good pen — they're all in the same classification," he said. 
The umbrellas at Rain are Shine are specialized. These are items made of fiberglass, carbon, wooden and with reinforced ribs, not flimsy aluminum. They start at $40. One tag at the shop read $995. Often the price reflects the materials, which in this case had to do with a sterling silver handle. Not the kind of umbrella you want to forget in a taxi.
Beyond the hardware, which is guaranteed (they even have a repairman) the merchandise at Rain or Shine is about flaunting a stylish accessory. The parasols are trimmed with lace, ruffles and frills. The handles sophisticated or campy. The idea is that anyone can find an umbrella in the store that fits their personality. Levee also sells walking canes. These too make a statement — a popular one is topped with a silver skull.
The traffic is steady, "of course it always gets busier when its raining," said Levee.
Why did you decide to open an umbrella store?
It started because I wanted a parasol, a sun umbrella, and there was nothing available. So I decided to make one for myself. At that time there was another umbrella shop. It was called Uncle Sam's umbrellas, which I'm sure many New Yorkers remember. And there was a man there named Gilbert Center who still is to this day very helpful to me, helping me with design and getting started in the umbrella business.
He has taught me so much over the years. I don't know how I would have done it without him. I'm always calling him still to this day, asking his advice, explaining a problem I might have, and he always helps me. Even during the recession, I was so nervous, I said Gilbert, what's going to happen to me? And he said, Peggy, if it rains you're going to do business! And he was right.
What distinguishes the umbrellas you sell here and umbrellas sold on the street?
Big difference. These are all meant to withstand wind, heavy rain. They're not only very functional, they're also very attractive too. They're comfortable to hold. They look great and they actually have good frames.
The first thing we consider is the frame. We have umbrellas of all different shapes and sizes, automatic, manual, but the most important thing is how the frame is constructed. From there it's the fabric, the look of it, the handle. But it doesn't matter how great the umbrella looks — if you don't have a decent frame what's the point?
Who buys parasols?
It could be a woman of any age just concerned about protecting her skin or maybe having a skin disorder where she must stay out of the sun, and we have a lot of women who just like the style, who like the look of it.
When I started to make the parasols I thought what would be best would be to have something very plain and very simple, and it was so interesting that women came in and they wanted the ruffles on it. They wanted the lace. They wanted the frillies. And it was like, 'Ok, we have that now!'
Can you tell someone's personality by the kind of umbrella they buy?
I feel that sometimes you can tell if somebody's more conservative, they want an umbrella that's maybe understated, more subtle colors. Then you have some people who like the really over the top umbrellas, maybe some umbrellas that have rhinestones, ruffles, frilly, different shapes, very bright — that's for somebody who's got a really outgoing personality, very confident.
What's important in taking care of an umbrella?
You always want to leave an umbrella open to dry, so the first opportunity you get either when you get back to the office or at home you always leave it open to dry. And that's critical to having the umbrella last a lot longer. That's the main thing. Depending on the frame you could get some rust on the inside of the umbrella, over time it could damage the fabric, and in some older umbrellas the cover can start to shrink.
The most important thing: you don't want to lose your umbrella. You have to be conscious of where you're putting it when you've stopped using it, especially if you have a nice one.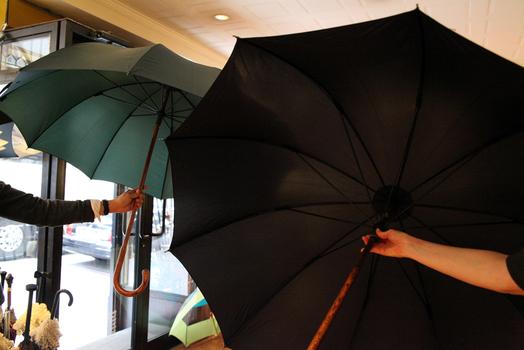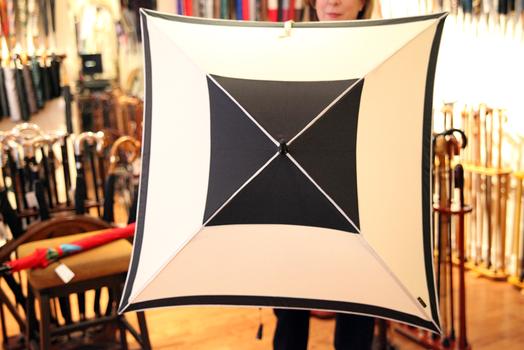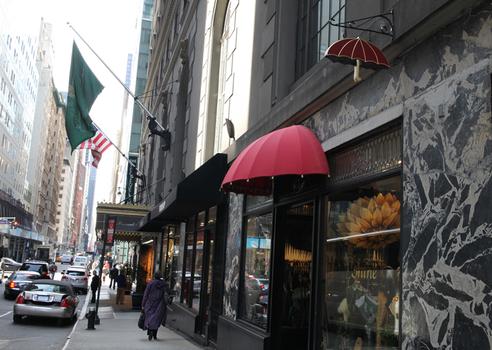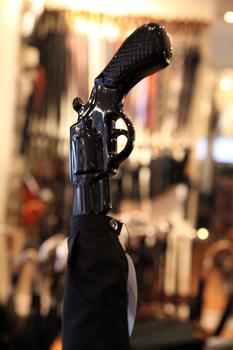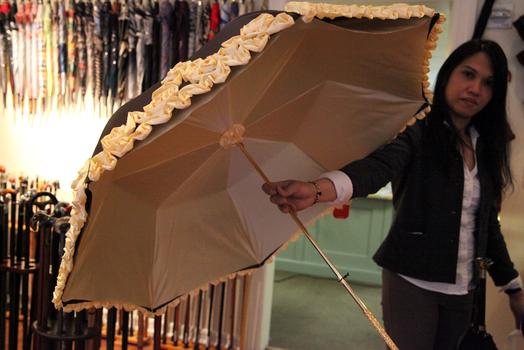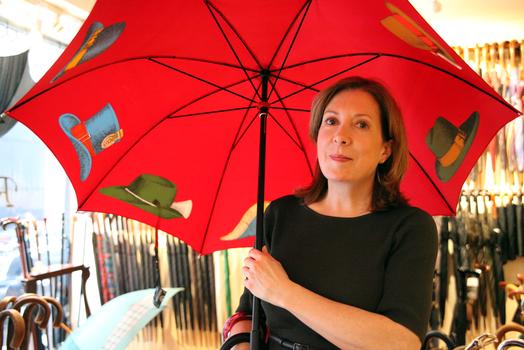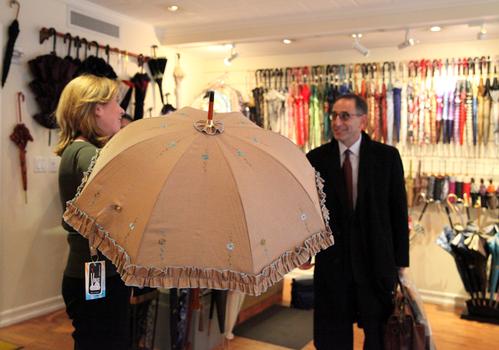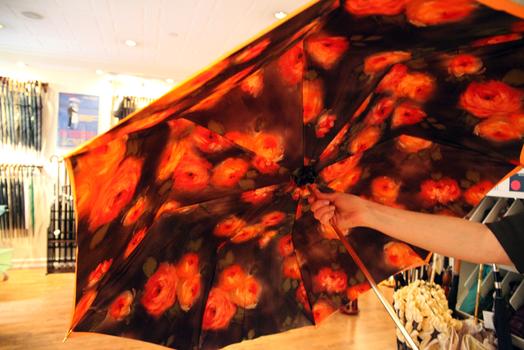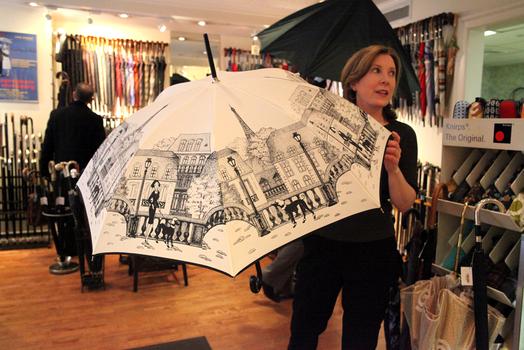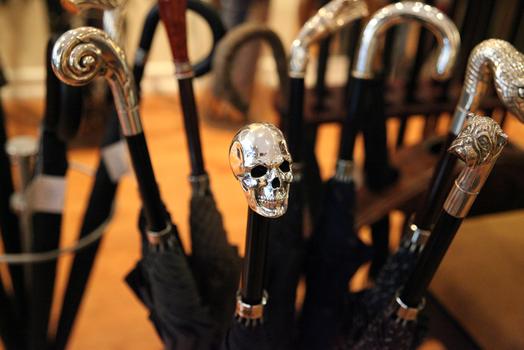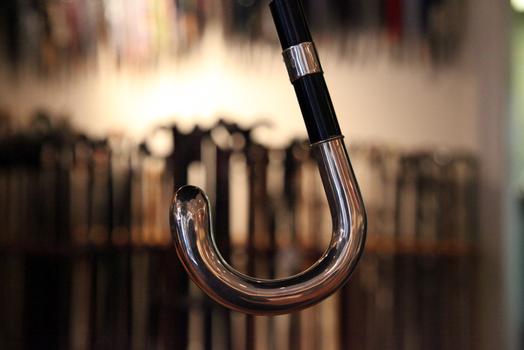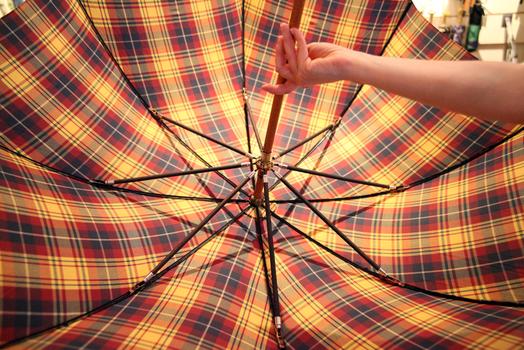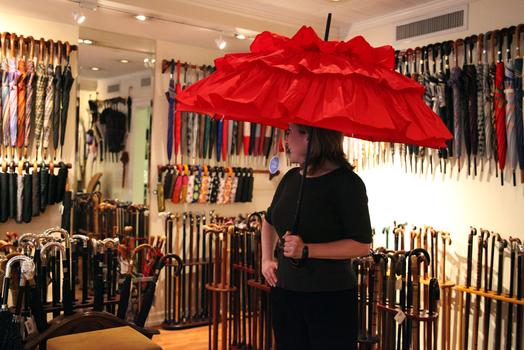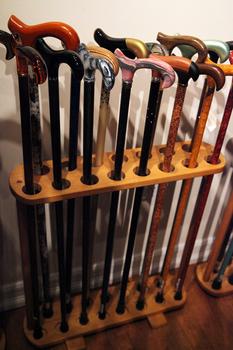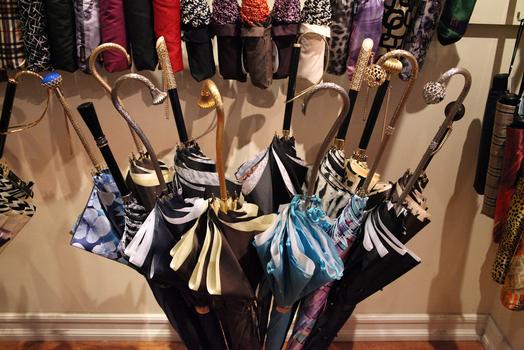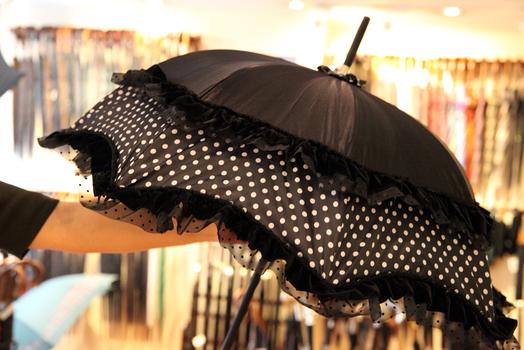 of