In Albany, Budget Battle is the Cuomo Show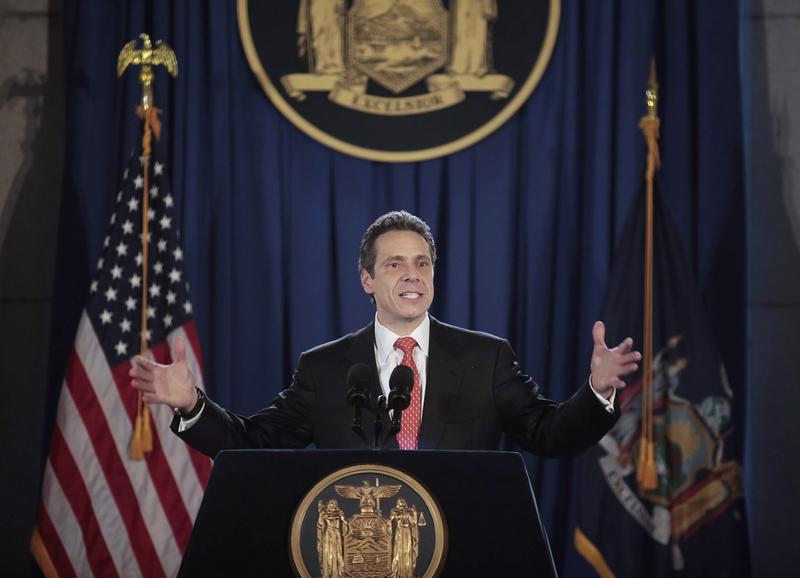 Welcome to Politics Bites, where every afternoon at It's A Free Country, we bring you the unmissable quotes from the morning's political conversations on WNYC. Today on The Brian Lehrer Show, Liz Benjamin, host of Capital Tonight and blogger, and Greg David, director of the business and economics program at the CUNY Graduate School of Journalism, talked about the latest with the state budget in Albany.
Governor Andrew Cuomo is sending some rough budget cuts down the pipeline. And he's having a very easy time doing it.
According to Greg David and Liz Benjamin, Cuomo is still riding the tailwind that swept him into office. Despite proposed cuts to education and changes to Medicaid, the governor's approval rating remains above 50 percent. David said that statistic was reflected in the budget battle, where Cuomo is basically having his way.
This was one man in a room. It was practically Cuomo's budget as originally proposed...It seems to me that it's the first budget in as long as I can remember where the governor's proposal got so little change by other men in the room.
"He was very deft at scaring the living daylights out of the legislature," Benjamin agreed.
But maybe not as deft as he could have been, said David. Yes, the governor's appeal seems to have made his austerity measures somewhat palatable, but Cuomo may look back at the budget debate as a missed opportunity to get other pieces of his platform in place. 
Extension of New York City rent regulation bills; the property tax cap; ethics reform is pending, that could have been done in conjunction with the budget; nonpartisan redistricting is pending, seems to me a very important thing. The budget is where the governor had the most leverage. He will have less in coming months on these very important issues.
Cuomo also risks political capital by favoring spending reductions over tax increases for wealthy New Yorkers. Opting to let a surtax on the rich expire, Cuomo amends his "no new taxes" promise to include "no renewed taxes." While that might not sit well with voters who'd rather avoid education cuts, David said the governor's proposal addresses another elephant in the room, which has to be done sooner or later.
New York has the highest state and local tax burden in the nation. It is a stifling burden, especially on the upstate economy. As the governor has said a million times, the state's tax burden and regulatory climate is stifling the private sector; the government can't revive the economy. If we keep these high taxes on the wealthy, many will leave and many will take their businesses with them.
David also insisted that it was a mistake to think of spending cuts as necessarily detrimental to public institutions. He cited statistics showing that 75 percent of New York's Medicaid dollars are spent on 25 percent of the people, and that we spend more on the program than states like California. The governor's budget, David explained, mandated $2 billion in savings on Medicaid, but allowed flexibility in how administrators reach that mark.
Leaner, more efficient management is the order of the day, he said. 
If there's anything we've learned over and over again, it's that we do a terrible job on Medicaid and a terrible job on education despite spending more money than any other state in the country.
Liz Benjamin took issue with David's characterization of the spending cuts, saying the governor might not mean for low and middle income families to feel the squeeze, but that's very much what's going to happen.
All over New York state various school districts, particularly upstate, are laying off teachers and cutting programs. That's just bottom line, it's the reality of what districts are doing.