Music Hub
12 Days Of Soundcheck '13: Lucius, 'Turn It Around'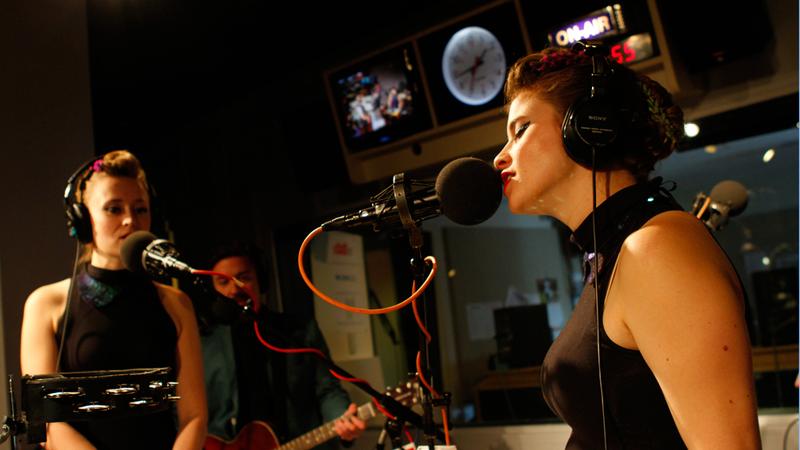 The Gig Alert is spending the holidays recovering from its attempt to perform a triple Salchow jump at Wollman Rink, so instead we're bringing you The 12 Days Of Soundcheck! Each weekday, check back for a new, one-day only download of a live performance recorded in the Soundcheck studio this year. 
 _____
Brooklyn indie pop band Lucius's Twitter handle is @ilovelucius -- it's clever (get it?), and maybe a touch presumptuous. But truth is, I do love Lucius. And here's why. 1) The first time I heard their songs, I immediately wanted to sing along. And now that I know all the words, I can't help but join in. 2) Their debut album, Wildewoman, is great. Their live show is even better. 3) The band is fronted by two kickass female lead singers! Who sing as well in unison as they do in harmony! And bang hard on drums when they want to! While wearing jealousy-inducing identical retro outfits!
So yeah, I'm kind of a fan. Me and Paul Krugman, and everyone else who clamors to get tickets to their sold out shows. Luckily, we snagged the band on Soundcheck early in the year, long before their album was released -- and we hope to feature a return visit from the group in the new year. 
Download our live recording of Lucius performing "Turn It Around" in the Soundcheck studio on Monday, December 23. 
Hear more from Lucius' session here -- and watch a video of the performance below. 
Coming up on Tuesday: A free download from the soulful British rockers, Arctic Monkeys.