Music Hub
12 Days Of Soundcheck '13: The Julie Ruin, 'Kids In NY'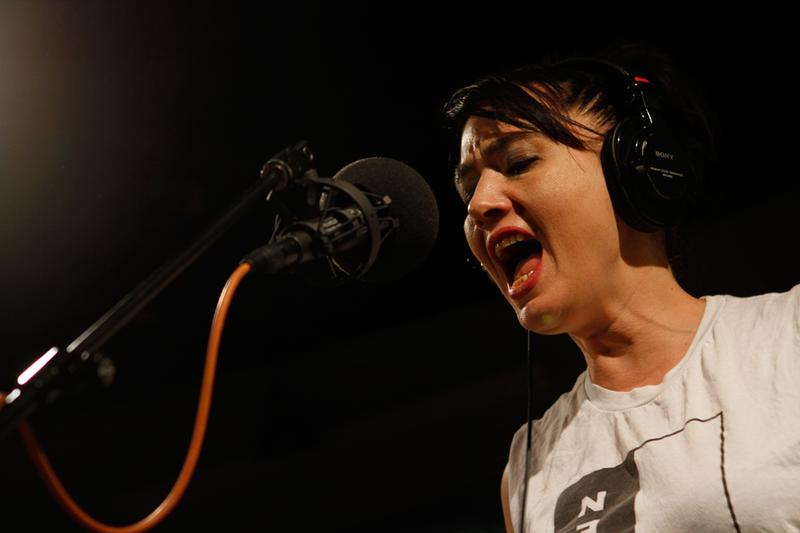 The Gig Alert is off playing bingo with its grandparents in Florida, so instead we're bringing you The 12 Days Of Soundcheck! Each weekday, check back for a new, one-day only download of a live performance recorded in the Soundcheck studio this year. 
 _____
If you're not familiar with The Julie Ruin, you might be familiar with its frontwoman -- Kathleen Hanna, the no-holds-barred leader of the influential '90s band Bikini Kill and later of the band Le Tigre in the early 2000's. In 1997, she released a solo album under the moniker Julie Ruin. But soon after that, Hanna took some time off from the music business due to a long-undiagnosed case of Lyme disease. 
Now, Hanna is making music again -- and Julie Ruin has become The Julie Ruin, a full-fledged band. The group's album, Run Fast, is full of noisy and intelligently aggressive songs that address Hanna's illness and vulnerability, but also her recovery and community.
Having the band in studio was really fun -- as you can hear above, they brought a ton of energy to this performance of "Kids In NY."
Download our live recording of The Julie Ruin performing "Kids in NY" in the Soundcheck studio on Wednesday, Dec. 11. 
Hear more from The Julie Ruin's session here -- and watch a video of the band in action below. 
Coming up on Thursday: A free download from Gary Clark Jr.