Music Hub
12 Days Of Soundcheck '13: Deltron 3030, 'Nobody Can'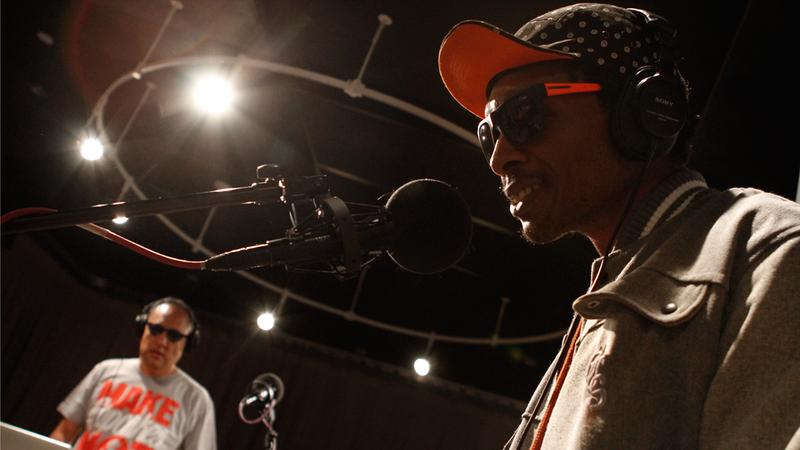 The Gig Alert is working the Zamboni at McCarren Park Ice Rink this holiday season, so instead we're bringing you The 12 Days Of Soundcheck! Each weekday, check back for a new, one-day only download of a live performance recorded in the Soundcheck studio this year. 
 _____
In 2000, there wasn't anything else quite like Deltron 3030's high-concept world-building music. On its self-titled album, the Bay Area alternative hip-hop supergroup -- comprised of veteran MC Del the Funky Homosapien, Kid Koala and producer Dan "The Automator" Nakamura -- unleashed a dense dystopian future set in the year 3030, where Deltron Zero (Del's alter ego) battled against corporate overlords. It was a decidedly sci-fi and geek culture-leaning record -- before that notion became cool -- full of intricate raps and cosmic production.
Now, 13 years later, Deltron 3030 has finally regrouped and is revisiting that future -- this time, set in 3040 -- on the sequel, Event II. It's a decidedly darker album, depicting a bleak post-apocalyptic hellscape where there's plenty of overlap with the present. The song "Nobody Can" contains allusions to global warming, economic disparity and over-reaching government surveillance -- couched in spitfire rhymes and funky beats. 
Download our live recording of Deltron 3030 performing "Nobody Can" in the Soundcheck studio on Tuesday, Dec. 17.
Hear more from Deltron 3030's session here -- and watch a video of the performance below. 
Coming up on Wednesday: A free download from British neo-soul singer Laura Mvula.