Music Hub
12 Days Of Soundcheck '13: Chris Thile, 'Adagio' from Bach's Sonata No. 1 In G Minor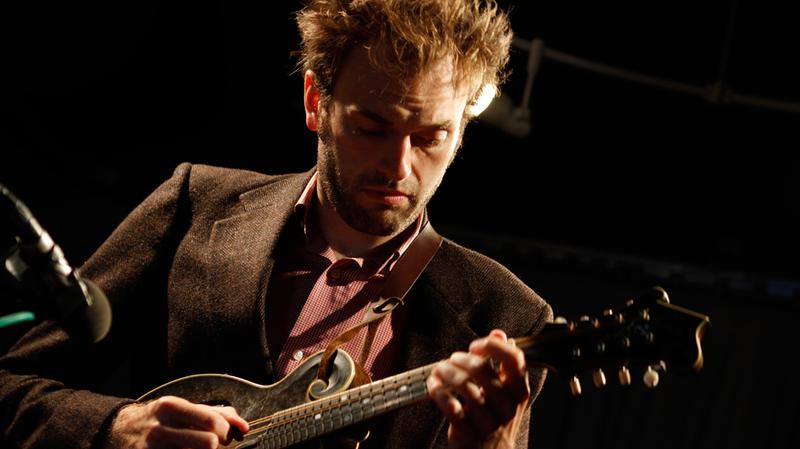 The Gig Alert is busy hanging its stockings by the radiator with care, so instead we're bringing you The 12 Days Of Soundcheck! Each weekday, check back for a new, one-day only download of a live performance recorded in the Soundcheck studio this year. 
 _____
The mandolin is awfully good at making bluegrass music. But as artists like Chris Thile and Avi Avital have reminded us in the past few years, the mandolin was born from the classical world -- and in particular, it can play some mean Bach. 
Chris Thile's solo album called Bach: Sonatas and Partitas, Vol. 1 puts onto an album what his fans have been seeing him do live for years: kick everyone else off the stage at some point during a Punch Brothers set, close his eyes, and bust out a Bach piece or two. And despite the fact that it isn't necessarily what they came to see, audiences without fail go absolutely nuts for these classical interludes.
After witnessing this on several different occasions, I've felt affirmed in my belief that it's not classical music that's dying out in our culture -- it's stuffy concert halls and completely silent audiences that are on the way out. Here's hoping that there's a Vol. II -- and plenty more Bach with the occasional whoop and holler from the audience -- on the way in 2014. 
Download our live recording of Chris Thile performing Bach's "Adagio" from the Sonata No. 1 in G Minor in the Soundcheck studio on Thursday, Dec. 19.
Hear more from Chris Thile's session here -- and watch a video of the performance below. 
Coming up on Friday: A free download from saxophonist and author James McBride.