What's Stopping Gay Marriage From Being Legal in New York?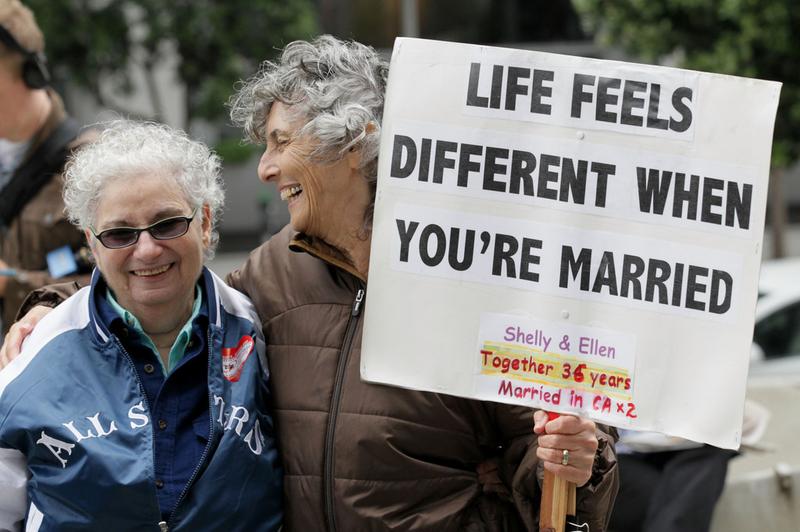 On June 19th, 2007, the Democrat-controlled State Assembly passed a bill that would legalize same sex marriage in New York. When the legislation arrived at the Republican-controlled Senate, majority leader Joseph L. Bruno said he would put off action until 2008—an election year. Unsurprisingly, the Senate never voted on the bill.
That fall, Democrats won a majority in both houses of the legislature. On May 12th, 2009, the State Assembly again passed a marriage equality bill. Next stop: a more friendly Senate that could actually be expected to hold a vote. 
Only, it wasn't the vote most Democrats had hoped for. On December 2nd, 2009, eight state senators with a D next to their name voted against the bill. Had they voted with the rest of their Senate majority, New York would have joined Connecticut, Iowa, and the three other states that allow gays to get married within their borders.
According to Quinnipiac polling since 2007, public opinion on gay marriage in the state has waffled between 50-50 splits and a slim majority in favor. However, the most recent Siena poll, conducted earlier this month, has public support for same sex marriage at an unprecedented 58 percent. Only 36 percent of New Yorkers are opposed. Taking those numbers along with Governor Andrew Cuomo's recent insistence upon marriage equality legislation getting passed this year—and New York City Mayor Michael Bloomberg's announcement that he would back the effort—it suddenly seems likely that the state could see another vote on the issue sooner rather than later.
If a bill enters the legislature, the Assembly will not be a problem; in recent memory, it has never been an obstacle to same sex marriage. The Senate, however, is a totally different story, especially now that it's back in the hands of Republicans. Enjoying a 32-30 majority, they're all sure to vote no.
But Gregory Angelo, chairman of the New York State Log Cabin Republicans, is doing his best to change that. His organization, which advocates for gay rights in addition to an otherwise conservative platform, is engaging as many Republican state senators as possible and lobbying them to vote yes.
"Several years ago, our criteria for [a Republican] getting an endorsement was only support for civil unions," Angelo said. "Over the years that has changed. Momentum has certainly been on the side of full equal rights for civil marriage in New York and throughout the country."
To make his case, Angelo points to Republicans in the Assembly that formerly voted against same sex marriage laws, changed their tune in 2009, and still won election in 2010. He holds up the example of Assemblywoman Janet Duprey, who said she became a proponent of gay marriage after meeting with a lesbian couple who lived on her street. Not only did Duprey hold on to her seat after abandoning the conservative position; in 2010, she beat out her opponents in a three-way race, grabbing 59 percent of the vote—a blowout, according to Angelo.
"The idea that if you vote for this you're not going to win reelection is kind of a bogey monster put forth by people who are opposed to granting equal rights to gay men and women," he said. "The notion that you're not going to be reelected doesn't stand up."
Republicans aren't the only problem for gay marriage in the Senate: Democrats, already a minority, can only expect 26 of their 30 senators to vote yes. By one measure, that's an improvement: out of the eight Democrats who voted against the bill in 2009, only Joseph Addabbo, Shirley Huntley, Carl Kruger and Ruben Diaz remain. Diaz is a pentecostal minister, and will certainly continue to vote against the legislation; Carl Kruger is facing legal action and it's up in the air whether or not he'll even be around to vote; Addabbo and Huntley now say they're undecided.
"In my book that's a 'no,'" said Diane Savino, a Democratic State Senator from Staten Island who's been a longtime advocate for gay rights. During the 2009 debate, Savino gave arguably the most impassioned speech on the Senate floor. "If you're not willing to tell people what your position is on an issue like this, it's because it's a 'no' and you just don't want to deal with the flak."
That reelection "bogey monster" Gregory Angelo mentioned is a bipartisan excuse, it seems. This time around, Senators Shirley Huntley and Joseph Addabbo both say they need more time to talk to their constituencies and see where they stand on the issue. Indeed, Addabbo blamed his 2009 'no' vote on the Queens residents he represents, claiming "74 percent" had told him they didn't support gay marriage.
Addabbo's deflection is suspicious considering his voting record while on the New York City Council. In 2002, he voted in favor of a bill allowing the city to recognize "marriages that are not recognized by the state of New York, domestic partnerships, and civil unions, lawfully entered into in other jurisdictions." In 2007, he voted in favor of a bill allowing New Yorkers in "binational same-sex relationships to sponsor their foreign-born partners for immigration to the United States." His constituency while on the City Council is nearly identical to the one he represents in the Senate. Why would 74 percent oppose gay marriage?
Savino doesn't buy it. "The vast majority of our constituents, no matter where they come from in the state, are not single issue people," she said. "They may feel strongly one way or another about marriage equality or choice or fiscal policy, but for the most part they evaluate their elected officials across a variety of issues.
"This is not something that anyone has ever lost an election over," Savino continued. And she appears to be correct. Of the five Assemblymen who changed from 'no' votes in 2007 to 'yes' votes in 2009, only one failed to win re-election in 2010: Tim Gordon, member of the Independence party, who was caught on camera during his campaign calling a constituent a "fraud" and removing his opponent's signs from lawns. It's doubtful that his vote on same sex marriage was responsible for his loss.
At best, Democrats can hope for 29 'yes' votes on a marriage equality. Still not enough for legislation to pass, but Gregory Angelo said that every single vote from the left side of the aisle counts. Asked if Democrats presenting a unified bloc would push some abstaining Republicans to change their minds, Angelo replied, "I think that's fair to say."
Diane Savino is with him. By her estimation, were Democrats to turn their remaining 'no' votes, they'd wind up with another six from Republicans by a sort of domino effect. If they see the waters are safe, her logic goes, they'll jump into the pool.
Perhaps that's little comfort for advocates of gay rights. In a famously progressive state with a more-than-healthy margin of support for same sex marriage, the only things holding up legalization appear to be politics, and the personal opinions of a few state senators.