Niche Market | Rogue Magic and FunShop
New York is a city of specialists from foodies to academics, laborers to shopkeepers. Every Wednesday, Niche Market will take a peek inside a different specialty store and showcase the city's purists who have made an art out of selling one commodity. Slideshow and video below.
Rogue Magic and FunShop
8508 Queens Boulevard
Queens, NY 11373
Slotted between a small grocery store and a shipping center on a nondescript block on Queens Boulevard, it's easy to miss Rogue Magic and FunShop — though the life-size model of a Knight stationed outside might catch your eye. When customers walk in, it's not uncommon for owner Roger "Rogue" Quan, 29, to spray them with (fake) ketchup.
This is a place where the boundary between the real and the unreal blurs. On a recent afternoon, one customer came to buy fake lotto tickets for his boss and step mother and perused the store's trick card decks, shock pens, fart gum and wallets that go up in flames.
A professional clown stopped in for balloons.
Anthony "Pon" Decaro, a tattoo artist and sometimes-sanitation worker, was there to buy a "flint flasher," an invisible ring that shoots fire. He uses it to distract customers at his tattoo parlor. "It gives them a little shock value and lets them forget about what they're about to go through," he said.
Every Saturday night, Quan transforms the shop into a theater and produces a magic show to a packed house. From 1 p.m. to 9 p.m. daily it's also an Elmhurst hang out for serious magicians and high school kids who get hooked into learning a trade of secrets.
Michael "Six" Muldoon, 22, entered on a whim when he was 13 and is now working as a professional.
"I just kinda became friends with people. People would teach me magic when I'd come here and it felt like a really safe environment, a really homey environment," he said while shuffling a deck of cards.
Some time later, a pair of regulars came in pushing a stroller and sat down to chat with the crowd. They had met at Rogue a few years prior and now have an 18-month old. 
Quan, who is a self-taught magician, grew up in the neighborhood and decided to open up shop in Elmhurst in 2000 after a few years operating out of his backpack. He plays a mentoring role to many of the young people who use the shop as their club house. One of them, Devonte Rosero, is a former gang member who has developed a magic act that incorporates parts of his life story.
Roger Quan, owner of Rogue Magic and FunShop.
What inspired you to open up a magic shop?
I've been doing magic since I was 6-years old, ever since I saw David Copperfield make the Statue of Liberty disappear. I was addicted to it. I went to the library and took out some books, and I told my grandfather that I liked magic and he went and he bought a lot of stuff for me.
I've done all kinds of jobs in my life: I worked at Dunkin' Donuts, Burger King; I've done computer graphics, which was my major; art, and nothing really seemed to make me happy so I decided to make magic my life. And this was like 15 years ago. The first thing I did was I took a backpack, filled it with a bunch of tricks and I went throughout the city doing shows in the street and selling them. I ran around for a little bit and that got kind of tiring so I had to open up shop. I had some really primitive business cards printed up, and I handed them out on the street and they sent people to my apartment. So you can imagine all these people who came to my apartment. All these weird people that wanted to learn magic.
After a while my family got tired of that — people coming really early in the morning, knocking on my door really late at night, so I had to open up shop. I found a book store a couple blocks away from here in Forest Hills, and I asked the guy, 'Can I rent out a portion of the store?' He said, 'Sure, you can have a corner.' That was 11 years ago. I was 19. I had to move a couple months afterwards. They were going out of business so I found this place, it was pretty affordable.
What do you sell here?
We sell everything from magic tricks to spy equipment. We have a Gothic section. We have club and rave lights, toys, games, costumes, make up, clown supplies — everything that's fun, actually. That's why it's called the Magic and FunShop. There's nothing we don't have. We have candy that makes you fart all day, mini cameras, voice changers. We've got something called slush powder — it's powder you put into anybody's drink and it will freeze it up into a block of ice in one second, hot or cold. Very funny stuff. We have lottery tickets when you scratch them off you win up to $50,000 but they're fake. Fake bugs, roaches. As far as tricks, we have everything from like $5 tricks to stage illusions that Copperfield would be performing on his next special. Everything in between — remote control spiders, Halloween props and gadgets, action figures.
In terms of what you sell here for magicians, are there essentials?
Not really. Depends on what you do. If you're a mind-reader, you don't need a deck of cards so it depends on what branch you're trying to specialize in. Every magician finds their niche, and they buy what they need to buy. Some magicians build their own stuff. If you're a good magician you can actually grab stuff on the streets and off of people and do magic with it. You don't need to take out a prop from your pocket.
Can you explain your membership policy?
I have a membership of over 500 members and my goal actually is for the members to hang out and to network and to trade their secrets, like, 'Let me teach you this, and in return you teach me that.' The motto is Magic For The People, and my intention was always to provide an inexpensive way for people to learn and see magic. The store transforms into a theater each Saturday. I wanted a hang out spot to get kids off the street, give them something to do. A lot of the kids used to come buy for smoke bombs, and now they perform in the shows.
Watch Michael "Six" Muldoon do a trick at Rogue Magic and FunShop:
What do you like about magic?
Performing it and seeing people's faces. I do magic everywhere. I've done magic in the craziest places, in the men's room. I get bored, and I just do magic. Whenever there's an audience around, a potential audience, I'll do magic. A lot of times I see people really down, on the trains, on the bus, they look like they're about to take their life, you know, like there's nothing left in their life. And then I do some magic for them, I do the fire-wallet, and their face just lights up. And a lot of times, I'm serious, at the end of the bus ride, they'll tell me, 'Wow, I had such a dark day. I was so depressed, and you made my day,' and that makes me feel really good. That something so simple like a magic trick can make somebody change their mood.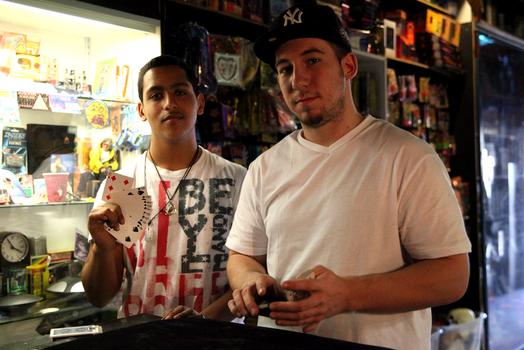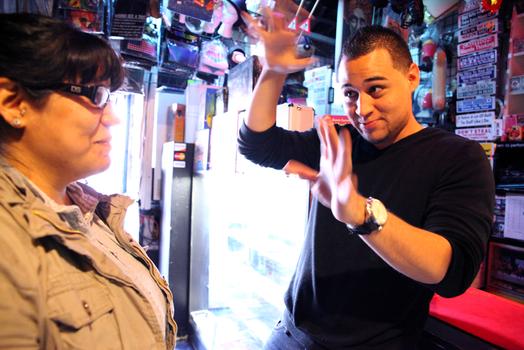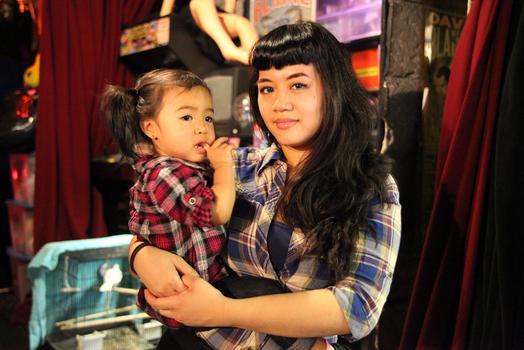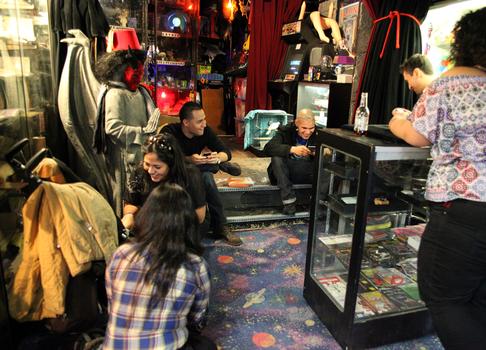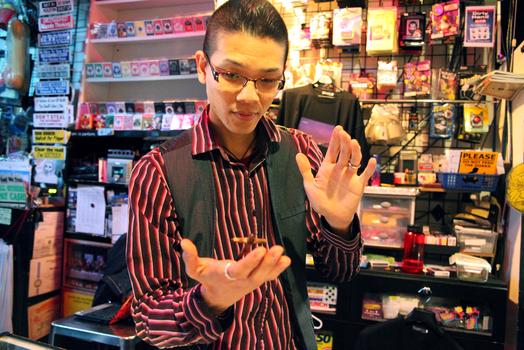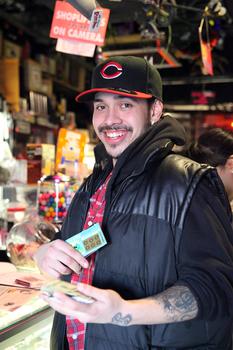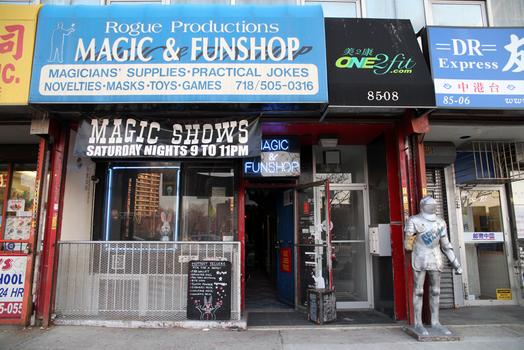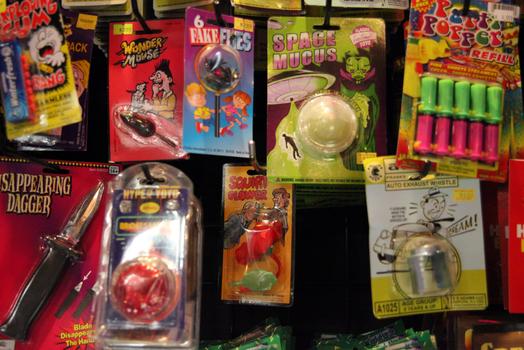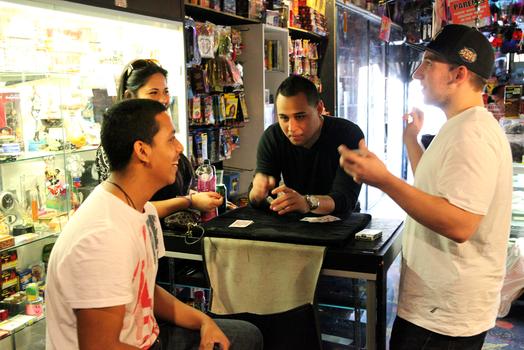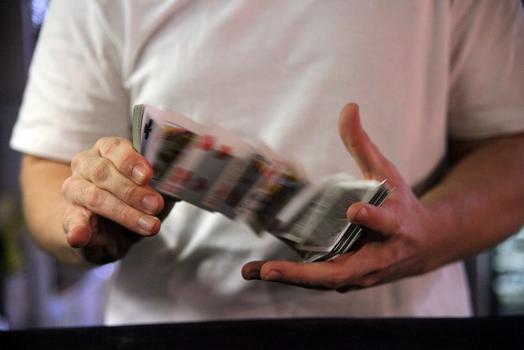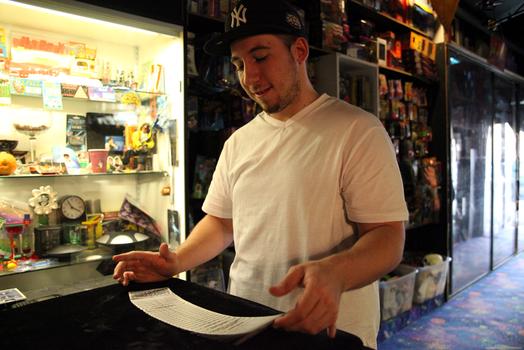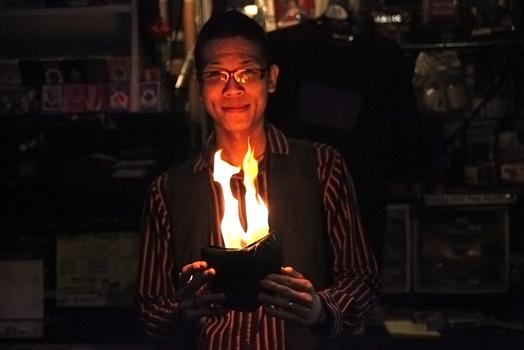 of