Micropolis
A Street Artist Interprets Gadhafi With a Nod to Obama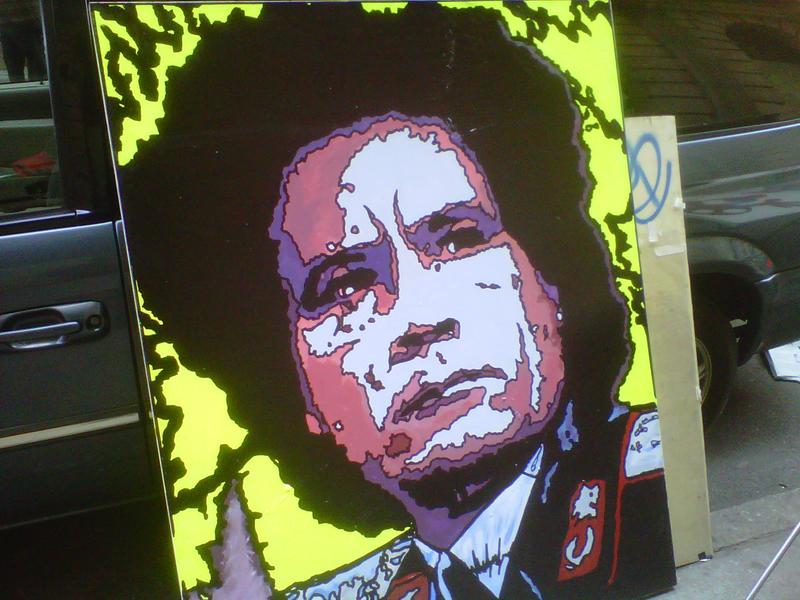 The last time world affairs found their way into artist Samuel Mark's work, bed bugs were taking over the city. Mark channeled the collective panic of New Yorkers into a series of works that depicted the critters swarming over mattresses, sofas and other discarded furniture. The series earned the street artist instant notoriety and widespread media coverage.
That was last summer. These days, Mark has the Middle East on his mind. His latest painting, of Libyan leader Muammar Gadhafi, was recently sitting unframed, on the sidewalk of Prince Street, just off Broadway, where Mark and other artists ply their trade. The work was completed just before an international coalition began conducting air strikes across the country.
Asked how he felt about the military intervention, Mark drew in his breath and composed his thoughts.
"It's another country, and I think that they should deal with their own problems the way they want to deal with it," he said, noting that he'd opposed the wars in Iraq and Afghanistan, too.
And yet, he said he felt a sense of "despair" for Libyans trapped by the violence, as well as the rebels resisting Gadhafi's forces.
"You got people throwing rocks at people who have machine guns and rocket launchers," he said.
Mark had been mulling over the issue in recent weeks, and mentioned the subject to a regular buyer, who said he'd buy whatever Mark finally came up with. Mark netted $800 for the Gadhafi portrait, but hadn't gotten around to one finishing touch. The buyer wanted Mark to add the word "Assassin" to the canvas, in "red, drippy letters."
The artist didn't appear completely entirely comfortable with the idea, but said he'd do the buyer's bidding — but only after the day's tourist crush had subsided. "Otherwise, there'll be too many questions," he said.
Mark works out of a studio in East Harlem, and said that when it's warm outside, he earns "a few thousand" dollars a week. Recently, he's turned his attention to the Spider-Man musical on Broadway, and plans to do a large painting about the Gulf oil spill, which he thinks has been forgotten by the media.
To the casual viewer, it's hard not to see the resemblance between the Gadhafi portrait — done in acrylic and petroleum-based ink — and Shepard Fairey's iconic image of President Obama. It's intentional, Mark said. He's also toying with the idea of creating an Obama-Gadhafi diptych.
"I was thinking, 'Wow, if I could just do the Obama also, in this style,' and then, write on the Gadhafi piece next to the Obama, 'We Hope for Change.' Something like that, something political. Something politically conflicting about what's going on now."
In some sense, the image of Gadhafi, as interpreted by Mark, seems as much about Libya's leader as America's.
"[Gadhafi] is basically saying, 'Let me handle my own country.' And Obama's basically saying 'Well, this is what the UN says, and we're taking over, and there's really nothing I can do," he said.