Ed Secretary Arne Duncan Backs Ending LIFO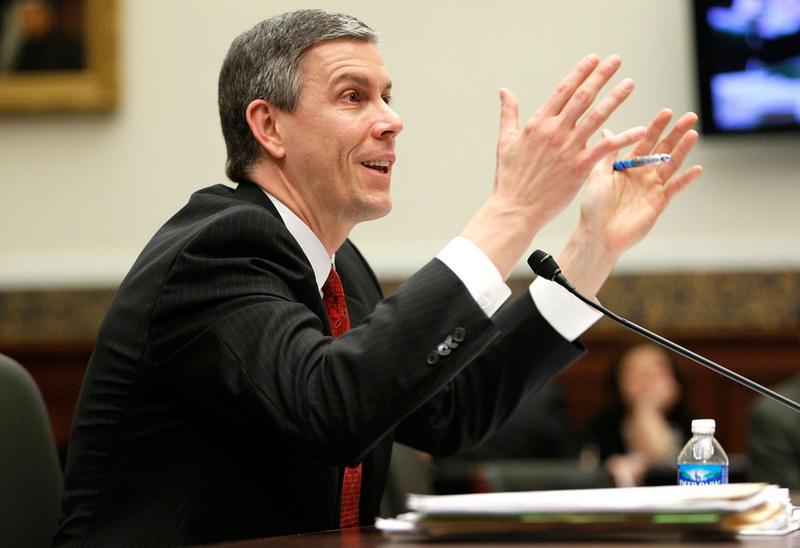 At an international conference on teaching, U.S. Education Secretary Arne Duncan said seniority alone shouldn't determine which teachers are let go during budget cuts. But he wouldn't say whether seniority should be among several factors when it comes to layoffs.
"You have to make sure the teachers that are having the biggest impact on students' lives have the opportunity to do that work," he said.
Duncan was responding to a direct question from WNYC about whether, all things being equal, a teacher with 10 years' experience should stay over a teacher with one year in the event of layoffs.
Duncan reiterated his previous statements that "you have to reward excellence in every profession," and said many places don't do a great job of rewarding good, young teachers or those with more experience.
Duncan spoke in midtown Manhattan at the Organization for Economic Development and Cooperation's First Annual Summit on the Teaching Profession. The Obama Administration has said the U.S. needs to improve the teaching profession to compete with countries  such as Singapore and Finland that have performed much better on international rankings of student achievement. It's awarded competitive Race to the Top grants to states (including New York) that create new teacher evaluation systems that rely partly on student performance.
The Democratic administration has straddled two sides when it comes to teachers, a traditional base of support. Duncan described himself as "tough-minded" about the needs for unions to make reforms. But he said he was "deeply troubled" by anti-union efforts in Wisconsin and a few other states, and said he "couldn't be more proud" of the American Federation of Teachers and the National Education Association, both of whom were present at the conference.
Randi Weingarten, who heads the American Federation of Teachers and previously ran its New York City chapter, said seniority has become a "red herring" here, where Mayor Michael Bloomberg wants to end the last in, first out law.
"China, Finland, all the districts that do so much better than we do, none of them talk about the issue of seniority," she said. "None of them talk about the issue of tenure. What they talk about is how you elevate the profession,"
Those countries do have tenure and seniority protections, she said.
Weingarten defended the current last in, first out (LIFO) law that requires the least experienced teachers to be laid off first in New York City. She said it's the fairest protection against cronyism and favoritism until the state develops a new teacher evaluation system, which Governor Andrew Cuomo wants to phase-in starting this fall instead of over the next two years.
"In a normal situation given how tough teaching is, given how tough teaching is, how much attrition we have, in a normal situation seniority will never matter if you have a good evaluation system because that will become the system that can really assess who can stay and who shouldn't stay."
But Bloomberg has argued that this isn't a normal situation. He claims he can't wait until the state's new teacher evaluation system starts in the coming school year because he needs to make layoffs now. The Republican-led State Senate approved a bill to end LIFO this week but the bill lacks support in the Democrat-led Assembly.
So assuming the new teaching evaluation system is the best way of weeding out the worst teachers and keeping the best, it still doesn't say what to do in the event of layoffs.
Weingarten was asked by WNYC how she thought they should be conducted.
"In the absence of a huge recessionary force like this, this will become a moot point," she said. "There never were [layoffs] for 30 years here."