Sushi Restaurants Drum Up Money for Japanese Disaster Relief
The city's sushi restaurants are drumming up funds to send to Japan.
In the five days since the disaster, Manhattan's SushiSamba has raised $8,000 from selling its "Japan Relief Roll." It's a traditional Futomaki roll that's sweet and crunchy and made of cucumber, yellowtail fish, king crab, tamago (egg) and Japanese squash.
"In Japan, Futomaki is a very traditional roll," said Koji Kagawa, the sushi chef at the restaurant's West Village location. "Each region has its own style. It's a roll with character."
Kagawa, who was born in the northern part of Japan's Shikoku Island, says he used to eat Futomaki rolls as a child. "Sushi is expensive and my mother didn't want to feed it to me all the time," he said. "Instead she'd put sausage and egg in Futomaki rolls. These rolls are easy to make."
He added that creating his own Futomaki roll was a way to show respect for traditional Japanese culture.
SushiSamba's campaign is nationwide. The $12 benefit roll is also sold at its restaurants in Miami, Chicago and Las Vegas. Proceeds will go to the American Red Cross.
Many of the restaurant's chefs are from Japan and have family in the country.
"The idea was to start a grassroots campaign with our chefs to raise money and connect with their families and the Japanese community at large during this difficult time," said Joanna Cisowska, a spokesperson for the South American Japanese restaurant chain. 
Nearby, Sushi Azabu is donating proceeds from an upcoming dinner on April 4 to the Japanese Red Cross. In midtown, Sushi Zen will also send proceeds collected from a donation box in its window to the Japanese Red Cross.
Updated 3/17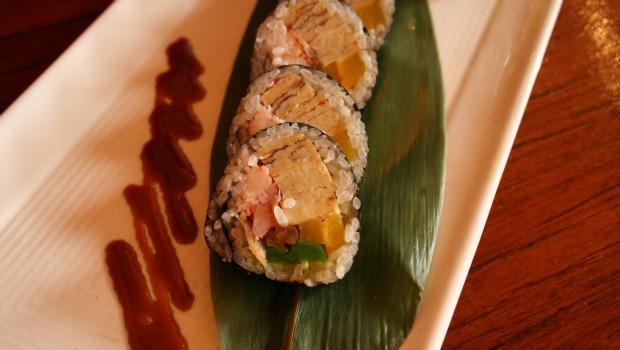 of