Niche Market | Casey Rubber Stamps
New York is a city of specialists from foodies to academics, laborers to shopkeepers. Every Wednesday, Niche Market will take a peek inside a different specialty store and showcase the city's purists who have made an art out of selling one commodity. Slideshow below.
Casey Rubber Stamps
322 East 11th Street
New York, NY 10003
Even in an age when most offices and many homes are equipped with laser printers, a simple rubber stamp does the trick for notaries, postal workers and those who demand a satisfying red "Confidential" stamp for delicate papers. For owner John Casey and the customers at Casey Rubber Stamps in the East Village, stamps are also a way of expressing creativity and whimsy.
Casey, who emigrated from Ireland at the age of 16, has been making rubber stamps for 30 years. The walls of his narrow shop — which doubles as his workshop — on 11th Street in Manhattan are lined with myriad stamps ranging from whales to peas-in-a-pod, spider webs, shells, guns, teeth, the Manhattan skyline and even that most fearsome creature: the bed bug. About half his business comes from selling pre-made stamps that range from $3 to $15. The other half is custom designs that customers request or bring in.
Rubber stamping is a simple technology that dates back about 150 years — and to judge from the operation at this tiny store, it really hasn't changed that much. Casey has a few machines crammed inside, one that transfers designs onto a clear negative, another that uses the negative to make a photo-engraved metal mold and another, the aptly-named Vulcanizer (after the Roman god of fire) that uses heat and pressure to squeeze a sheet of semi-solid rubber into the mold. "I leave it there for 10 minutes, and at the end I have a sheet of rubber stamps. Then I cut, cut, cut. Glue, glue, glue. Go crazy, go crazy, go crazy. Not necessarily in that order," Casey quipped.
The shop is frequented by people Casey describes as "the visually inclined," such as artists, designers, kids, small business owners and even those seeking unique wedding invitations. "Sometimes I like the art. Sometimes I like the people. Sometimes I like both," Casey said, while tinkering with his most modern machine, a computer.
Where did you learn this craft?
I'm still learning. I was interested in the idea of it when I was like 16, and it took me another 12 years to get the machinery. The guy I bought out showed me basically what to do and I've been muddling around ever since. 
What made you excited about stamps?
I am visually inclined to black and white imagery and since I can't draw, this was a great way of reproducing images. And it keeps my sense of historical perspective alive because most of my images are older. A lot come from the old letterpress printing days — pretty like the teens, 20s and 30s designs. They're very suitable for rubber stamps. They have nice line work, and they transfer very well into an image for a rubber stamp.
What's the most popular stamp you sell?
There's no such thing as most popular, but the tourists like the Chrysler Building-, Empire State building-, Statue of Liberty-type stamps, and then I have art nouveau and cherub alphabets that the kids like, and a lot of scientific people tend to like whatever their specialty is. I have a fair amount of material that suits somebody that is difficult to get a gift for. 
What kind of designs do people bring in?
All sorts of esoteric things — a sound wave, a dog, a cup with a letter in it, an owl, a gramophone with a chicken standing on it — you know, whatever people give me I do. People do business cards. People do logos. People do all sorts of strange and esoteric things. Lot of times it's a joke. Lot of times its serious. A lot of people doing small businesses want packaging ideas so I do a lot of those, and people doing mock-ups that don't want to spend a lot of money on proper, expensive labeling just get a rubber stamp to do it temporarily to see how it works. And I can make it.
Who are your clients?
Most would be visual, would be artistic, not necessarily work in the arts but quite a few would work in creative processes. A lot of people in clothing, a lot of people in design, a lots of people in the arts, as well as coffee shops and regular small businesses that need logos. It's hard to define a specific person, but well, they want a design, so obviously design-oriented. 
How has the business changed over the years?
My end of the business was always a little different from the regular rubber stamp places because I always specialized in the graphics. Now the regular business rubber stamps businesses have gone down considerably, but there's still a need for them and there's quite a few decent companies out there that do a good job.
What's the difference between your shop and a typical rubber stamp business?
Well, I'm not a notary. I don't do a lot of stuff for banks and that sort of thing. As I say, I specialize in the graphics, so I'm a slightly different niche to most of the Wall Street-type rubber stamp establishments.
Do you remember what the first stamp you made was?
The very first stamp I made was a little rabbit, which I still have. I had a bunch of designs, and the first one had a bunch of rabbits on it and that's what I made. I still make it. It was coincidental. It was what was available for me to make at the time. I'm not a bloody rabbit freak. (laughs)
Where do you find the images, and do you have to worry about copyrights?
If anybody's looking for a specific design I put them to Dover Books, who have hundreds of books of copyright free designs. Copyright designs I don't want to do unless people have permission, and every so often I refuse to do jobs obviously because if it looks anyway like a copyright thing I just don't want to be involved. 
What do you think is the appeal of rubber stamps? Most people have printers at home, right?
People have said this to me: don't the computer put me out of business? But no, actually the graphics people on computers are some of my best customers because they want to get their hands covered in ink once in awhile. They want to feel something tactile. Computers, for all they're worth, they're great, but they're not tactile. They don't have that feel. The computer does what it does perfect every time, while the rubber stamp can give you imperfections that look great and you can vary the ink, you can very the colors, you can vary the texture, which is much more difficult to do on the computer. So I always knew that the computer graphic people will get bored of the computer screen once in awhile and want to see the real analog world.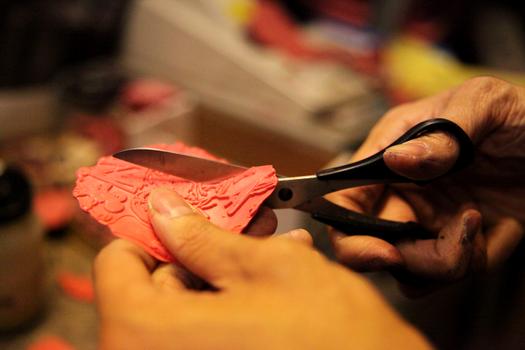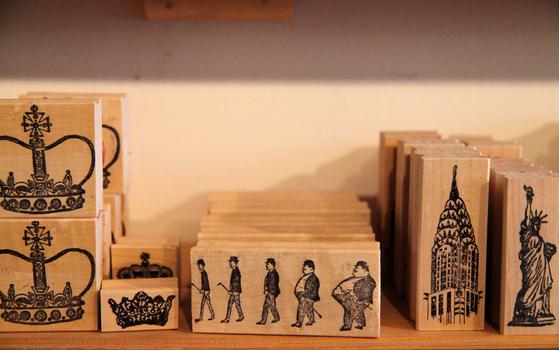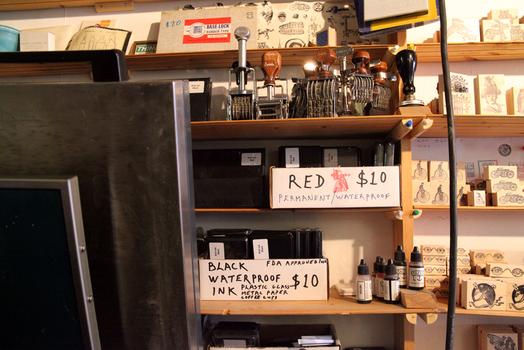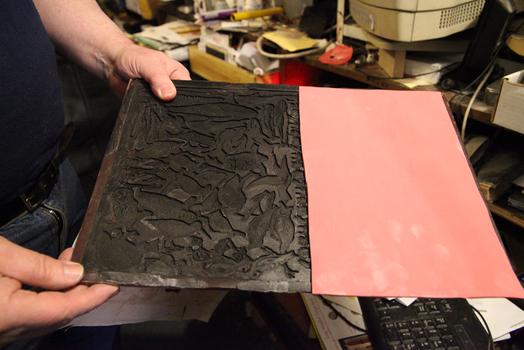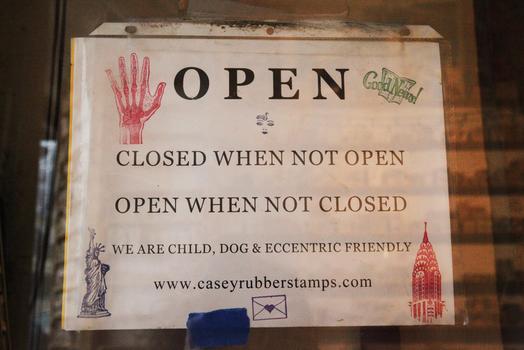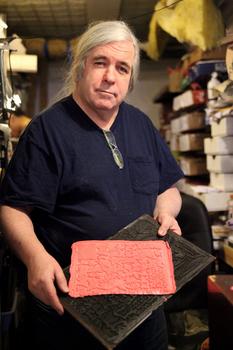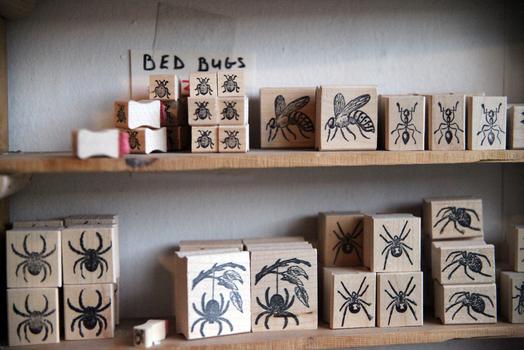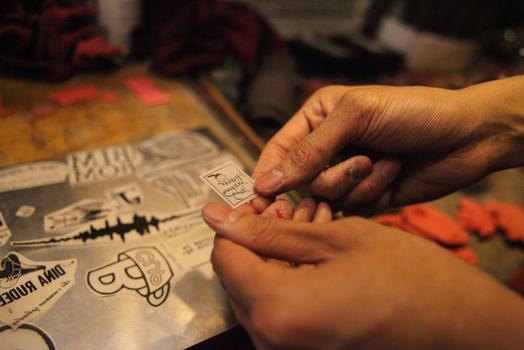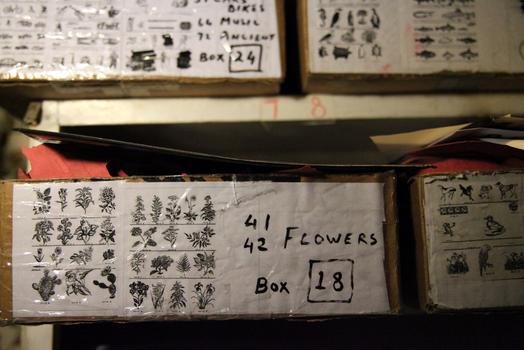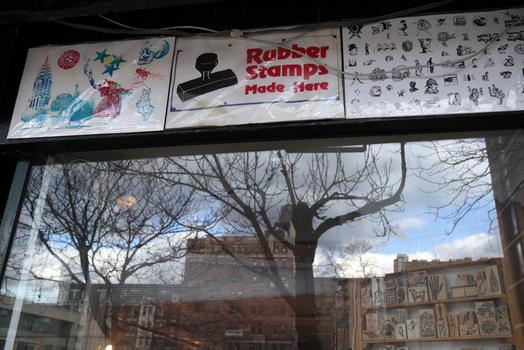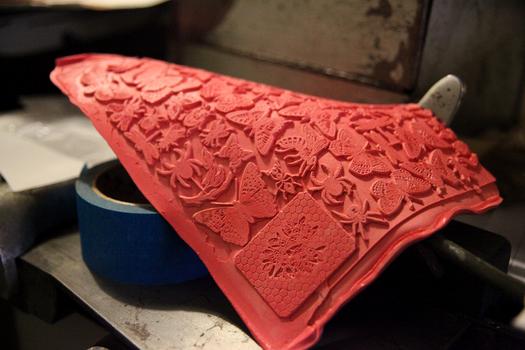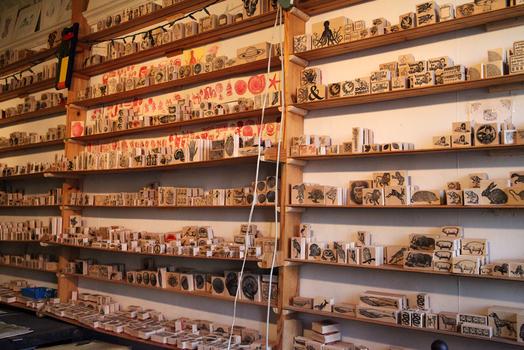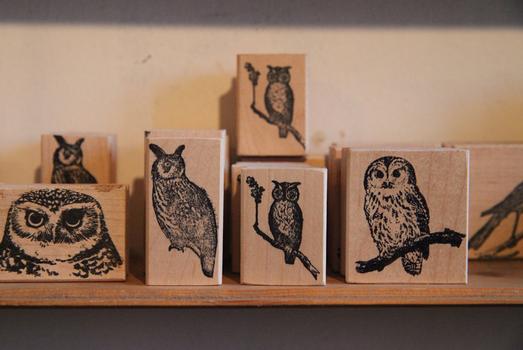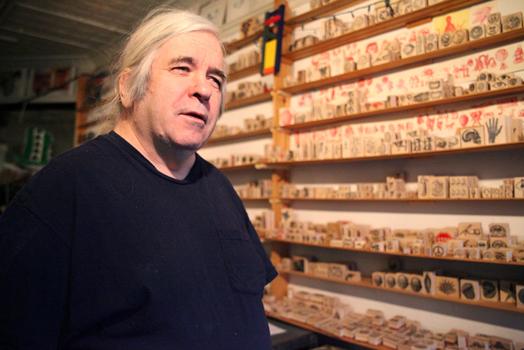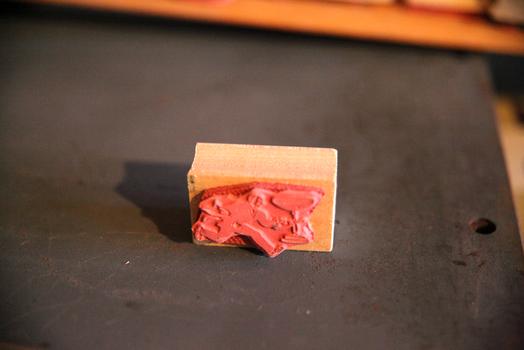 of