Sticking to Curriculum, Teachers Struggle to Keep Up With Mid-East Events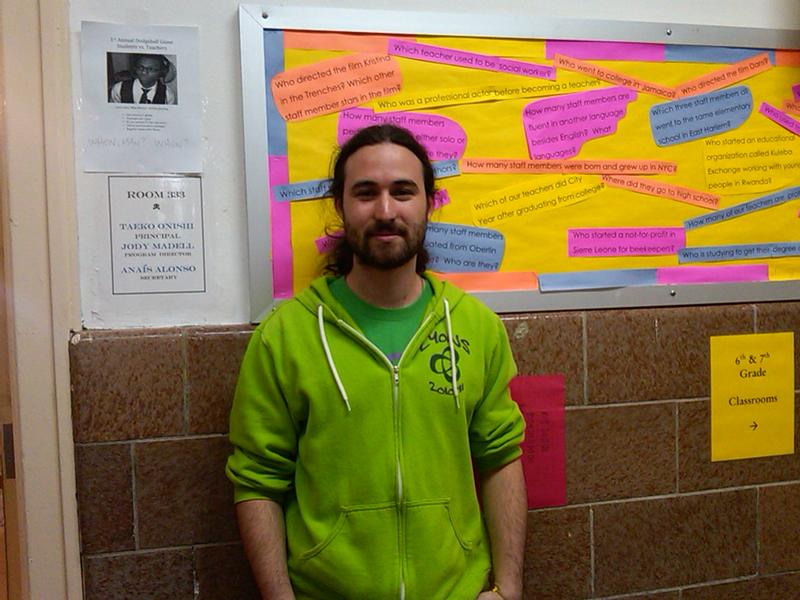 When the demonstrations started in Egypt in January, teacher David Bally got excited. His mother is from Syria and he chairs the social studies department at the Lyons Community School in Brooklyn.
"I showed kids Twitter feeds from Egypt. I've shown Facebook groups, You Tube videos. It's all things that they use and really connect with," Bally said about how he used the events in class.
But it was just for a day. Bally's 10th graders were in the middle of studying 19th and 20th century imperialism, and his students needed to stay on track for the annual state exam.
"If I didn't have the Regents, I could really turn this into like a teachable moment," he said. "There's history happening around us that we can't stop. ... I mean, the people of Egypt stopped their lives for everything. And it's like, I can only do that for a day or two or three."
Bally's coworkers – and high school teachers around the city - expressed similar frustration. WNYC reached out to teachers across the metro region through our new database of sources, the Public Insight Network. Several said they didn't have any time to teach about the rapidly changing events in the Middle East and North Africa because of the relentless pace of the state's curriculum.
Ninth graders in Global Studies cover an enormous range of topics from early civilizations through the Renaissance. In 10th grade, they continue with 19th and 20th century global history leading up to a Regents exam on both years' worth of material. Eleventh graders study U.S. history.
At North Shore High School in Glen Head, Long Island, Social Studies chair Christopher Zublionis said ninth grade offers the most flexibility because there isn't a Regents test that year. He said he observed one teacher giving a lesson on "oversimplifications about the Muslim world" by explaining the difference between Sunnis and Shiites.
Another social studies teacher there, Maram Mabrouk, is Egyptian. She said her class was looking at warring states in China during the third century BC when the revolution started in Egypt.
"We tied it into the role of technology," she said, referring to how the emergence of iron enabled the Chin Dynasty to take over, while Facebook enabled a revolution in Egypt. And she said a 10th grade colleague compared the causes of Egypt's revolution to those in 19th and 20th century Latin America and Europe.
But the North Shore of Long Island, with its well-regarded schools, probably isn't as test-obsessed as New York City. Teachers at the Lyons school in Brooklyn say it's been hard staying on track because so many of their students are struggling readers. The sixth-12th grade school is under great pressure to raise its scores. But occasionally, a teacher does branch out.
In a Global Studies class for ninth graders who are still learning English, teacher Joshua Lewis used a projector to show the class a photo of a man on fire. It was an eerie image and the students have no idea what it means. After giving them a few minutes to suggest their own theories - one kid thinks he's a firefighter, another wonders if he escaped a forest fire - Lewis shifted straight to Tunisia.
"What caused the revolution in Tunisia?" he asked the class. "How many people have never heard of Tunisia in their life?"
A few hands went up. Lewis is an English as a Second Language teacher. Three of these ninth graders are from Yemen. Their ears perked up when he shows the class a map of the Mid-East and North Africa.
"You guys need to tell me where these countries are: Oman, Yeman, Egypt, Libya, Tunisia, Algeria, Israel, Saudia Arabia. Just a few countries."
A small boy with thick black hair pipped up: "I can do all of them," he said. 
"Do you guys think Ibrahim can do all of them? That would be pretty amazing," Lewis asked the class, as they nodded their heads. They appeared confident in their classmate Ibrahim Elroubat. The 14-year old moved to New York City from Yemen two years ago. He rattled off the correct locations for every country on the map projected on a smart-board.
Lewis gave the class a few brief paragraphs to read about Tunisia. Most of the 12 students are Spanish speakers, and through the reading they learn the words "autocratic," "dictator" and "torture." They also learn that "elites" controlled Tunisia. Then Lewis showed them a picture of the man on fire, and a photo of him lying in a hospital bed. He explained that this is Mohamed Bouazizi, the street peddler who lit himself on fire to protest paying a bribe, and explained how this violent act led to the overthrow of Zine al-Abidine Ben Ali after more than two decades of power.
Some students were more curious than others. One seemed distracted. But 14 year-old Jaydaliz Placido was surprised to learn so many young people in Tunisia are unemployed even though they have college degrees.
"I want to know why they don't give them jobs," she said.
Najeeb Alzokari and Ibrahim, both from Yemen, were especially curious. They said their families each moved to New York about two years ago.
"I learned last year about black people in the United States from the history when they was fighting for their rights to be in the country, to be able to go to school," Najeeb said. 
"Abraham Lincoln come and what happened in the United States and the black people, it's gonna happen the same thing," added Ibrahim.
Teacher Joshua Lewis said he's thrilled whenever his students make connections like these.
"The kids who are from the Middle East, you know, these things come up all the time," he explained. "We've had cases of kids calling them terrorists. You know, the kid who's Mexican, we've had cases of denigrating statements about him, 'You Mexican, right?'"
"For these kids to learn about that, where this stuff is coming from," is helpful, he said. "Why it is certain people the Middle East have problems with the U.S. . ... For them to find this out it helps clarify, you know, all these conflicts that they're feeling."
Lewis has more freedom to go into these conflicts because he teaches English as a Second Language, and his ninth graders also take a regular Global Studies class.  And the timing worked in his favor. This week the class is studying Islam – part of its regular unit on world religions.