In Connecticut, a Democratic Pitch for Big Labor Givebacks and Higher Taxes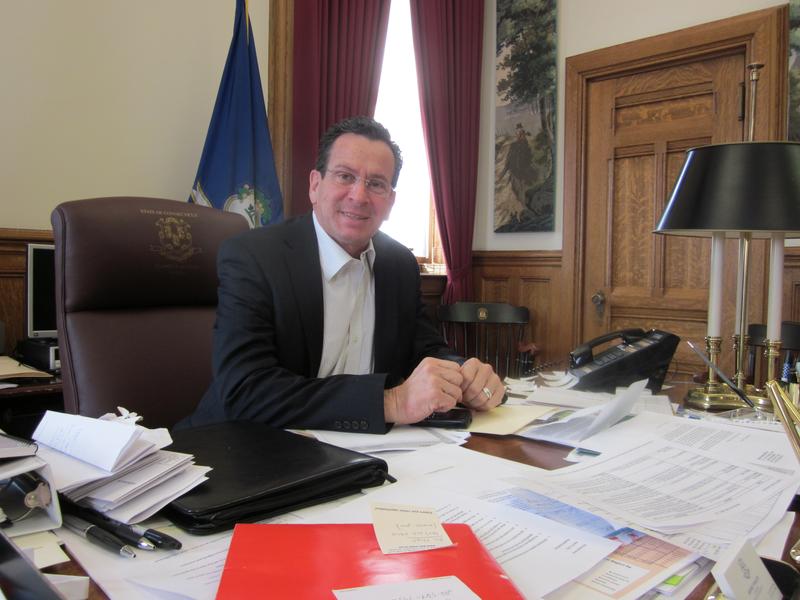 On the morning of the gubernatorial primary in Connecticut last August, Democrat Dannel Malloy stopped by a picket line to campaign, visiting nurses who had been striking for months.
The visit came back to haunt him in the general election, when his Republican opponent Tom Foley seized on the stop to show Malloy was "in the pocket" of unions, and cornered Malloy into insisting to voters that he hadn't made any promises to public employees.
Malloy eked out a win, the first for a Democrat in Connecticut in twenty years, with a margin of about a half a percentage point.
"I thanked them for their support, but I also pointed out that one of the reasons it was as close as it was was because of their support," Malloy said this week in his Capitol office. "And they know that."
Now in office, Malloy's labor relations are getting tested early. He released his budget last month in the shadow of Wisconsin and the white-hot spotlight it cast on public employee benefits. It aims to close a deficit that tops $3 billion with $1 billion in givebacks from unionized public workers.
Malloy is unequivocal on public workers right to organize. He calls Wisconsin Governor Scott Walker's effort to limit bargaining "interfering with people's rights and liberties." But he sees a definite need to realign public employee pay and benefits to what the state can afford.
"He and I have some of the same goals," Malloy said of Wisconsin's governor. "We just have very different means, and I think that that's an important distinction."
Malloy's approach includes meeting face to face with unions, warning of "dire consequences" if he doesn't get his concessions, while regularly reemphasizing his support for unions. For example, Malloy's appointed negotiator already starting meeting with the union's negotiating team barely a week after Malloy spoke to a crowd of union workers (and was greeted with applause) at a Wisconsin solidarity rally in Hartford.
"There's been some confusion," SEIU Local 2001 president Patrice Peterson said of of Malloy's budget. Her union is part of the coalition that bargains with the governor on behalf of  50,000 state employees.
Fired up by the Wisconsin protests and already worn down by furloughs and pay freezes in the current budget, union leaders have serious doubts about Malloy's budget proposal. It's clear Malloy's campaign champions are still sizing him up.
"Right now, the way it's structured, it's not a fair share. It targets the middle class," Peterson said of Malloy's budget. "There are a lot of things in state government that we can be looking at for efficiencies that have nothing to do with changing my benefit structures or my wages."
In particular, the unions are criticizing Malloy's budget for relying too much on middle class tax increases and labor concessions, instead of asking wealthy residents and corporations to pay more.   
At the same time, Connecticut's first Democratic governor in two decades is forging a different relationship with the unions than previous administrations. "Having somebody who stands up and says and I believe in unions and I believe in public service and I respect what you do, is new for us to hear," Peterson said. "We haven't heard it in almost 20 years."
That difference in tone is intentional for Governor Malloy.  
"I'm not attacking them. They know we're in trouble. I'm not trying to scapegoat them," he said. "But there is a reality that benefits have gotten rich over a period of time."
Still, his Republican predecessor only managed to cobble together around $630 million in labor concessions. No matter. Malloy is firm on the size of the concession he's looking for. "We have to get to a billion dollars. That's just the reality. There is no way out of it." 
Governor Malloy's style is direct, unquestionably self-assured and feverishly paced. (An exhausted aide joked that he's trying to outfit him in weighted shoes.) A former prosecutor and the youngest of eight kids, Malloy has had to learn how to build consensus — and how to win. And without much of a mandate at his back, he is digging in to convince Connecticut lawmakers and voters to swallow a bitter pill of new taxes, union givebacks, and spending cuts.
"I know how to communicate I suppose, and I'm using that communication skill to hopefully convince and cajole the people of Connecticut to go down a different path, a path that's honest and transparent in its approach, to what are not new problems. They're systemic," Malloy said.
He ticks off bad habits he's inherited from Republican predecessors: borrowing to cover operating expenses; delaying pension payments; cutting local aid and shifting the tax hike burden to municipalities, and signing on to decades-long public employee contracts with benefits the state can't afford.
Along with the union givebacks, he's calling for higher taxes. Lots of them. He wants to increase the sales tax by a quarter of a percentage point and tax previously untaxed services, including haircuts, manicures and pedicures and carwashes. Income taxes would go up for everyone making over $50,000 — but the wealthiest taxpayers would still pay less than they would in neighboring Massachusetts and New York. That's on purpose. He wants "to spread the pain around." – which means he does not want to just hang the tax burden on Connecticut's richest residents. "Those are the most mobile people, and you have to recognize that," he said.  
And that's what might make his budget a tough sell in the Democratically controlled legislature, where the public employee unions have plenty of allies. (The House Speaker, for one, is a former union organizer.) Governor Malloy concedes that his budget is just the first draft, but he is dogged as he makes his case for his spending cuts and tax increases.
That was on full view at a town hall in Waterbury, a right-leaning manufacturing town that has lost its industrial core. Hundreds crammed into the local veterans hall on a Tuesday night, packing the main room and an overflow room to see the new governor at work. It was a racially mixed crowd, with a blend of union t-shirts and suits and ties. During the hour-long Q-and-A, there were impassioned pleas to find inefficiencies before cutting workers and rage at his proposed tax hikes, along with more relatively mundane questions about technical education, health insurance, and charter schools.
Malloy's talking points of "shared sacrificed" and "turning a corner" were evident throughout, dotted with references to "you and me" and appeals to restoring Connecticut's greatness.
Not everyone bit. "The term of shared sacrifice is going around and around, and we really need to name it what it is, middle income sacrifice," shouted one. "We are broke! We can't take it any longer!" lobbed another.  
The governor listened, defended, and interrupted, pressing his case all the while. 
"I understand that we may be disagreeing on some of the things. I understand that, but we have got to stop being the state that for 22 years has only lost jobs," he told one questioner breathlessly. "We're in the hole we're in because we weren't transparent. We didn't change."
At the end of the night, there was no real consensus about the way forward. His applause at the end was about the same as when he arrived – polite, respectful. A Quinnipiac poll this week found similar mix of attitudes – a slight majority agreeing that taxes have to be raised to balance the budget. But on the specifics, voters opposed every tax increase but alcohol and tobacco taxes.  
Gov. Malloy knows that he's not going to win over everyone, but the former prosecutor is confident he'll get a deal.   
"Well, you don't get everybody to yes. You get a majority, fifty percent plus one pass a budget." the governor said. "And I think we can get there."
Listen to Anna Sale talk with WNYC's Soterios Johnson about this issue.