Headlines in Chemistry, 1948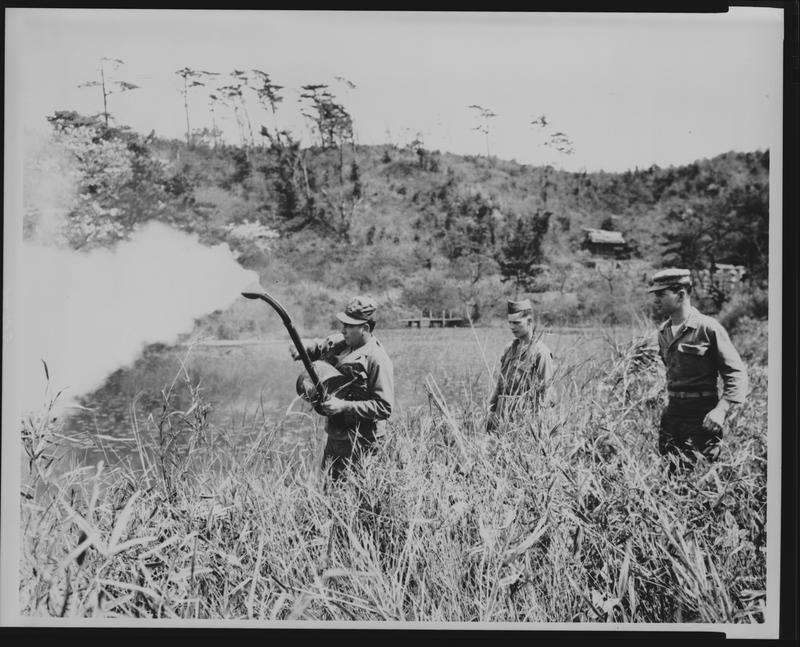 "Headlines in Chemistry" premiered on WNYC in 1947. Produced in cooperation with the American Chemical Society's News Service, the show aimed to "present a program of interest to the lay public on the latest scientific developments in the chemical fields." Within four years the show was carried on about 80 stations nationwide [1], and by 1952 it was "beamed overseas in 42 languages [2]."
In this 1948 episode, host George Bone proclaims "Science can now rid the country of mosquitoes!" A reporter goes on to describe how the "cheap, thorough and quick" chemical compound DDT can completely wipe out biting insects over enormous areas, thanks to an aerosol generator developed by Victor K. LaMer and Dr. Seymour Hochberg of Columbia University. The process, in which small amounts of DDT are dissolved into oil and fed into a fog machine, is described as being able to blanket the countryside in a short time and thus put and end to diseases carried by mosquitoes and black flies, while, the reporter assures us, not kill birds, bees or fish.
It is worth noting that the 1948 Nobel Prize in Physiology and Medicine was awarded to Swiss scientist Paul Hermann Müller for his successful synthesis of DDT (dichlorodiphenyltrichloroethane) in 1940. The compound "proved to be of enormous value in combating typhus and malaria [3]" during World War II.

It wasn't until the 1962 publication of Rachel Carson's Silent Spring that the public became aware of the potential risks associated with DDT, including a detrimental impact on wildlife, particularly birds, and the suggestion that there were links between the pesticide and cancer in humans. Ten years late DDT was banned in the US, and was eventually banned for agricultural use worldwide.
Other news items discussed in this episode of "Headlines in Chemistry" include:


One scientist's plan to make whiskey from saw dust, thereby producing a cheaper product while saving grain for the world's underfed.
Research showing plutonium to be one million times rarer than radium in nature – showing that nature did not provide enough plutonium to create atomic bombs.
A "mechanical professor" (or "roboat") being used to grade test papers while making almost no mistakes.
Developments in curing the "blind staggers," a disease common in livestock in the West, caused by high levels of selenium.
In 1952 Dr. Edgar C. Britton, president of the American Chemical Society, honored WNYC "for bringing the story of chemistry to the people," and presented a plaque to Mayor Vincent R. Impellitteri on the 5th anniversary of the show.  WNYC Director Seymour N. Siegel said that "programs like 'Headlines in Chemistry' have been extremely important in keeping New York's housewives and consumers aware of the latest developments in the chemical laboratories of America, showing how life can be made richer and fuller by reason of chemistry [4]."
[1] American Chemical Society. Chemistry, key to better living:a record of chemical progress during the first 75 years of the American Chemical Society. [Washington, D.C. : 1951,] American Chemical Society, p. 24.
[2] Browne, Charles Albert and Mary Elvira Weeks. A history of the American Chemical Society: seventy-five eventful years. Washington, D.C. : American Chemical Society, 1952, p. 226.
[3] "Paul Müller - Biography". Nobelprize.org. 8 Mar 2011 http://nobelprize.org/nobel_prizes/medicine/laureates/1948/muller-bio.html
[4] American Chemical Society News, 1952, 30 (45), p. 4764
Audio courtesy NYC Municipal Archives collection.