Secretary Clinton: 'Advocate-in-Chief' for Women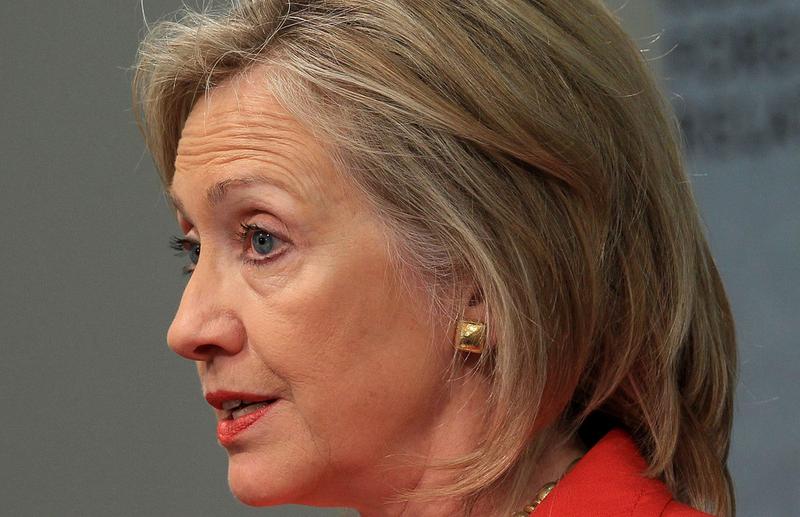 Welcome to Politics Bites, where every afternoon at It's A Free Country, we bring you the unmissable quotes from the morning's political conversations on WNYC. Today on the Brian Lehrer Show, Gayle Tzemach Lemmon, deputy director of the women and foreign policy program at the Council on Foreign Relations and author of The Dressmaker of Khair Khana: Five Sisters, One Remarkable Family, and the Woman Who Risked Everything to Keep Them Safe,  talks about Hillary Clinton, whom she profiled in this week's issue of Newsweek in "The Hillary Doctrine".
Secretary of State Hillary Clinton is the second most admired woman (behind Oprah Winfrey) according to a new Newsweek poll. But she's admired enough to be playing a strong role for women amidst political upheaval in the Middle East region.
Clinton said: "If a country doesn't recognize minority rights and human rights including women's rights you will not have the kind of stability and prosperity that is possible."
Gayle Tazemach Lemmon called the Secretary Clinton the advocate-in-chief for women world-wide, but Lemmon says though Clinton and her team work this angle, they are also in a precarious political place, especially when it comes to the Middle East.
They are very clearly speaking with and talking with folks who are going to be part of the new Egyptian government about the need to include women and it's a very find line because you do not want to look as if you're doing too much or certainly imposing your own values from the Secretary's perspective, but I think there is a sense that someone of her stature is an advocate for women who are in the region and fighting for their own rights and she is amplifying their voices.
Lemmon said it's "heartening" to see women speaking for themselves and that this is one of the key components to progress. The involvement of women cannot only be achieved through advocacy from outside the borders of Egypt, for example.
As for the the idea of a "Hillary doctrine," also the title of Lemmon's Newsweek article, she said there is a doctrine, but it's very subtle.
If you weren't paying attention you wouldn't really know just how much she's tried to weave the theme of women and women at the center of US foreign policy, rather at the periphery, into every peice of work that she does, whether it's a foreign trip...or whether it's a speech that she gives.
Clinton's subtle style is also the key to being heard in a commensensical political landscape, Lemmon said.
Some people take issue with the way that she has framed these arguments but if you're going to talk about Washington pragmatism, which I think is very relevant, she wants to be heard in Washington, not tuned out as a do-gooder or someone who is too focused on only a single issue. I think her argument is quite elegant which is that this is a security issue because it's about creating more stable, more secure, more prosperous communities all around the world.
And according to Lemmon, there's evidence of this — societies that include women and extract their talents are more secure and more prosperous.
Hillary Clinton gave a speech in Beijing in 1995 while she was the First Lady. She spoke out against about the abuse of girls and women and Lemmon called this speech a real turning point for Clinton.
When she went to Beijing there were a lot of people from her husband's administration that did not want her to go, and she went saying, look, this is an important statement of human rights and what she said at that time was fairly radical, which is that you cannot divide women's rights from human rights. This is not a special subsection or a special lane in the bowling alley, this is really the center stage of human rights and you can not talk about human rights without thinking about half the world.
Lemmon said this speech still resonates with leaders around the world and, though it may not have changed how reporters and politicians perceived her at the time, it had a global impact.
I think it was the beginning of the start and I think for her, personally, and for her team, it was the beginning of the push to find this cause and to make it her own and to realize the impact that she could have and I think it's one she carried with her more quietly in the N.Y. Senate but one that has certainly risen to the floor in her tenure as Secretary.
As for women's issues on the national front, Lemmon said she is very aware of them and sees them as a part of global women's issues.
I think she sees them as very much connected but I think at the moment because of her role as diplomat-in-chief, she is really focused on where can she have an impact in her role.
As for the rumors of what she'll do next, Lemmon said she thinks Clinton is ready for a break from public life, but even so, we shouldn't rule anything out.