Niche Market | Civil Service Bookshop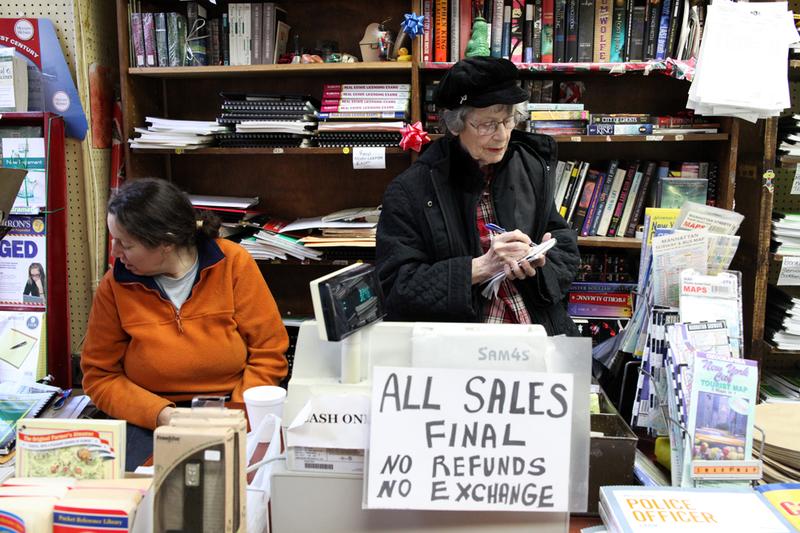 New York is a city of specialists from foodies to academics, laborers to shopkeepers. Every Wednesday, Niche Market will take a peek inside a different specialty store and showcase the city's purists who have made an art out of selling one commodity. Slideshow below.
Civil Service Bookshop
89 Worth Street
New York, NY 10013
Thousands of wannabe Civil Service workers trek to Worth Street in Lower Manhattan to buy so-called exam passbooks, a veritable CliffsNotes for exam prep, at the one store in the city that sells such wares: The Civil Service Bookshop. The mother-daughter outfit has been around for 60 years continuously serving "working people," as owner Roslyn Bergenfeld said.
The most popular book in the store right now? A Motor Vehicle Representative passbook for those who want to work at the DMV.
The books that Roslyn and her daughter Amy supply are simple: bound copies of old exams with answer keys. Traffic Device Maintainer, Hoisting Machine Operator, School Crossing Guard, 311 operator — each one of these jobs has its own exam and sample tests are sitting in the rack. Passing the Civil Service exam doesn't guarantee anyone a job, but a high score lands you higher up on the list.
With an 8.9 percent unemployment rate in the city, the door swings open often, and the Civil Service Bookshop's phone — which is a payphone — rings frequently. "Do you have the Traffic Device Maintainer book?" (For fixing broken traffic lights.)
Lately, public employees unions have been under attack from cash-strapped politicians threatening pension cuts and wage freezes, but according to all the job-seekers interviewed at the Civil Service Bookshop, a government job in New York remains a gold standard.
"I mean, what am I going to do, if that's one of the benefits that's gonna cut, it's just gonna cut. I'm gonna work," said Paul Mateo, who's been out of work since August, and will be taking his forth civil service exam this coming weekend. He bought a passbook for the Associate Investigator test and walked out of the shop.
How did this store start?
Roslyn: My husband started it originally right after WWII and he wanted to make it a toy store, but then everybody needed the books for tests. The soldiers were coming home, and they were looking for jobs. So they created the books to help them pass the tests, for sanitation men, for bus drivers.
What books did you sell today? 
Amy: Motor Vehicle Representative, Administrative Engineer, Administrative Accountant, Associate Investigator, Eligibility Specialist. 
Who are your customers?
Roslyn: Working people. Really working people. And tourists are great. They come in for buying tourist guides and maps.
Do you do any advertising? 
Roslyn: Yes, a weekly newspaper, The Chief newspaper, which caters to civil service news.
Do you have a lot of customers a day?
Roslyn: Yeah, 60 to 70 customers a day — could be 100. If there's a big test, like when the bus operator test came, we had 100 customers.
I would call this a self-help store because we're helping people get a job. We're helping people obtain diplomas for high school, college. We're helping them get self-improvement and self-encouragement. There's all these books — how to do math, how to do English — and sometimes they sit here and they have to be explained how to use the book. A lot of people have been out of school for a long time, they've forgotten some of the basics.
Is there one Civil Service Exam that's the most popular right now?
Amy: Motor Vehicle Representative, and the second one after that might be School Guard.
Roslyn: They're big on accounting. I think the state is doing auditing, a lot of accounting jobs. But you need the background.
What about you? Have you ever taken a Civil Service Exam?
Roslyn: Before I got married, I worked for the city and I took many tests, and I studied and moved up. I was a clerk, a secretary. That's over 55 years ago.
How did you get a pay phone in here?
Roslyn: I'm here so many years, the store came with a phone. We need a phone here so we left it. We pay for it; it's not cheap. 
You ever think about getting another kind of phone?
Roslyn: What other kind of phone is there? Really. But my daughter bought me a cell phone after 9/11. I use that too, in case of emergency.
Amy: On 9/11 she was here, all the phones were down in the neighborhood but this payphone we had worked, so a lot of the reporters came in, they were calling. 
Are people coming in talking about cutbacks? 
Roslyn: The men look terrible. They look very depressed. I can see it in their face. The men want jobs. A man has to work, and the women are supporting the families. We try to help them. We tell them what's out. We show them the list. We tell them, 'You missed this test, go for that test.' It's very satisfying. Today, we had a couple people come in that got jobs. Then we encourage them: 'Don't forget get dressed up when you go for an interview. Wear a clean shirt. Get your hair done.' It's hard, you see it all over. I'm not trained, I'm just an old lady with a lot of years of experience.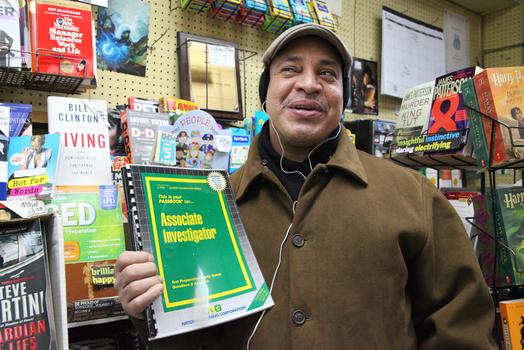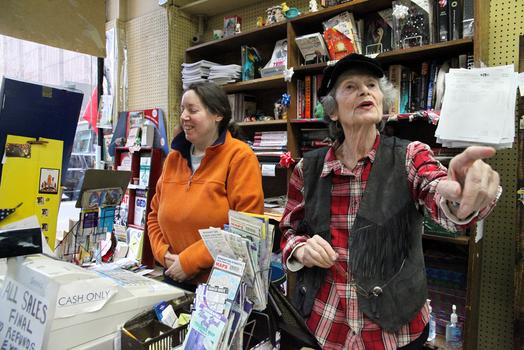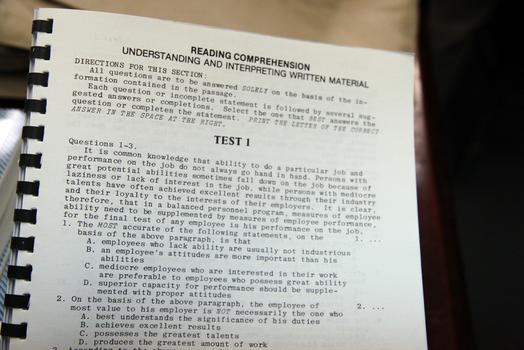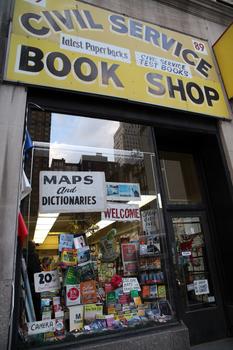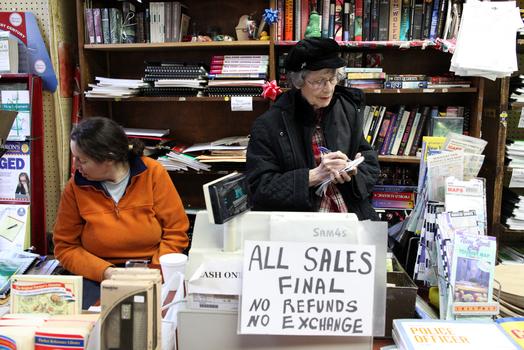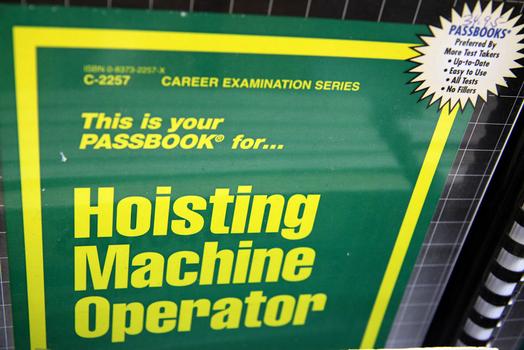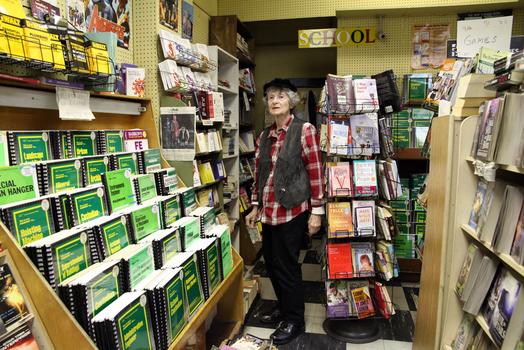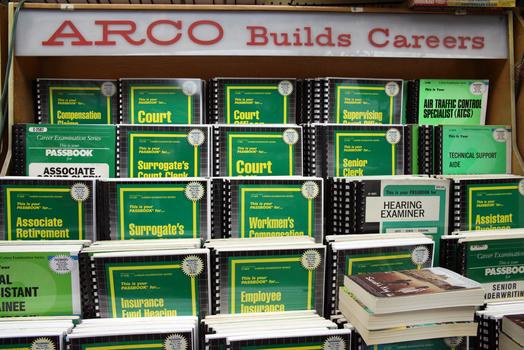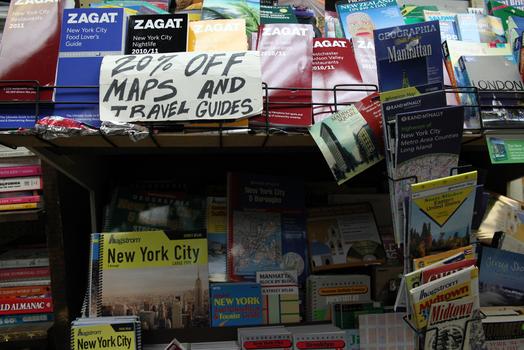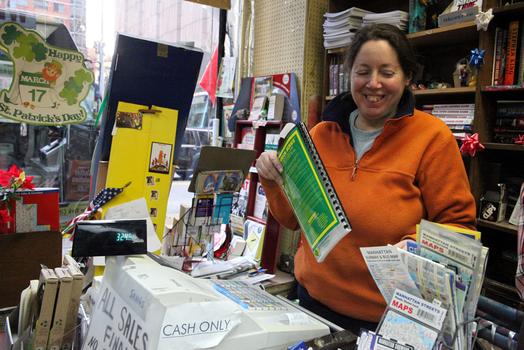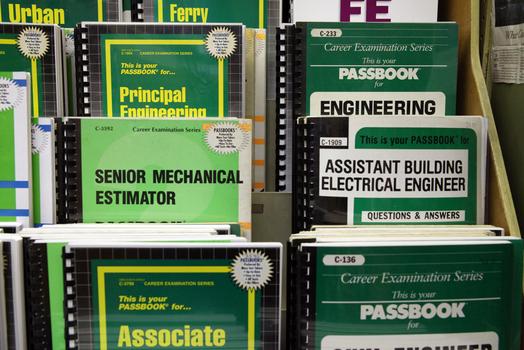 of