Congressional Hearings on Islam Draw Hundreds of Protesters, Some Supporters
Hundreds of demonstrators stood in the rain in Times Square on Sunday to protest Congressman Peter King's hearings on the radicalization of American Muslims.
The theme of the event, "Today I am a Muslim, Too," was emblazoned on placards and T-shirts, as protesters huddled under umbrellas. The rally was held at the same time as another, smaller gathering of demonstrators held a counter-rally, in support of King, just four blocks away.
King said his hearings, set for Thursday, are intended to examine what American Muslims are doing to cooperate with law enforcement. But the hearings have been widely condemned, with many critics comparing them to Congressman Joseph McCarthy's inquiries into communism in the 1950s.
One opponent, Lawrence Rockwood, said he expects nothing substantive to emerge from the hearings and that they'll serve to marginalize Muslims.

"Congressman King thinks this is a fact-finding hearing," said Rockwood, a historian attending the protest. "It's not. He knows that. It's a political hearing to stir up animosity between one group of Americans and another group of Americans."
The protest was organized by a broad coalition of groups including interfaith and civil liberties organizations and was backed by music executive Russell Simmons and Rev. Al Sharpton. Imam Feisal Abdul Rauf, the man most closely associated with Park 51, the Islamic cultural center and mosque near Ground Zero, was among the speakers who took the stage.
Among the several Christian clergy in attendance was the Rev. Justin Myers, of the Reform Church of America, in Flushing, Queens. He said King was wrong to "single out" Muslims.

"It's not a matter of Islam or the Muslim faith being bad," said Myers. "There are plenty of Christians that I don't think are acting like Christians just like I think there's plenty of Muslims who aren't acting like Muslims."
The counter-protest, down the street, drew about 35 demonstrators, some of whom wore T-shirts opposing Park 51. Several of the speakers warned against the threat of sharia law in the United States. Bill Byrne, a member of 9/11 Hardhats, argued that many Muslims aren't patriotic or willing to integrate.

"We let our guard down," said Byrne. "We thought that we were so nice and people would come here and just become like us but you know what, people hate us for what we have."
"What Congressman King is doing is phenomenal. That he has the guts, the fortitude to stand up and do this. He's not against Islam. He's not against Muslims. He's against radicals," said Byrne, including those immigrants "coming in quietly and breeding up and implementing laws here and there," while pledging allegiance to the Koran, rather than the American Constitution.
Like King, another speaker, Arish Sahani, argued that Muslims aren't cooperating with the government to fight terrorism.

"And we're requesting all Muslims -- if you don't help us we have no other option: we have to stop immigration of all Muslims. That should be our ultimate solution," he added, drawing cheers from the crowd before signing off, "God bless America!"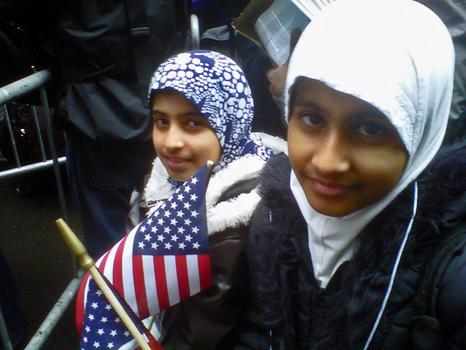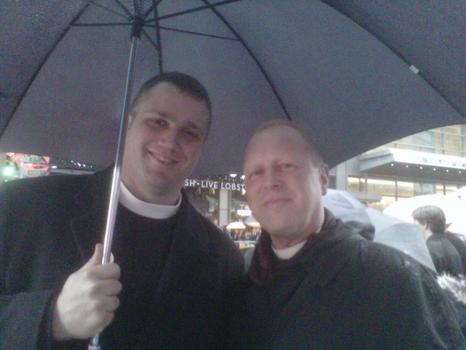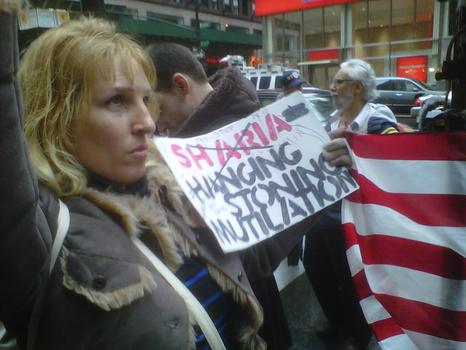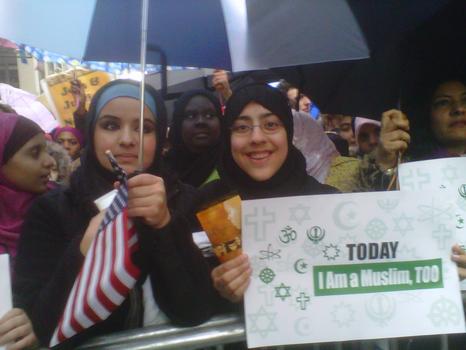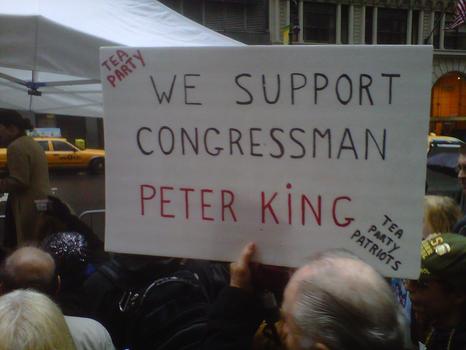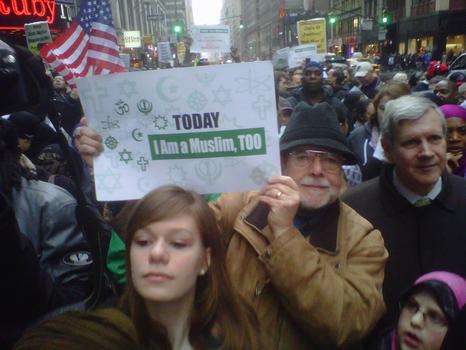 of