Experiencing Dance, Blindfolded
Helen Beattie, 84, didn't expect to feel like a blind person in a mad house after she returned her overdue books to Staten Island's Richmondtown Library on Saturday. But that's exactly how it felt when she and her 41-year-old son, David, stumbled on "Bark! An Unseen Dance" in the library's community room. "I began getting sounds that sounded alien," Beattie said. "And then, of course, the rushing and touching, and I felt as if bugs were flying in my ears...At one point, it felt as if I was surrounded by souls, sort of hovering softly around me."
The Beatties were blindfolded while all of these sounds were taking place around them, as are all audience members who attend a free show of "Bark!" at the New York Public Library this month. Dana Salisbury and her dance troupe the No-See-Ums create the performances, which are choreographed dances of movement, scents, sounds (and even touching) that are meant to give audience members a sense of what it feels like to lack vision. The library chose this month to host the shows because it's the 80th anniversary of the National Library Service for the Blind and Physically Handicapped, the institution that oversees braille and talking book services in the U.S.
"I never thought about how it feels to be blind and now this experience has shown me," said Staten Island resident Arlene Boyarsky, whose interest was piqued when she saw a newspaper ad for the blindfolded dance shows. "It really is a revelation to me what it is not to see by experiencing this."
Dana Salisbury came up with the idea for her unseen dances after reading an article by Dr. Oliver Sacks on non-visual perception. "He talked about a man who had been blind and had been given vision. And he was not able to absorb the world visually...He couldn't recognize, for example, his beloved dog until he touched him," she said. "And I thought, this is amazing, what does this mean?"
Salisbury raised money for the first blindfolded dance show with the proceeds from a blindfolded dinner party she held in 2006. "It was a one-off party, but people really liked it," she said.
Now, the Brooklynite has a dance troupe devoted to making the unseen art: Ashley Handel, Amy Baumgarten, Sunder Ashni, C.J. Holm, Mari Meade Montoya and Emma Grace Skove-Epes. They've performed blindfolded dance shows at theater festivals and conferences that address the intersection of arts and science.
"What I've found is that across age ranges, across all of the various demographics, people are very responsive to this work," Salisbury said.
"Bark!" does include modern dance elements, but what you hear is a rich landscape of sounds punctuated by some recognizable ones, like a radiator noise that Montoya makes with her mouth thanks to a fortuitous gap between two of her teeth. (Click on the audio montage above to hear it.) Dancers make other sounds by raking pieces of cardboard or dollies along the wall and rolling marbles inside a bowl. Crumpled-up newspaper, popcorn and plastic sandwich bags filled with water also play a role in the show. (See the slideshow below.) Everything in the performance is choreographed, even the march of the blindfolded audience members to their seats.
Holm, who has been with the No-See-Ums since it was formed two years ago, says performing in the show takes physical and vocal endurance. Since audience members are blindfolded from the moment they enter the performance space, dancers must also take care when helping them around the room and pay close attention to how they are dealing with their temporary visual impairment. "It's a communicative act and we have to be present with the people with whom we are communicating," she said.
Still, Holm and the other dancers agree they look forward to the audience's reaction to the sounds and goings on around them. "It's just so nice to see how people almost even kind of go on an emotional journey with you," Ashni said.
Ann Marie McDonnell, who lives in Great Kills and works for the Alice Austin House museum, came to the show because she happened to be at the Richmondtown branch that afternoon. The sounds she heard made her nostalgic for her youth, and evoked "The Wizard of Oz" and "Alice in Wonderland." "It was actually very fun, very otherworldly," McDonnell said.
New Yorkers can check out "Bark!" for free at the Andrew Heiskell branch in Chelsea on Saturday, March 12; at the Webster Library on the Upper East Side on Saturday, March 19; and at the 115th Street branch in Harlem on Saturday, March 26.
Have you seen the show? Tell us what you think by posting a comment below.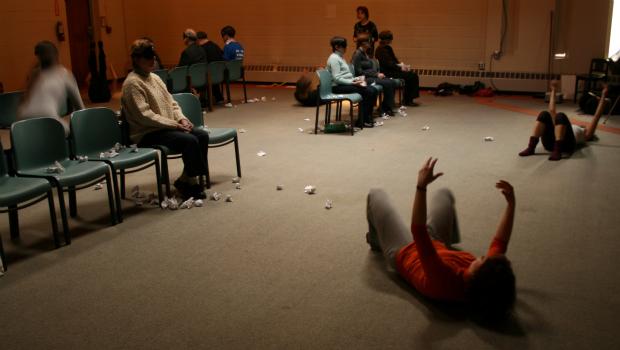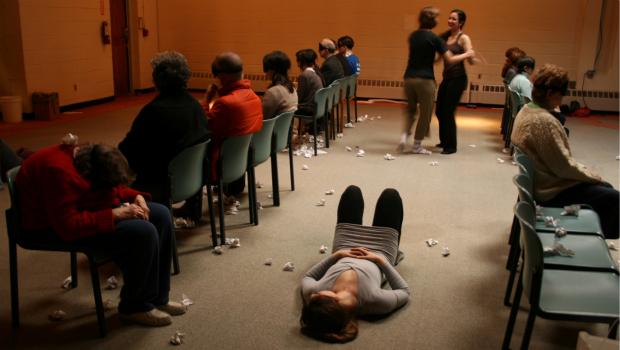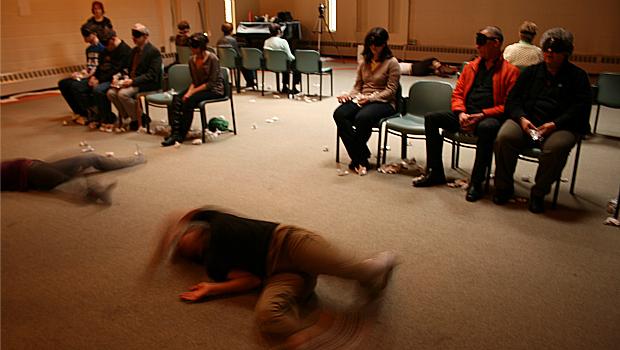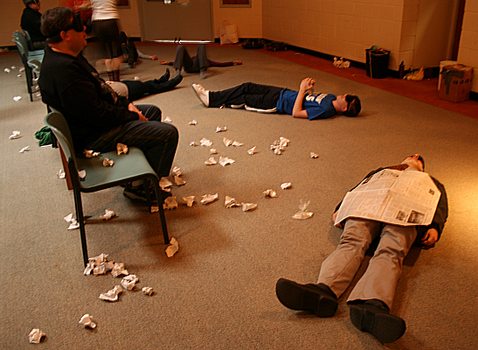 of