For Medicaid Savings, Going Where the Money Is: The Costliest Cases
One of Governor Andrew Cuomo's goals is not only to trim the state's $53 billion Medicaid budget but also, like several governors before him including his father, to fundamentally reshape the health care program, which now covers almost five million low-income New Yorkers.
Last week, a Cuomo-appointed panel released a slate of 89 "Medicaid Redesign" proposals. A half-dozen of them involved shifting different classes of patients — and especially high-cost ones — into managed care programs, where coordinators, specialists and social service providers all work together. 
The underlying goal in all of these managed care proposals is two-fold: improve patients' care enough so that they're healthy enough to stay out of the hospital and in so doing shave billions of dollars off a state program that's costlier than any of its counterparts nation-wide.
The Medicaid panel cited the state's Chronic Illness Demonstration Project, a three-year, $7 million grant to six institutions across New York. They're targeting the 20 percent of people with complicated health needs who account for 80 percent of Medicaid costs.
The biggest grant recipient is the New York City Health and Hospital Corporation, the largest municipal hospital system in the country. HHC has a program at Bellevue, Woodhull and Elmhurst hospitals called "Hospital to Home" that uses a computer database to identify patients who have cost the system a lot in the past and are likely to do so, continuously, in the future.
One of them is patient Debra Anderson, who has been paired with Bellevue care manager, Laura Futransky. Futransky helps Anderson with her various appointments with doctors, therapists, social services providers and support groups. She follows up extensively to make sure Anderson gets and takes all her medicine, and sees to it that Anderson is making headway in other non-medical areas — such as getting out of a homeless shelter and into an apartment.
"And how are you feeling?" Futransky asks. "I know you were kind of anxious that at the three-month mark they were going to put pressure on you to get out."
"He's pretty much working with us now because he knows we're doing everything we have to do," Anderson said.
"And they can't send you out without an appropriate place to go," Futransky reminds her.
Anderson is a recovering crack addict. She said she's been in and out of drug treatment programs since age 12. She's now 50.
"To me, detoxes and rehabs are places just to get well for a few minutes and then go back out and do what you want. It's just a place for you to get rested, really," Anderson said. "I could never stay clean coming out of rehab."
Anderson is part of a small group of patients who are very challenging and very expensive to treat. Many have mental illness or drug addiction. Many are elderly and frail. Many have multiple chronic and long-term illnesses, including diabetes, cancer and HIV-AIDS.
Dr. Maria Raven spent years at Bellevue frustrated by the revolving door that's common in urban emergency rooms. A few years ago, Dr. Raven did a modest feasibility study with 19 people to see how they — and the system — would do, if case managers aggressively coordinated both medical treatment and social services.
"I was always interested in this patient population that came into the Emergency Department a lot and not get well cared for," Dr. Raven said. "Once they left, you felt helpless. It was like, 'Okay, I'm seeing you for this, but you're homeless, and there's nothing I can do about that, so nothing's going to change, once you leave the hospital.'"
In the city's public hospital system, the one percent of patients with the most severe needs account for 28 percent of the system's entire costs. Statewide, that ratio is a little better, but not much. Improving their care would benefit them personally. And keeping them out of hospital wards — that's the holy grail for saving money, lots of money, for the Medicaid system.
Dr. Raven's pilot program avoided numerous hospitalizations.
"For that very small group, we ended up saving Medicaid quite a bit of money — about $15,000 per patient," she said.
How did she do it? By aggressively deploying case managers to make sure patients get to appointments, take their medicine and find their way to the right housing. Since then, Dr. Raven has refined and expanded the program to 350 patients, and she hopes it will reach 500 people.
"Hospital to Home," as HHC calls the program at Bellevue, Elmhurst and Woodhull hospitals, is part of New York State's three-year, $7 million Chronic Illness Demonstration Project.
Medicaid Redesign Proposal No.89, which calls for developing an all-inclusive "medical home" for high-cost, high-needs Medicaid enrollees, cites the Demonstration Project as a possible model for improving care and saving money — even though it's only in its second year, still being ramped up and only has very preliminary results.
HHC Medical Director Dr. Ross Wilson, says it's difficult to say yet how the demonstration project is doing. Take Debra Anderson. The good news, Dr. Wilson says, is that there's been a real shift in how she uses the Emergency Department and inpatient wards.
"Before she was enrolled, she had one ED visit, three hospital admissions and one outpatient clinic visit," Dr. Wilson said. "Since enrollment, she's had no ED visits. She's had one hospitalization. And she's had multiple outpatient clinic and support group visits."
But progress hasn't come cheap. In the seven months before Anderson enrolled in the Bellevue program, she cost the Medicaid system about $15,000. In the seven months since then, thanks to all those clinic visits, Medicaid's been billed about $14,000. That's not a big drop, and it's still about four times what Medicaid spends annually on an average adult patient.
Dr. Wilson says that could certainly come down over time, if Anderson stabilizes — and that's where the hope lies for long-term savings. In the meantime, the 350 patients in "Hospital to Home" are all over the map.
"We have one patient who it looks like we might have saved $130,000 in one year, and another patient who cost us about $11,000 in the year, negative," Dr. Wilson said. "So, it's not as if every patient will benefit from this. It's that if most patients benefit somewhat from this, we're going to be going in the right direction."
Anderson said she's been off crack since September. She said it's not her longest stretch ever, but it feels better than before. She's close to getting out of a homeless shelter and into a semi-permanent apartment. And she's making progress on her GED.
"In this program, I'm feeling like I can come here, and I can still be free," Anderson said. "It's not like, 'You have to do this, and you have to do that.' It's because you want to, and they're there to help you. And once you see that they're interested in you as a human being, you can feel like you want to do something for yourself."
Healthcare providers around New York are being asked to develop programs like the one that's still a work in progress at Bellevue. The specifics are being hammered out and will need state legislators' approval. Then it'll be up to the hospitals and clinics to enroll more Debra Andersons — and see if they can improve their health and save money at the same time.
 Asked if such a program could be implemented on a large scale and realize savings quickly, Dr. Raven laughed and said, "Good luck!"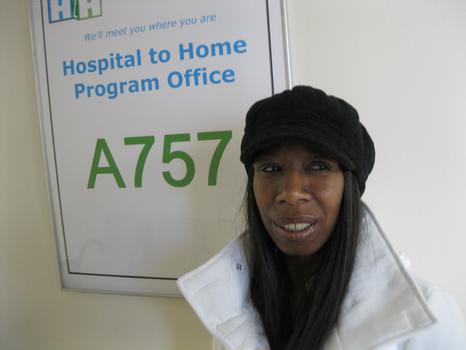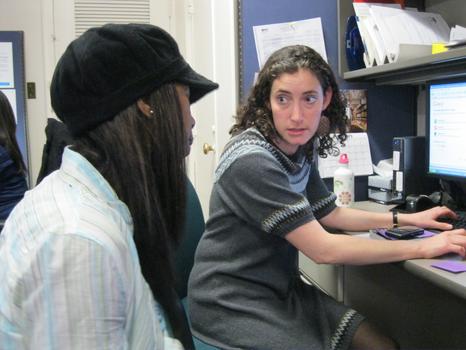 of