What To Watch For In The Census: Borough-by-Borough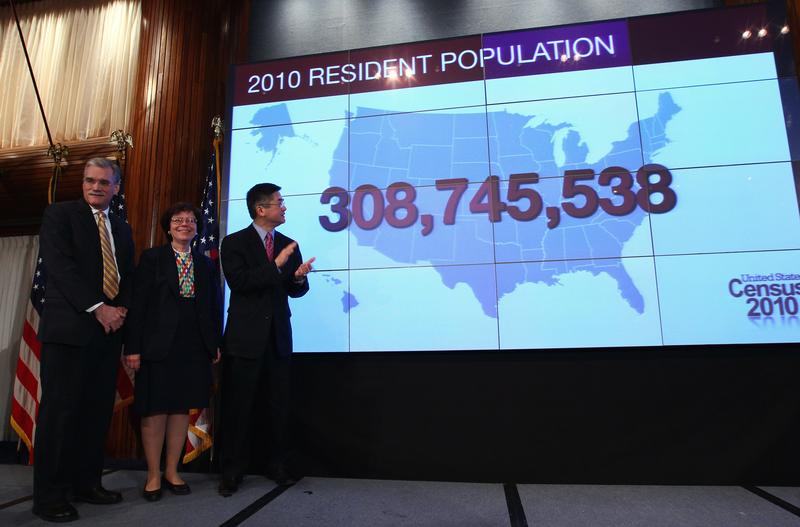 Welcome to Politics Bites, where every afternoon at It's A Free Country, we bring you the unmissable quotes from the morning's political conversations on WNYC. Today on The Brian Lehrer Show, Sam Roberts, urban affairs correspondent for The New York Times, began a weekly series in which he breaks down the Census 2010 data.
With the protracted fanfare usually reserved for the Oscars, the US Census bureau is releasing its 2010 data bit-by-bit throughout March. Every Wednesday, starting next week, hundreds of lines of data will be made available to journalists, policy makers, and the general public. And every Thursday in March, Sam Roberts of the New York Times will join Brian Lehrer to discuss what the numbers say about our changing communities. 
On today's program, Roberts offered a preview of the stories he'll be following. The 2009 American Community Survey offered a glimpse of what is to come, and the more comprehensive census will fill out the details at the block-by-block level about population, immigration, income and more.
Over the last two weeks, the Census bureau has made much fanfare of the fact that cities such as St. Louis and New Orleans lost considerable population. But New York continues to grow – Roberts expects NYC to reach a population of 8.3 million. Within that big number, Roberts is looking at a few borough-specific trends:
Manhattan
This borough has seen a spike in people living downtown, in part due to post-9/11 revitalization. Harlem is losing some black residents due to gentrification, and Little Italy has become littler-Italy: 
The American Community Survey could not find one Italian-born resident in the heart of Little Italy, and even people of Italian heritage is down to 5% of the population. You have a growing influx of Asians, and not just Chinese in Chinatown, but Thai, Vietnamese and others. 
Brooklyn
Kings County is vying with Queens as the most diverse borough in the city.
It is absolutely fantastic when you look at the movement over the last ten years. There are blacks moving from Flatbush in Flatlands and Canarsie. Russians are moving West from Brighton Beach into areas they haven't been in before. You have Arabs moving from Atlantic Avenue into Sunset Park. Asians moving from Sunset Park into Bayridge and Bensonhurst. 
Queens
The most heterogeneous borough in the city, and continues to be one of the most diverse places in the world. The percentage of foreign-born residents is 47 percent, almost half of the borough's population.
When you look at Queens Village, you have a couple square blocks in which there are 400 residents from Central and South America; 300 from south Asia; 300 from southeast Asia; almost 200 from eastern Europe; more than 100 from the Caribbean; more than 100 from east Asia; as well as 500 born in the United States. Now that is diversity, and you don't see that in many places in the world.
That said, Roberts pointed out that diversity isn't spread out evenly.
There are real dichotomies. Look at Breezy Point, at the western tip of the Rockaways, [in comparison to Queens Village]. There are 4300 American-born Whites, most of the Irish and Italian. The ACS counted just 10 Blacks, 67 Hispanic people, and 132 people born abroad.
Staten Island
The borough is changing considerably, becoming less white overall. And that's not just on the South Shore. There is also more undeveloped land, so people are starting to move there from Manhattan and Brooklyn.
Bronx
Bronx still contains the poorest congressional district in America, but that is changing with immigrants moving in. There are pockets of Dominicans moving from Washington Heights, and African immigrants forming pockets of vitality in neighborhoods that have not seen it before. Overall, there are some signs of hope, and the census numbers may reveal reduced poverty levels
Beginning next week, Roberts digs into the numbers on the movement of immigrants away from major cities to suburbs around the country; population shifts away from Democratic-leaning states to Republican strongholds; the aging baby boomers; and more.
Roberts will join Lehrer each Thursday through March 31st at 10:40am