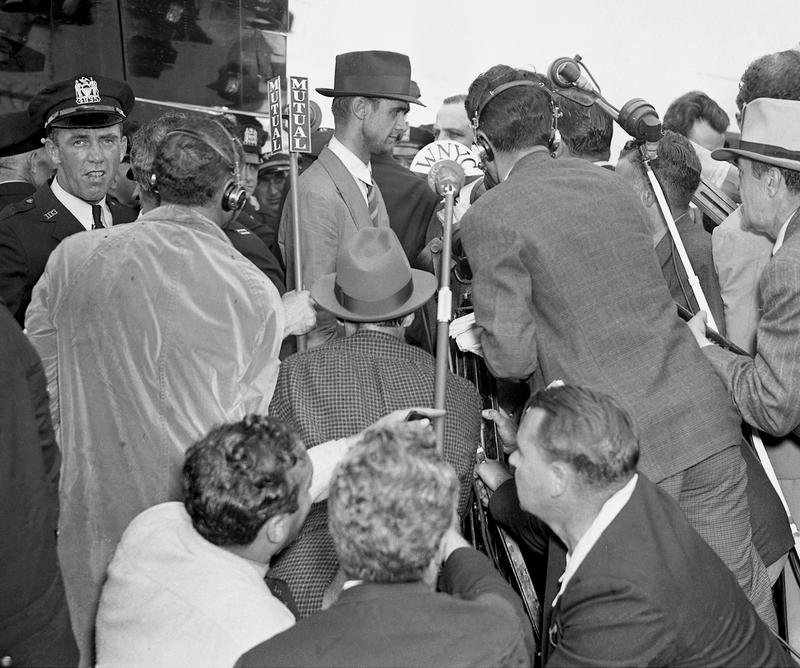 Howard Hughes wades through a scrum of reporters at Floyd Bennett Field, July 14, 1938. Hughes and his four-man crew had just returned to New York after circumnavigating the globe and covering 14,672 miles in a record-setting three days, 19 hours, 14 minutes and 10 seconds.
WNYC was there as they made their way from the plane to the ticker-tape parade, and a special City Hall reception the following day. The parade from the Battery to City Hall broke all previous records, with an estimated 1.5 million well-wishers on the street and another half million watching from office windows and rooftops. At City Hall, Hughes was modest before the thousands of well-wishers and those listening at home.
"I am not very good at making speeches, and I have consented to make this one only because there is one thing about this flight that I would like everyone to know. It was in no way a stunt. I was the carrying out of a careful plan and it functioned because it was carefully planned. We who did it are entitled to no particular credit. We are no supermen or anything of that sort. Any one of the airline pilots of this nation, with any of the trained army or navy navigators and competent radio engineers in any one of our modern passenger transports, could have done this same thing...If any credit is due anyone, it is the men who designed and perfected, to its remarkable state of efficiency, the modern American flying machine and equipment. If we made a fast flight, it is because many young men in this country went to engineering schools, worked hard at drafting tables and designed a fast airplane and navigation and radio equipment which would keep this plane upon its course. All we did was operate this equipment and the plane according to the instruction book..."
___________________________________________________________________________________
Broadcast on WNYC Today in:
1927: Ida M. Mellen delivers a talk on alligators. Note: Mellen (1877-1970) was an aquarist at the New York Aquarium, 1916-1929. She wrote books and articles on marine biology and cats. Mellen is also known for exposing the urban legend of 'refrigerator cats.'
1939: As part of the ceremony marking the 150th anniversary of the first session of Congress, President Roosevelt addresses a joint session of the Senate and the House of Representatives. Note: The event is noted as being radio's most extensive coverage to date, with more than 400 stations carrying the ceremony and speeches.
1946: Edward Corsi, Ray Milland, Iris Barry, Robert Mochrie, and others appear at the Foreign Language Press Film Awards. Topping the awards is the Leo McCarey production of The Bells of St. Mary's, named best film of 1945 by foreign language press critics. Ingrid Bergman is judged best actress on the basis of her work in that film, as well as in Spellboun and Saratoga Trunk. Ray Milland receives honors as the year's best actor for his performance in The Lost Weekend. Billy Wilder and Charles Brackett win for best screen play for that film, and the award for best director goes to Alfred Hitchcock for Spellbound.
1954: WNYC Director Seymour N. Siegel delivers the opening remarks at WNYC's 2nd Annual Book Festival, and later M. Wilson presents a talk on university presses. Note: The annual event ran for five years from 1953 to 1957.
1964: German author and playwright Rolf Hochhuth and producer Herman Schumlein talk about Hochhuth's controversial play The Deputy at the Overseas Press Club. The play sparked controversy because of its criticism of Pope Pius XII's role in World War II.
1979: WNYC Program Director Richard Pyatt interviews radio host Bob Grant for this edition of Visitors From the Other Side. "The other side in our frame of reference is neither the Jordan nor the Rubicon, but commercial radio and television..."
1983: Tim Page speaks with composer Ned Rorem on New, Old and Unexpected.
1996: In this edition of New York and Company with Leonard Lopate, David Foster Wallace discusses his three-pound-three-ounce novel, Infinite Jest.
2002: The documentary series Six Months: Rebuilding Our City, Rebuilding Ourselves presents This Was My City Too. Immigration and identity are the focus of Arab-American radio producer Jad Abumrad and Pakistani-born journalist Nafisa Hoodbhoy as they examine the impact of September 11th on Arabs and Pakistanis in New York.