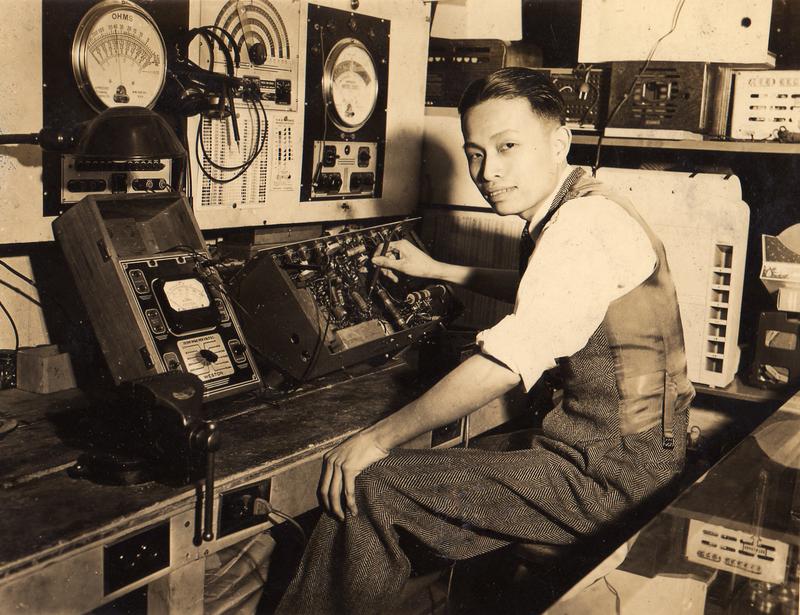 Hom Hong Wei (1915-2011) at his WNYC engineering shop workbench in the early 1940s.
Hom (a.k.a. Henry) joined the engineering staff in 1939 to help with our coverage of the New York World's Fair.  He is one of the earliest, if not the first, Asian-Americans to earn an FCC First Class Radiotelephone Operators license in 1937 and became the first Chinese-American broadcast technician in the New York metro area a year later at WWRL in Woodside, Queens.
Hom rose through the ranks at WNYC to become the Chief Engineering Supervisor in charge of the station's day-to-day technical operations, a position he held for many years.  He designed and installed most of the sound and broadcast systems used at WNYC, City Hall, and other city venues. Over the years he also brought at least 150 young people into broadcasting by providing them with on-the-job training not available at technical schools. This expertise was later made into a program in conjunction with the Westinghouse High School in Brooklyn.
In 1970 Hom won the city's top civil service award by Mayor Lindsay for his "outstanding contributions which have improved the quality of the services provided to the people of New York and...consistent dedication toward improving the efficiency and high technical quality of the city's broadcasting." [1] Hom retired from WNYC after 42 years in 1981. He visited us at the Municipal Building, was a good friend of the archives, and was always available to answer questions. Hom passed away last Sunday, February 20th. He will be missed. 
[1] Henry, Diana Mara, "City's Radio Chief for 30 Years Awards Top Civil Service Prize," Staten Island Advance, October 7, 1970.
Thanks to Hom and Damon Wei for this photo and the badges below. The first one is Hom's 1939 New York World's Fair badge. The scond, is his station badge. (WNYC Archives Collection).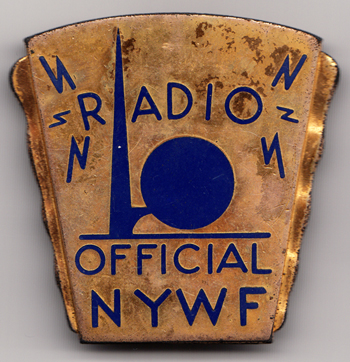 Below is Hom's ID Card from the 1939 New York World's Fair. He was also known as "Henry Tom" a psuedonym of convenience.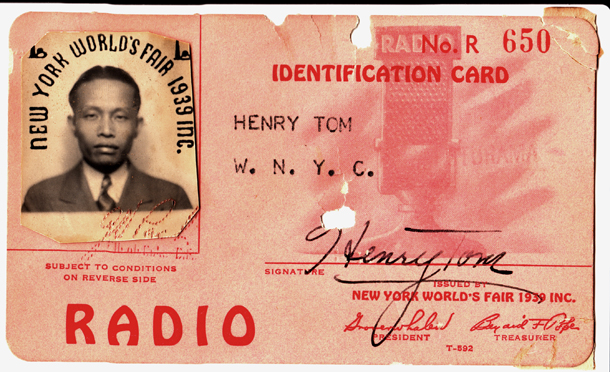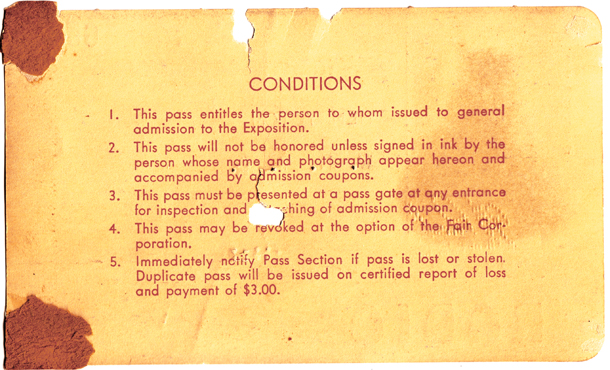 _________________________________________________________________________