In Budget Address, Christie Dangles Property Tax Cuts in Exchange for Health and Pension Reform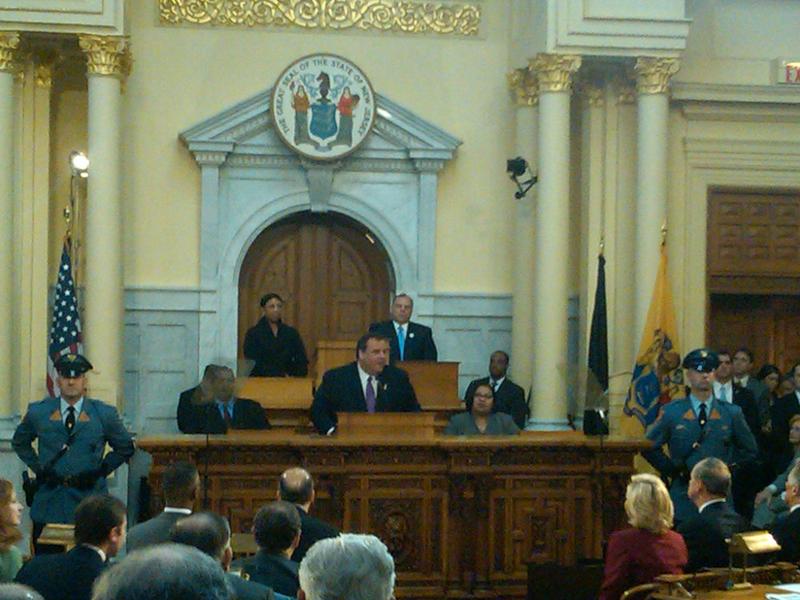 "This is the new normal," Christie pronounced in Trenton on Tuesday.
Thoroughly optimistic about the state of New Jersey, Gov. Chris Christie introduced a $29.4 billion 2012 budget, with spending projected to be 2.6 percent less than the current year. He reaffirmed his commitment to not fund commitments made by prior governors if he doesn't believe they're good investments (possibly a reference to pulling a plug on the ARC Tunnel project connecting New York and New Jersey). 
Christie's top priorities echo those of Republicans in many other states: cut spending, enact pro-business tax cuts, make changes to the pension system, cut property taxes, and improve education.
The governor used his budget address to proclaim New Jersey's new status as a leader, as a state that Republicans and Democrats around the country are mimicking. Dissing the federal government for spending "more than ever," Christie claimed, "The change is being driven by the states and the charge is being led by New Jersey." Reaching across the partisan divide, he actually gave New York Gov. Andrew Cuomo two shout-outs for his promised cuts to Medicaid. "The day of reckoning has arrived," Christie said grimly.
Christie's message is that his vision is working. He brilliantly set up a success story: because of his "hard and necessary choices" to cut aid for education last year, the governor says his state is in a condition to increase aid to local public schools by $250 million.
He also proposed an increase in property tax rebates to $458 million from $268 million, all the while maintaining the level of state support for municipalities and higher education. But that promise is contingent on Christie getting his way on other top priorities. He'll only increase these tax rebates if the Democratically-controlled legislature approves Christie's proposal that state workers pay 30 percent of their health care premiums, which he said would save $323 million. He also wants Medicaid recipients to be moved into managed care—winning a projected savings of $41 million. Numerous times, Christie called current Medicaid spending "out of control."
"The choice is straight forward: without real health benefit reform, we will not be able to provide New Jerseyans with a doubled property tax rebate. By passing health benefit reform, we will be able to provide the larger property tax rebate," Christie said.
Christie actually vetoed a number of similar tax proposals that came out of the legislature last week, which annoyed some lawmakers. But he said if the legislature signed off on his pension reforms, including raising the retirement age for public employees, he would immediately make more than a half-billion dollar contribution to the state's public pension fund, a promise that will surely cheer non-public employee property owners. So apparently it's Christie's way or the highway.
Christie firmly planted himself on the side of Wisconsin and Ohio Republican Governors Scott Walker and John Kasich, who are trying to strip state employees of their union benefits. "In Wisconsin and Ohio they have decided that there can no longer be two classes of citizens—one that receives rich health and pension benefits and all the rest that are left to pay for them," he said, providing a new definition for class struggle. Christie painted himself as a concerned leader:
"I'm worried for the police officer, I'm worried for the firefighter, I'm worried for the school teacher. We must act now to ensure there will be a pension for them when they retire," Christie said.
Going down a rapid fire list, Christie laid out budget cuts to almost all state departments. Meanwhile, he called for several tax cuts he said will help retain businesses in the state. In the next fiscal year those tax breaks would amount to $199 million, but he says they will grow to $690 million in five years. "We are cutting so we can make New Jersey a home for growth," he said.