What the House Resolution Cuts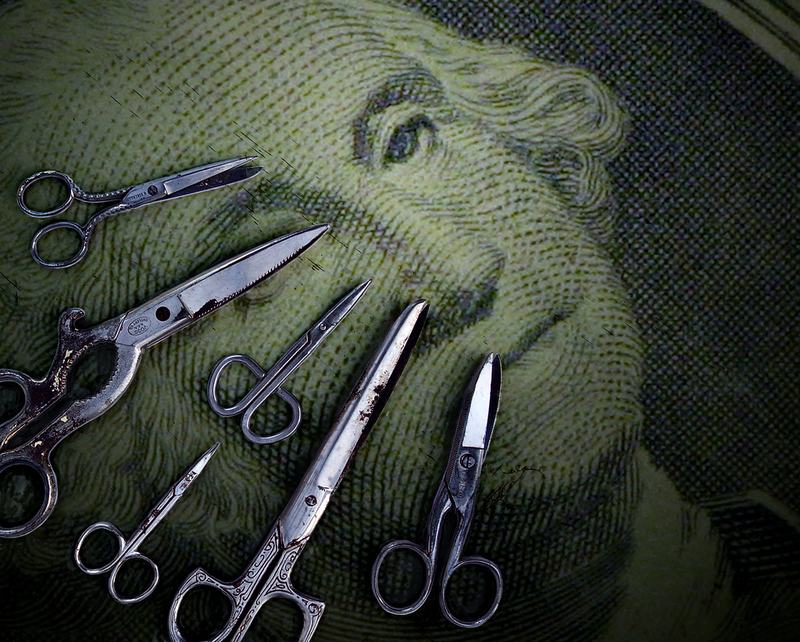 After debating all week, the U.S. House of Representatives passed H.R.1 by a vote of 235-189 on Saturday morning. To address the $1.3 trillion deficit, House Speaker John Boehner and the Republican majority have offered this resolution, which intends to cut $100 billion in six months, an amount consistant with the number mentioned in the Republican's Pledge to America during the midterm campaigns.
While the resolution still needs to pass the Senate and be signed off on by the president to become law, the House Republicans are drawing a strong line in the sand, while a government shutdown looms if an agreement is not reached by March 4.
The passed resolution included 67 of the proposed 583 amendments. Among the amendments were some major political statements from Republicans, who successfully passed eight amendments focused on defunding the national health care law. Other major targets were the environment, family planning funding, the arts, public financing of campaigns, and even the mohair industry.
Here are some of the major amendments that made it in:
Rep. Mike Pence (R-IN) introduces amendment #11, which would prohibit funds from being made available for any purpose to Planned Parenthood Federation of America, Inc. or any of its affiliates. Planned Parenthood operates more than 820 women's reproductive health centers nationwide, providing health care and family planning information to three million women and men in the United States annually. While the decision to cut was made based on arguments objecting to abortion, abortion services are already for the most part not federally-funded.
21 amendments dealt with environmental regulation, cuts to air and water monitoring, greenhouse gas control, watershed studies, and air quality monitoring. The EPA alone saw cuts in funding for the Environmental Protection Agency's Greenhouse Gas Registry, State and Tribal Assistance Grants, funds to enforce an EPA rule on cement manufacturing emissions and to block air pollution permits required for offshore drilling projects along the Arctic Coast, a prohibition on regulating gases emitted by stationary sources, defunding for EPA guidelines on surface coal mining operations and ethanol content of gasoline, and cuts to funds to enforce the Clean Water Act.
Rep. Tom Cole (R-OK) brought in amendment 208, which would prohibit public funding for the Presidential Election Campaign Fund or political party conventions.
Rep. Tim Walberg (R-MI) introduced amendment 196, to cut funding completely for the National Endowment for the Arts.
Rep. Tom McClintock (R-CA) introduced # 291, to zero out funding for the Treasury Department's debt restructuring program.
Rep. Greg Walden (R-OR) introduced #404, to bar federal funds from being used to enforce Federal Communications Commission rules on net neutrality.
Rep. Dan Boren (D-OK) introduced amendment 566, to prohibit funds from being used to require manufacturers to report to the Justice Department on the sale of multiple guns to one person.
Rep. Cynthia Lummis (R-WY) introduced amendment 195, to prohibit payment of legal fees to citizens and groups who sue the government.
Rep. Steve Scalise introduced #204, to eliminate funding to President Obama's federal agency "czars."
Rep. Tom Rooney (R-FL) sponsored amendment two, to eliminate $450 million in funding for the F-35 Joint Strike Fighter alternative engine program. This is notable mostly for being a program the House Speaker has supported strongly, only to see defeat from his own party.
Rep. Anthony Weiner (D-NY) wins the weird award for introducing amendment 101, prohibiting funding to provide marketing assistance loans for mohair.
Here's a breakdown of the major spending cuts in the original resolution.
Programs slated for elimination or major reduction of funding:
Office of Job Corps, a free education and job-training program for low-income young people, will lose $300 million for this year under the resolution.
The Corporation for Public Broadcasting, which funds public media including the PBS, NPR, American Public Media, and Public Radio International (PRI) would lose $86 million.*
The Striving Readers program through the Department of Education, which aims at improving literacy rates in middle and high schools with significant numbers of students reading below grade-level, would be eliminated.
Grants slated for elimination of funding:

The biggest reductions from FY 2010:
$6.15 billion to the Periodic Censuses and Programs appropriations, a predictable cut from last year's budget because it funds the Decennial Census, the Economic Census, the Census of Governments, and the American Community Survey. This cut is only 72.9 million more than the president's proposal.
$5.1 billion cut through the Military Base Realignment and Closure (BRAC) Program of 2005, which closes underutilized military bases within the United States and its territories. This cut is $200 million more than in the president's proposal. The BRAC Commission makes recommendations to the president for which bases to close. That list is subject to all-or-nothing approval by Congress.
The biggest reductions (in terms of amount, not percentage), compared to President Obama's budget proposal:
$2.9 billion to Army and Air Force Operation and Maintenance (according to the resolution, deployment levels are below what was budgeted).
$2.88 to Community Development Fund, which includes Community Development Block Grants and Disaster Recovery Assistance.
$2.11 billion to Economic Support Fund, which provides economic assistance to countries in transition to democracy, Middle East Pease negotiations, and economic stabilization programs.
$2.07 billion to Head Start, an early education program for low-income children. 
Additionally, the resolution would also lower the amount of federal Pell grant money available to individual students, though it allocates the same amount of money in total as last year's budget. The individual awards would be limited to $4015 per student per year, down from $5550. The reason for the change is that annual demand for Pell grants tends to exceed the amounts allocated, so the House feels that providing more small grants will decrease the overrun. 
*Editor's note: New York Public Radio, which operates WNYC and WQXR, receives more than $3 million in annual operating funds from the Corporation for Public Broadcasting, as well as support for The Takeaway and community outreach.