Timeline: What's Happening in Wisconsin?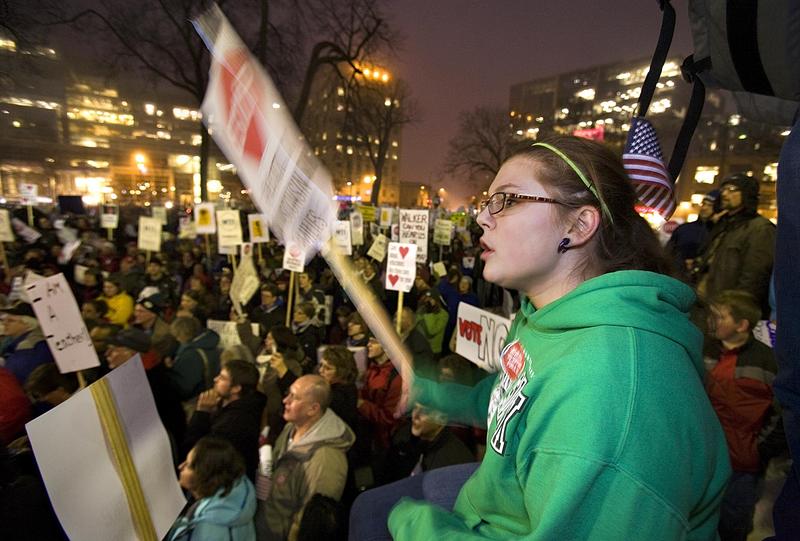 A lot can happen in a week, especially in a state that's trying to balance its budget by asking for historic concessions from public employees.
Last Friday in Wisconsin, Republican Gov. Scott Walker introduced a budget repair bill, which is intended to close an immediate budget gap of $137 million for the current fiscal year, and a $3.6 billion deficit in 2013. The bill requires greater health insurance and pension contributions from government workers, limits the ability of public sector unions to collectively bargain, and grants authorities the right to terminate any employees who participate in strikes or walkouts during a governor-declared state of emergency. Firefighter, law enforcement, and trooper unions would be exempt from these changes.
Union leaders consider this a big blow. Anticipating backlash, Governor Walker said that that he has briefed the Wisconsin National Guard, which stands ready to respond to unrest. And unrest there has been. In the week since the bill was proposed, protesters have been camped out in the state capitol of Madison, even bringing their sleeping bags. Amidst the noise, here's a day-by-day breakdown of what's been happening in Wisconsin.
---
Monday, February 14
After a weekend that saw protests forming outside the homes of state lawmakers, students and teachers from two University of Wisconsin campuses begin protesting inside the state capitol in Madison. Demonstrators reportedly pack the hallway leading directly to Gov. Walker's office. Meanwhile, public and private union leaders hold a press conference denouncing the governor's proposal.
---
Tuesday, February 15
Demonstrations continue in and around the capitol building, with thousands of protesters inside demanding to speak in an open forum. Their request granted, citizens are given the opportunity to speak in turns until 3 a.m. the next morning, at which point Republican state senators left the building. Democratic assemblymen hold a press conference immediately afterward. Hundreds camp out overnight in the atrium of the capitol, some sleeping, some continuing the open forum.
---
Wednesday, February 16
Wisconsin's Joint Finance Committee passes the budget repair bill by a party-line vote of 12-4, sending the legislation to the state Assembly and Senate. Schools close in Madison after an estimated 1,000 teachers called in sick to protest the legislation. Wisconsin's largest teacher's union calls on its 98,000 members to attend rallies rather than classes in the coming days.
---
Thursday, February 17
Fourteen Democrats in the Wisconsin state Senate disappear, making it impossible for the legislature to hold a vote on the bill. With 19 Republicans left waiting, and a requirement that at least 20 legislators take part in this vote, the Senate is effectively shut down until a single Democrat returns to the chamber. Reports indicate that some Democrats crossed state lines to Illinois, removing themselves from the jurisdiction of Wisconsin police.
Gov. Walker defends his budget repair bill in a press conference as "modest," and calls for Senate Democrats to return to the capitol.
About 25,000 protesters descend on the state capitol. Madison schools are closed for a second day, and other districts shut down because of teacher absences. President Obama directs attention to the crisis, calling Gov. Walker's budget repair bill an "assault on unions."
---
Friday, February 18
Republicans in the state Senate return to the floor and call for the missing Democratic lawmakers to come back for a vote on the budget repair bill. Wisconsin state police begin searching for the Senate's Democratic minority leader, Mark Miller.
Madison schools are closed for a third straight day. Milwaukee schools are also closed.
With this conflict taking the national stage, AFL-CIO President Richard Trumka speaks to protesters in Madison, and the Reverend Jesse Jackson makes a surprise appearance in the capitol.
Gov. Walker shows no signs of budging, again calling his proposals "modest" in a nationally-televised interview on Fox News.
---
Saturday, February 19
In a surprise move to confront protesters, the Tea Party organization American Majority organized buses of pro-Walker activists from across the state into Madison to show support for the governor's proposals. "America is going to be community-organized no more," Liberatrian publisher Andrew Breitbart told the crowd.
---
Sunday, February 20
In the state capital, Madison teachers voted 741-731 to return to the classroom on Monday. The vote to return Tuesday passed by a wider margin.
---
Monday, February 21
State teachers unions are split on whether they are urging teachers to return to the classroom this week. The Wisconsin Education Association told teachers to return to work Monday if their contracts did not recognize President's Day. Other unions planned to continue protests.
Democratic Senators say they will wait outside state lines and denying quorum for a Senate vote until Republicans agree to remove collective bargaining restrictions from the bill.
---
Tuesday, February 22
The Wisconsin State Assembly is expected to take up the controversial bill. Debate is expected to stretch on for hours, possibly days, as Democrats introduce several amendments.
Rallies in states across the country took place in protest of Gov. Walker's budget plan for Wisconsin, including Pennsylvania, Nevada, Vermont, Rhode Island, Minnesota and Iowa. New Jersey workers are planning a protest for Friday.
According to the Associated Press, paychecks are behing witheld for the 14 Democratic Senators who left the state to prevent a vote on the budget proposal.
---
Wednesday, February 23
Protests continue in Wisconsin's state capital. The Daily Local News reports, classes at Wisconsin University in Madison have been largely interrupted by the rallies.