Wisconsin State Senators Skip Town To Delay Vote on Public Employee Bill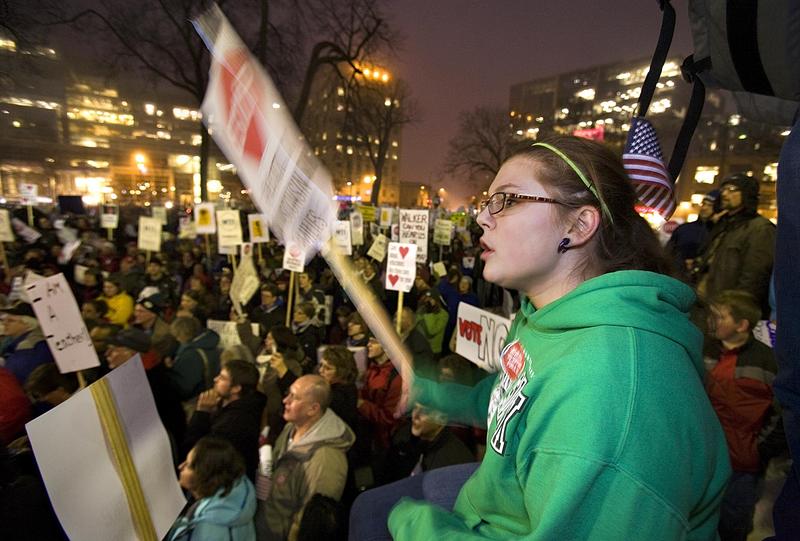 Amid a veritable thunderstorm of union opposition to a bill proposed by Gov. Scott Walker, the 14 Democrats in the Wisconsin State Senate have gone off the grid in a ploy to avoid a vote on a Republican-backed budget plan that would strip most public employees of their collective-bargaining rights.
The Republican majority state senate cannot vote on the bill unless at least one Democrat is present, and state troopers have been sent out to find the runaways.
Meanwhile, for the second day in a row, most Wisconsin students did not have school, because so many of their teachers called in sick in order to protest at the capitol and lobby against the changes. Hundreds of teachers and their supporters actually slept under the marble rotunda last night in preparation. Approximately 20,000 were there today holding signs and singing chants.
The Milwaukee Wisconsin Journal Sentinel has outlined the proposed changes. Here's an excerpt:
It would require most public workers to pay half their pension costs - typically 5.8% of pay for state workers - and at least 12% of their health care costs. It applies to most state and local employees but does not apply to police, firefighters and state troopers, who would continue to bargain for their benefits.

Except for police, firefighters and troopers, raises would be limited to inflation unless a bigger increase was approved in a referendum. The non-law enforcement unions would lose their rights to bargain over anything but wages, would have to hold annual elections to keep their organizations intact and would lose the ability to have union dues deducted from state paychecks.
Gov. Walker maintains the cuts to worker benefits and union bargaining laws are necessary to balance the state's budget shortfall over the next two years and would save taxpayers nearly $330 million through mid-2013. Opponents contend the cuts are unduly harsh and want revisions to the budget plan.
The Democratic Senators left town in an effort to force Senate Republicans to continue negotiations on the bill. They were frustrated that public testimony in front of the Joint Finance Committee was cut off at 3 AM last night, when people still had more concerns to vent.
It's not the first time a state legislative minority has fled town in a desperate attempt to prevent a vote. Texas Democrats secretly escaped to Oklahoma in 2003, forcing Republicans to revisit a redistricting plan Democrats said would unfairly strip them of five seats in the U.S. Congress.
Watch: video of a protest at the Wisconsin state capitol on Tuesday.