Potential Buyer Emerges for Beleaguered Bronx Buildings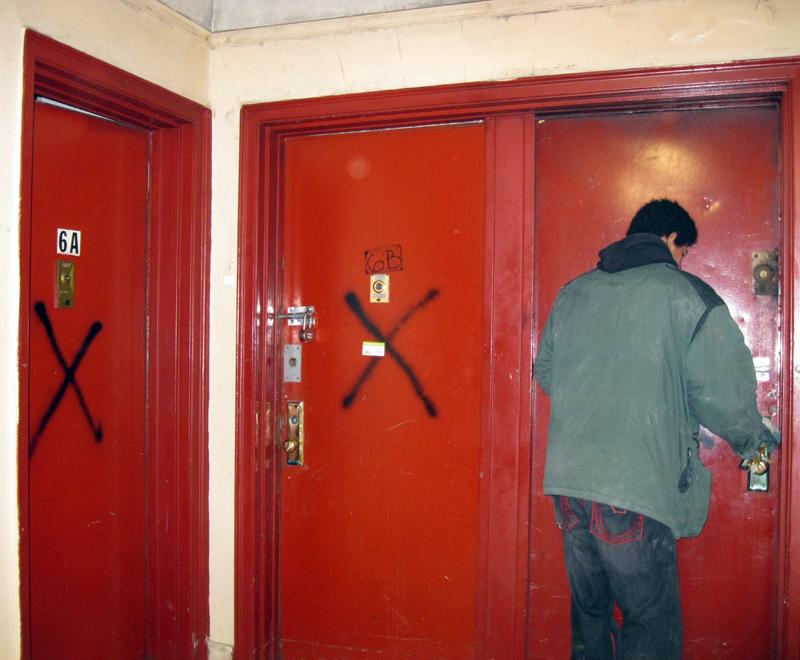 Twenty-four-year old Juan Nunez has lived at 2770 Kingsbridge Terrace with his mother, brother and sister since 2005, but he said conditions were so bad at the apartment he would often stay at friend's homes while his family would sleep in one room, huddled around an electric heater.
"We spent the entire year '07 to '08 without heat," said Nunez, a college student. "The entire winter for the most part we had no heat."
And when he wasn't spending the night away, Nunez said he kept watch over a bathtub that used to overflow on its own and flood the apartment with brown dirty water. (PHOTO RIGHT: Juan Nunez outside his apartment building on Kingsbridge Terrace.)
"Literally, I had to just sit next to the tub and just wait all night to see if the water was going to come up or not," he said, seated at the dining room table in his apartment. "And at times, I would just keep taking water out and put it in the toilet the entire night and it just wouldn't stop."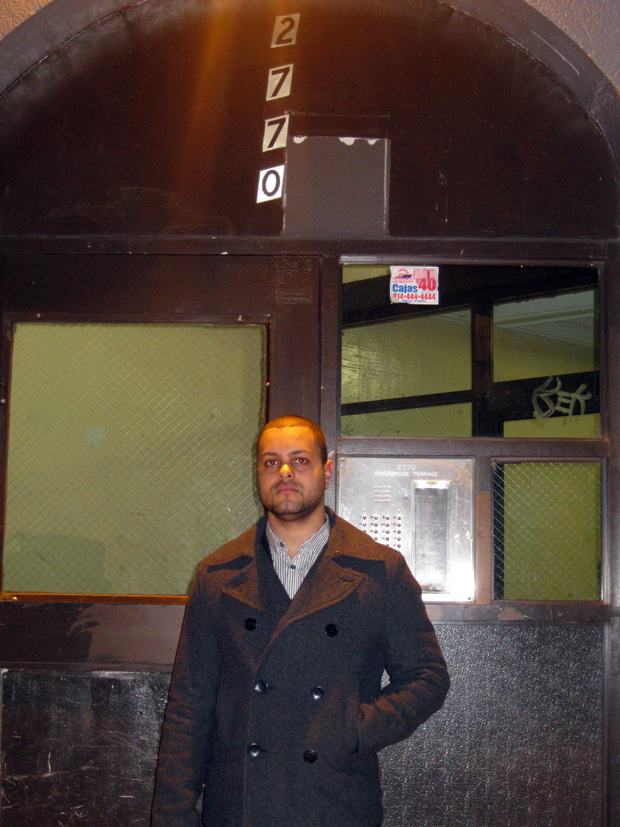 Nunez's building is one of 10 poorly maintained buildings in the Bronx that are slated to be taken over by a new owner who has agreed to pay nearly $28 million for 548 apartments -- many of them in serious disrepair -- that have been in foreclosure for two years. One official described the conditions at the properties as "disgraceful" but as the debt holder sought to bring in the highest bidder and the city fought to keep the sale price down, tenants hope the compromise reached will make their apartments livable again.
Nunez is part of a tenant group organized by the Northwest Bronx Community and Clergy coalition that helped tenants get the city's attention when it became clear no one was taking responsibility for his building and nine others.
The properties were purchased around 2007 for $35 million by Milbank Real Estate based in Los Angeles. The price was seen as exorbitant since the buildings were already in poor shape.
"They drove the market up and they also drove it down," real estate broker Kevin Salmon said.
Salmon said once one building sold for a hefty sum, the next landlord with a building in disrepair figured his building must be worth more.
At the time, real estate investors in all five boroughs assumed they could push out the low-paying tenants and dramatically raise rents. In most cases, it didn't happen, and by 2009, Milbank was in foreclosure. The problem was happening everywhere. But in the Bronx, in low-income neighborhoods where buildings were highly distressed, city officials took notice. 
In the back of the building on Kingsbridge Terrace mounds of dirt, a filthy mattress and other debris had fallen down from the street above and blocked the back fire escapes. Housing inspectors have been monitoring the situation and a man certified by the fire department sits watch in the lobby. In case of a fire, he's to warn tenants and lead them out of the building.
Vito Mustaciuolo, a deputy commissioner at the Department of Housing Preservation and Development, said the so-called "fire watch" is temporary until a partially collapsed retaining wall can be fixed.
The retaining wall is just one of several serious problems. There are also vacant apartments, some with mounds of debris, others with fire damage or water damage – big black X's mark those doors. Inspectors have been getting access to apartments and so far they've written more than 4,000 violations. Mustaciuolo said the city wrote letters to the debt holder and subpoenaed them and Milbank.
"People know that we're very much involved and the fact that there is a very strong tenant base really helps tremendously. The tenants have not given up and they're not going to," said Mustaciuolo.
Milbank did not return calls seeking comment. (PHOTO LEFT: City housing inspector Reggie Baxter inside an apartment with serious housing code violations in the northwest section of the Bronx.)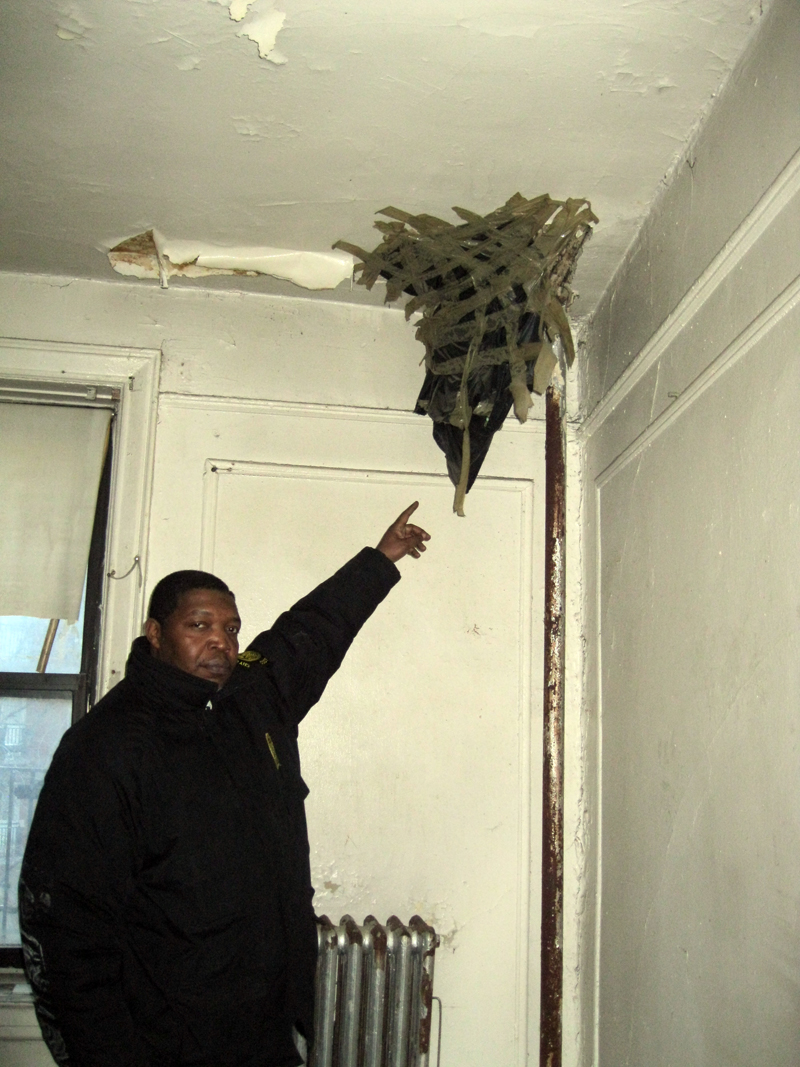 In addition to housing officials shining a spotlight on the buildings, there's also been City Council speaker Christine Quinn. In September, when the debt holder had found a buyer willing to pay $35 million dollars for the properties, the same price Milbank had paid, she held a press conference to protest the real estate deal.
"This sale must be stopped. We cannot let this sale happen," she told a small group of reporters and housing advocates.
Quinn and tenants argued the price was too high and would only result in another default. The deal was scuttled and the buyer walked away. Steven Finkelstein, who has been a Bronx landlord for 40 years, is the new potential buyer and will pay close to $28 million to take over the properties. He said he's not deterred by the spotlight put on the buildings. 
"I feel like I can go into these properties and really make everybody happy so that the publicity, you know the negative publicity will go away," he said.
Finkelstein has agreed to correct the majority of the most serious housing code violations within nine months. He's also signing a contract with tenants. Among other things, he's agreed to waive back rent, not charge tenants in good standing for building improvements and limit charges to those not in good standing to no more than $30 a month. Tenants feel they've endured years of neglect and deserve a break.
Finkelstein said negotiating with tenants is nothing new to him: "In the 70's it was a way of life," he said.
Finkelstein and other housing experts in the Bronx agree that the distress this time around isn't as bad as 40 years ago when landlords were abandoning buildings and burning them for insurance money.
Tenant leaders have visited some of the 30 buildings Finkelstein owns and agree they are well maintained. Juan Nunez said for the most part tenants are satisfied with the agreement though there is some concern the sale price is still too high.
"But at the same time, we want an owner there," he said. "If we have any concerns we can go to him because right now we have nobody."
Finkelstein is hoping to sign a contract for the properties by Friday.