Mapping Complaints: 311 Dials Up Its Web Presence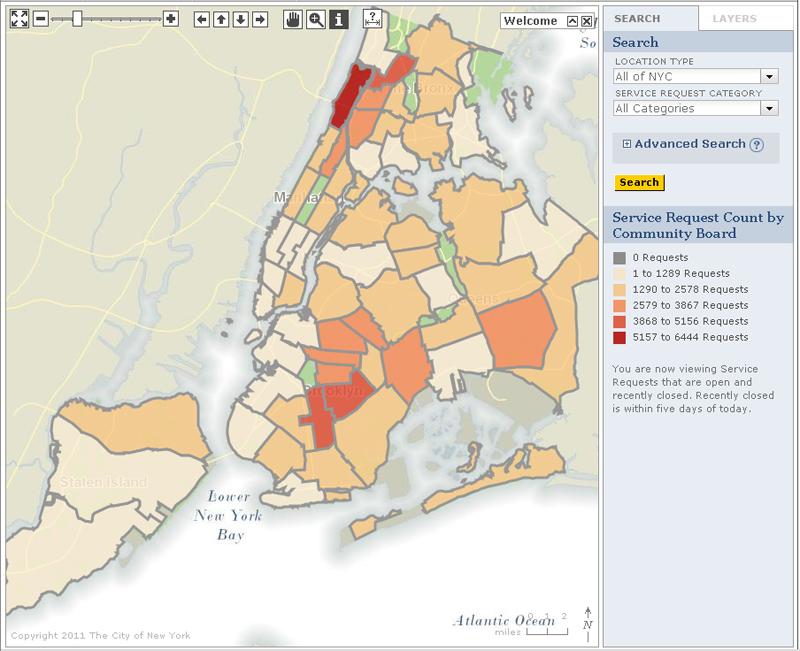 Next time trash is overflowing on your block or snow remains unplowed, New Yorkers can check if anyone else has called in the same complaint with the city's new 311 map.
The latest tool released by the city shows open and recently closed calls to 311 filed in the last five days depicted as small yellow dots on a map. The map displays unresolved complaints from the past three months and stores data from the past year. After a complaint is filed the city says it will show up on the map within 24 hours.
Deputy Mayor Stephen Goldsmith, who unveiled the application Wednesday, said the map was created to help residents hold government accountable.
"Instead of looking at every problem that comes in as a single isolated problem to be solved, this information will allow activists, community leaders and interested neighbors to propose solutions, as well as hold us accountable on a day to day basis," Goldsmith said.
New Yorkers can go to the 311 Web site and scroll over their neighborhood or they can search by 15 categories, which include snow, noise and quality of life.
The map currently shows a dark red splotch over Inwood and Washington Heights -- the community district with the most complaints -- where 6,444 complaints are logged.
As of Wednesday afternoon, there are 129 noise complaints, 273 street and sidewalk complaints, among others, citywide.
Although the map shows a large number of complaints, it doesn't necessarily mean there is a verifiable problem at the location. Another issue is that a complaint can be closed, but it doesn't mean it has been solved.
Goldsmith is hoping that this information will be helpful to developers of the city's BigApps challenge, which encourages programmers to use city data to create useful web applications.
"One of the most important things is the marking of as specific issue, which allows for a conversastion to occur around that common complaint," said Ben Berkowitz, the CEO of SeeClickFix, a company which creates maps that let users track neighborhood issues. He's excited about the new 311 map, but says when you focus on specific issues, it's easier for communities to have conversations and fix problems, "and create bonds in neighborhoods."
The information used to create the map has been available in the past, but could only be accesses through a Freedom of Information request. No specific user information can be found on the map.