Fashion Fit Models: Rarely Seen But Essential to the Runway
Spring Fashion Week in New York City officially wrapped up on Thursday night, and the grand looks on runway models will eventually trickle their way into shopping malls around the country. But how does a sample size 0 translate into a size 10? WNYC's Jenna Flanagan spent some time with the unseen models of the fashion world who make sure the new designs 'fit' the rest of us.
There are few experiences more satisfying for a woman than finally finding the one—that one pair of jeans that actually fits you like a glove. The perfect pair gently hugs but isn't too snug; it lifts and holds in the most flattering ways. The fabric even has enough give for exceptional activities, like walking without ripping and preventing blood circulation from being cut off in your legs. You can comfortably sit down without the back opening up to an embarrassing (ahem) butt gap. You can even comfortably put your hands in your pockets.
But who do you thank for creating such a masterpiece? The department store? The manufacturer? The designer? Guess again. The person you want to bestow your gratitude on for the perfect pair of jeans are fit models, the spirits who move behind the scenes of the fashion industry. A fit model is rarely seen but his or her presence is felt by everyone.
The agency MSA Models has been representing fit models since 1947. Susan Levine, the company's owner, describes a fit model as someone who can make or break your line.
"An expert fit model, or even an advanced fit model, knows the problems before they happen," Levine said. "They know how your sleeve should fit, how the material will react to the body, how the buttons should be, how the stitching should be and that's what sells the garment."

So, how can a fit model make or break a line? Manufacturers will produce sample sizes of their new lines, and it's the fit model's job to try on each piece to show the designer and the technical designer (that's the pattern maker for anyone who does not speak fashion-world jargon) how it moves on a real person, instead of a mannequin standing frozen in one place. Can the model comfortably hug a friend in the sample without the shoulders pulling? Can he or she raise an arm to hail a taxi without ripping an arm hole? Do the buttons need to be moved so the garment lies flat on the body? Does the fabric give or have an itchy feel?
All of these questions need to be answered before a garment goes into production. The bottom line of a manufacturer depends on it. Ill fitting, itchy clothes can cost a local store a few hundred dollars and a national chain tens of thousands of dollars. Who wants to buy that?
The industry dictates standards for fit models, and one of them is that your body must be in the proportions befitting a certain size. Sizes for female fit models, for example, fall into roughly five categories: junior (that's a small size 4), missy (a medium size 8), contemporary (a large size 10), plus (which varies but is usually around a size 14), and petite. A fit model must maintain his or her measurements within a half inch to an inch or risk loosing a client.
Cari Pakin (pictured above left), an MSA fit model who's been at this for seven years, says manufacturers want fit models who wear sizes in the middle of their lines—like a size 8. From there, manufacturers cut other sizes to shape from patterns. "From that pattern they are measuring, and with those measuring comes gradings up and down, from size 0 to 16," said Pakin. "So, if, let's say, they fit on a size 0 all the time, you're not gonna get exactly the built-in curve that you're looking to go all the way up to a 16. At a size 8, you would imagine that you're generally in between the sizing and shape that you would be if you just went up a size, which means increase each measurement by an inch or so."
"When we say an inch per size that means in the chest, the waist, in the high hip, in the low hip in the thigh, in the bicep," she added. "Every particular point on their garment is measured and it's graded."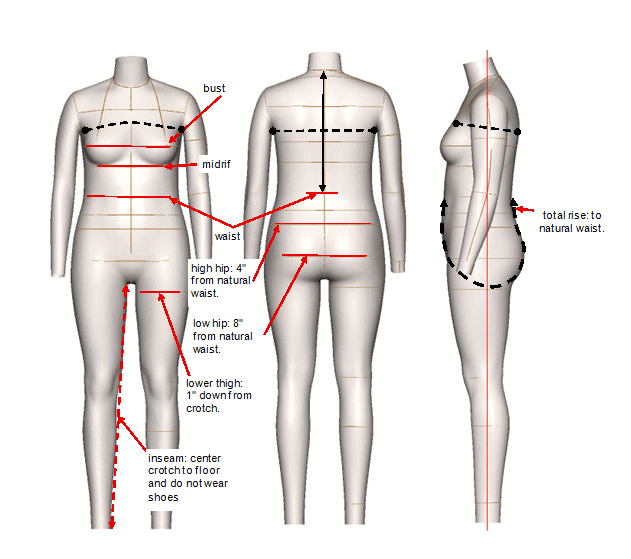 In addition to knowing their own measurements, fit models must know the slope of their shoulders, and the measurements from shoulder to bust line and from shoulder to hip. He or she should be aware of inseam and thigh measurements as well as the fabric of the garment he or she is trying on. Knits and Lycra give more than woven material or denim. All of these factors come into play when a fit model is helping a technical design team size the garment.
Pakin prides herself on the consistency of her work. Clothing that's been sized to fit her body can be found in several national mid-priced clothing chains, which are in just about every mall in America.
But unfortunately for the consumer, not all companies use the same fit models. That results in sizes varying from company to company. The difference between a small and a medium can be anywhere from an inch to two inches depending on the designer and the store.
Linda Kocher (pictured right) is one of MSA's elite fit models. She's been absorbing the intricacies of garment making since the mid-'70's when she got into the business. (Fit modeling is one of the few areas in the modeling world that allow for a long career.) Kocher fits mostly for lower-priced national chains—a modeling role she feels good about. "I found it very comfortable to be in the areas that most people can afford," Kocher said. "I had this need to want to produce the best fit I could for the masses that couldn't afford the very best of everything and I wanted to give them the best fit 'cause I thought they deserved that."
"I'm in tune to the demographics of the country," Kocher added. "Since I do the baby boomer fit, which is my age group, I understand the aspect of universal fit being very strong. My goal is to fit 80 percent of the population."
That means if she's done her job correctly (and after 30 years at it I think we can assume she has), a female customer who is generally a size 2, 4, 6, 8 or even 12 should fit comfortably into the clothes she has fitted.
Comfort isn't just for sizes 2 through 12. According to Centers for Disease Control and Prevention figures from 2009, the average American woman is about 5 feet, 3 inches tall, and weighs 165 pounds. That makes her roughly a size 14.
MSA fit model Tara Baradino (pictured below) fits clothes for plus-size women. She's a size 14 herself, and says beyond size 12, sizing is a whole different ball game. "Sometimes what they do is they take an existing style from a missy style and want to create it into a large-size garment," Baradino said. "The problem is it doesn't always accommodate a large-size body. Maybe it's strapless, maybe it's one-shoulder. What we do is maybe widen the shoulder straps...to make it more bra friendly, to make it easier for her body to wear."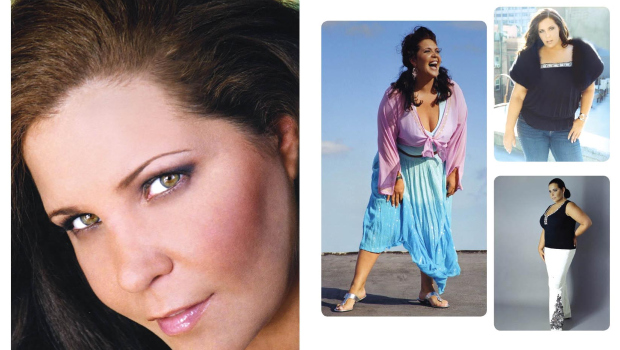 Baradino says sometimes, designs have to be completely re-constructed for a size 20. "Obviously inches have to be added in the width and the waist, but sometimes we have to accommodate higher necklines to make it look attractive on her but still keep the integrity of the design," she said. "I'm not there to change the designer's thought process, I'm just there to help."
She says sometimes there are restrictions when making a higher-end plus-size garment. Textile prices can affect how much fabric is available without driving up the cost of making the garment.
Another company that relies heavily on a team of fit models to size and tweak its clothing is New York & Company. Julie Koch is Vice President of Technical Design there and is in charge of the company's pattern makers. She says her company does use fit models, but it never relies solely on them since there are so many different body types out there. One study the company did on the backside, for example, revealed that there are several different types of bottoms on women, including curvy, modified curvy and rectangular. "We would be remiss not to fit those three distinct categories on the bottom because they absolutely exist out there," Koch said. "Just to fit all of your bottoms on one body type, you'd be missing body types and demographics. So, we try to cover everything that's out there by doing it on three different body types."
A New York & Company fitting can include up to 50 people discussing how a garment fits a model. Once the sample garment has been fitted, and the specs for all of the different sizes have been determined, the information is sent to a factory overseas. The garments are made and shipped back to the U.S., where they end up at your neighborhood mall. And voilà, that's how you get the perfect pair of jeans.
Click below to see a slideshow of the New York & Company studios.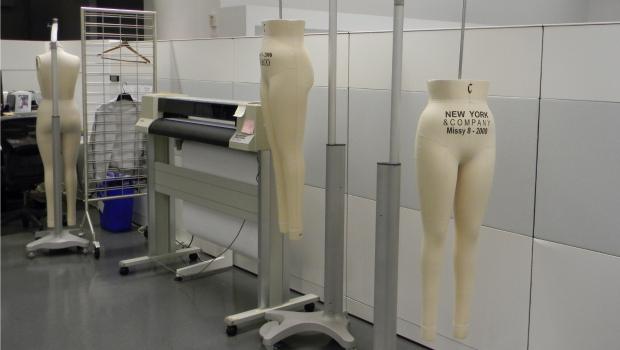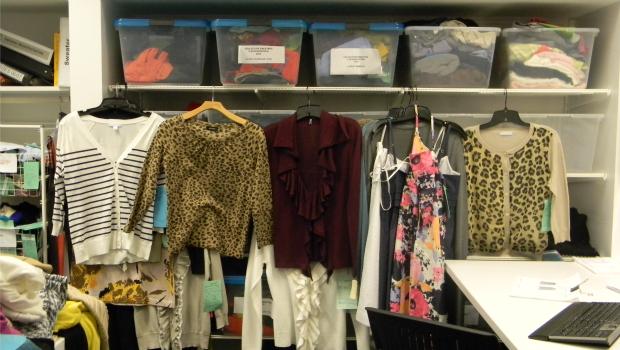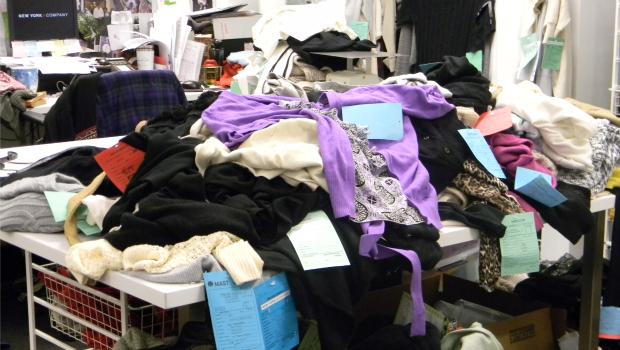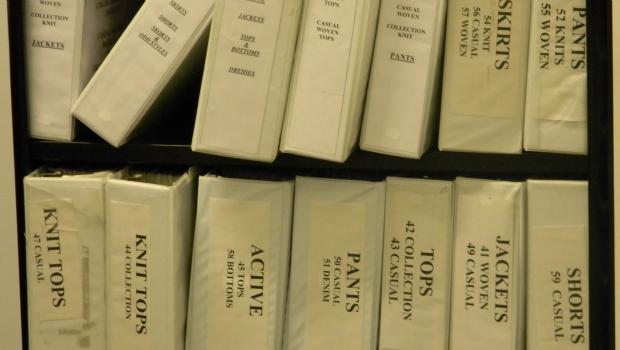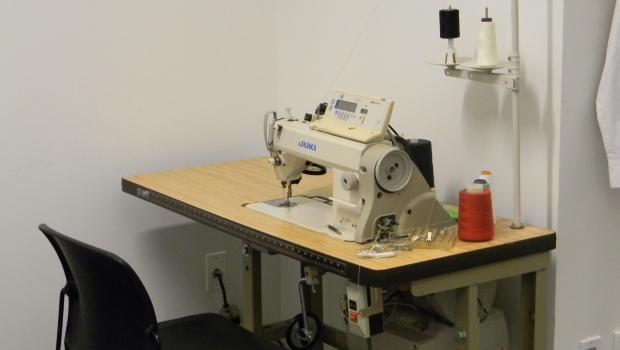 of