Avant Garde Musicians Take Over Park Avenue Armory
More than 200 avant garde musicians will take over the Park Avenue Armory this week for the first ever Tune-In Music Festival. The performers, which include new music ensembles SymphoNYC, eighth blackbird, Newspeak, the Argento Chamber Ensemble and red fish blue fish, will play the work of contemporary composers Steve Reich, John Cage, Georg Friedrich Haas and others.
The festival kicks off Wednesday night with a performance of "ARCO," the first piece that the Park Avenue Armory has ever commissioned. Composers Paul Haas, Paul Fowler and Bora Yoon wrote the work, which was meant to complement the armory's history. (The armory dates back to the 1880s and was built in Gothic Revival style.) "ARCO" draws on music by composers Arvo Pärt, Perotin, Claudio Monteverdi, Beethoven and Bach, among others. SymphoNYC (below right), New York Polyphony and bass Charles Perry Sprawls perform the piece.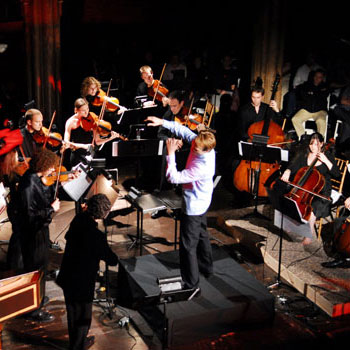 On Thursday night, the Grammy Award-winning new music ensemble eighth blackbird performs with the eight-piece Newspeak and the San Diego percussion group red fish blue fish. They will play music inspired by the work of Nigerian novelist Chinua Achebe and work composed by John Cage and Louis Andriessen, among others. On Friday, the groups perform the work of Steve Reich, Bach and Georg Friedrich Haas along with the Argento Chamber Ensemble.
Steve Smith, Music Editor for Time Out New York and contributing writer for The New York Times, says "ARCO" is worth checking out. It mixes "old music, new music, electronics, a sort of clubby ambience to really investigate the way that classical music can interact and intermingle with things from contemporary life," he says. "It's bound to really resonate in this huge space."
Smith says he's also looking forward to Sunday's performance of "Inuksuit" (video at left), in which 72 musicians play their rocks, triangles and other percussion instruments together.
"It's by the Alaskan composer John Luther Adams and it's very much a piece about expanded spaces and resonance," Smith says. "It's previously been played on mountaintops in Canada and in Texas, so this is the first time it's been done in New York and the first time it's been done indoors."
Although the Tune-In Music Festival will include a number of firsts, the Park Avenue Armory has presented large-scale concerts in the past, including Bernd Zimmerman's opera "Die Soldaten," which the armory co-presented with Lincoln Center in 2008.
 A four-day Tune-In festival pass costs $95. Tickets to single shows cost between $25 and $30.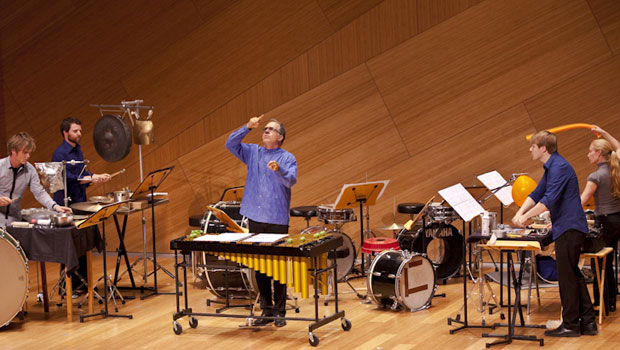 The San Diego percussion group red fish blue fish. (Photo by Bill Dean)