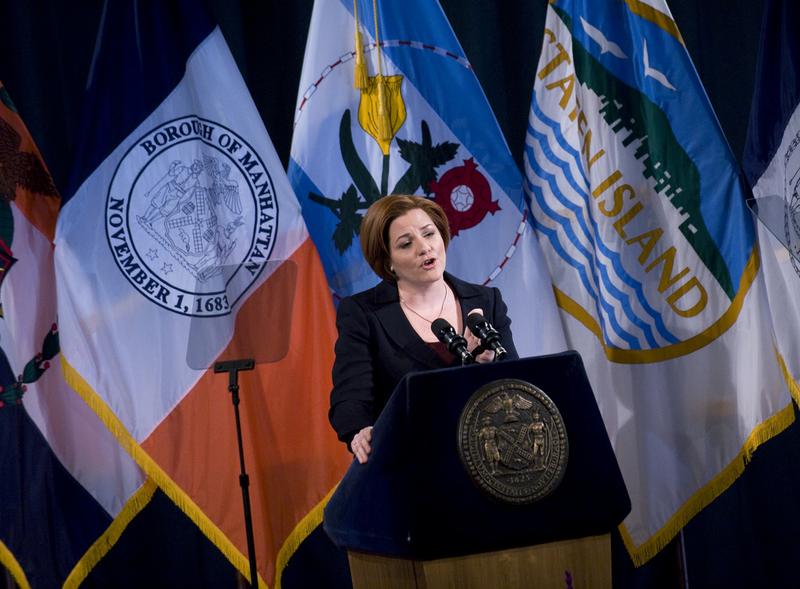 Welcome to Politics Bites, where every afternoon at It's A Free Country, we bring you the unmissable quotes from the morning's political conversations on WNYC. Today on The Brian Lehrer Show, New York City Council Speaker Christine Quinn talked about some of the ideas in her State of the City address, including plans for budgeting, jobs, and parking.
On Tuesday, New York City Council Speaker Christine Quinn gave her State of the City speech, in which she addressed the many issues, big and small, that New York will have to deal with in the coming year.
So, Councilwoman Quinn...how do we look?
We're in a better place probably than any other city in the country. In the years prior to the recession, when we had extra revenues, we didn't spend all of them. We took $8 billion and prepaid future bills, we put money into trust funds. Now, that doesn't put us in a great situation, but probably in the best situation of any city in the country right now.
That's nice to know. What's not so nice to know is that the city will not be getting the $300 million that it was originally scheduled to receive this year from the state government. Governor Cuomo's recently-introduced budget makes cuts to municipality funding across the board, but singles out New York City for a more drastic reduction than any other. That doesn't sit well with the Speaker.
I fully recognize that Governor Cuomo has no choice but to make tough decisions and pass a budget that has cuts in it. All I ask is that New York City not be cut worse than anywhere else. As far as aid to municipalities, all other jurisdictions are getting their funding cut by two percent; we're getting our total allocation of $300 million zeroed out. We'll take our fair share and not complain about it, but we don't want to take more than our fair share.
Quinn said that if the city hopes to pay its debts and make ends meet without the expected allocation, she expects Mayor Bloomberg to lay off construction workers and cancel many building and infrastructure projects—projects Quinn said we can't afford to abandon. While she appreciates the difficult position that Bloomberg finds himself in, she said she'd handle it differently.
It's not that the mayor doesn't want the projects, he just wants to lower the debt service that we have to pay every year...And he's right about that goal. I would get to it in a different way. Our capital budget is $10 billion. We need to commit now to begin paying, eventually, a tenth of that out of pocket, pay as you go. You can do that not for building a new school or a new library; you can do that for things that are maintenance related, things you can plan on, like new roofs, new sanitation trucks, water main upkeep. If you do that and pay that out of pocket, we have the potential to drive our debt service down significantly. If we started this a decade ago, we'd have $500 million less next year that we had to pay in debt service. That's half of the Department of Sanitation's annual budget. We need to move in that direction.
That's a long-term goal, but what about the immediate problems facing the city's budget? One place to find money, said the speaker, is in the city's contracts with outside consultants. If city employees are going to have to do more with less, so should independent contractors.
If you have a contract to do a lot of work with the city, and you have a built-in cost of living increase, you shouldn't be getting the cola [cost of living adjustment] until the effects of the recession are past on the city's budget, the same way city workers are not getting big raises. Everyone's still feeling the impacts of the recession, right? So if you're a company that has a contract with the city, that's a great thing for your business. If the city went to you and said, "Let's renegotiate, we're going to cut your pay by five percent," I just don't believe these companies are going to walk away from contracts with the city of New York. They're just too important to their long-term business.
Quinn also addressed the city's pension system, which, as throughout the rest of the state, is the big-ticket target for reform in the name of reduced spending. But she also gave attention to more niche issues unique to New York, such as burdensome parking restrictions and baleful neighbors — particularly, a huge corporation that's been trying to move into the city for a long, long time.
One of my biggest fears about Wal-mart is the impact it would have on small business around the store. The data shows that Wal-mart has a much more destructive impact on surrounding small businesses than any of the other "big box" stores. They're such an enormous corporation that they drive their prices so low, lower than the others, and they have every product you can think of—others have a lot, but it's not nearly as comprehensive. Those two things and other things combined really make it impossible for the mom and pop to survive.
Quinn also focused on the state of affordable housing initiatives in the city. A big supporter of the cause, Quinn was embarrassed by the ancient, muddled and ineffective process through which New Yorkers apply and are considered for available housing units. She promised that the council would fix it, ASAP.
Right now, the process is so out of date it's absurd. A New Yorker has to identify where the affordable housing is being developed, they have to send the building developer a postcard, each building developer a separate one, then they mail you paperwork, you fill it out and mail it back, then they get put in a big sack, mixed up, and dumped on the floor, and they're gonna pull five, ten, one hundred, however many units out of those applications. That's how you get an apartment. That's beyond not 21st century...We've worked with the Department of Housing Preservation and Development (HPD) and soon we're going to launch an online housing application for all housing that HPD is developing and overseeing.
In addition to streamlining the application process, Quinn said that city also needs to keep better track of when affordable housing programs are expiring. Lack of organization and notification results in the shuttering of initiatives that could have survived, had they known their time was running out.
We have clocks that check everything from how many days the mayor has left in office to when the next Nathan's hot dog eating contest is. We have no system that tracks when affordable housing is expiring. We are going to launch a red alert system, a database that has every affordable housing unit listed, what program created it, and when it expires. If you know early, you're much more successful at working with tenants and owners finding a way to keep the program affordable. If you're running around at the last minute, you're almost always unsuccessful.