How to Control (and Cash In On) the Sarah Palin Brand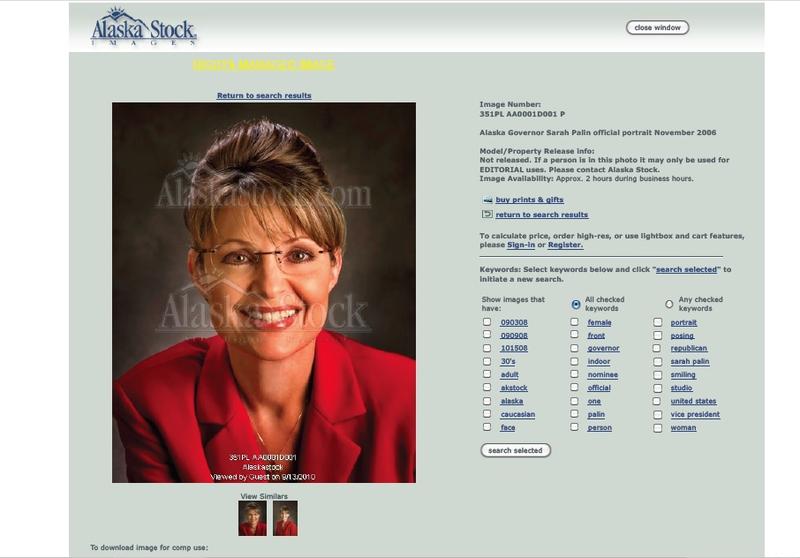 Adding Sarah Palin to any event makes it bigger, more high profile and, for one restaurant owner in Manhattan, more litigious.
Padriac Sheridan wanted to draw customers into his restaurant, Murphy & Gonzalez, on Waverly Place near NYU, by showing the 2008 Vice Presidential debate, featuring Palin and Senator Joe Biden.
So, as he did with other big television events that he hoped would draw customers into his restaurant, Sheridan put a note about it on his restaurant's web site. For this occasion, he Googled a little bit, found what appeared to be official portraits for the governor and the senator, and downloaded them. Then, Sheridan inserted them onto his web site, along with details about the October 2 debate.
Customers came. They watched, they ate, and the one year-old restaurant did brisk business that night. Sheridan considered the whole thing a success and didn't think much about it — until two years later.
On September 13, 2010, Sheridan received a letter from an attorney representing a company claiming that Sheridan's web site stole their photograph of Palin, and they wanted him to pay for it.
"A copyright holder is entitled to seek statuary damages up to $30,000 per infringement as well as statutory damages of not less than $2,500 or more than $25,000 per falsification of copyright management information, in addition to attorney's fees and costs," the letter said.
Sheridan said the image was still on his web site, but in the archive section, hardly a place garnering much traffic. Nonetheless, he took it down "that day" he got the letter. But the agreived party persisted, demanding money, Sheridan said.
Fearing what would happen if he exposed his business and its 14 full-time employees to prolonged litigation, Sheridan paid the attorney, Eric Meltzer. After the payment, Sheridan said he was asked to sign a gag order, which he resisted. He said both sides comprised: Sheridan would not say how much he paid, but was otherwise free to talk.
In an interview Tuesday afternoon, Sheridan — an Irish immigrant who became a United States citizen only three months before receiving Meltzer's letter — said he didn't realize how this could have happened.
"I assume that an elected official's official portrait would be public domain," he said.
In the image of Palin that was used on Sheridan's web site, the former governor is wearing a red blazer, glasses, a necklace; she is flashing a smile and looking straight at the camera.
Sheridan said he thought it was her official portrait because "I believe it stated it on the internet." He said he cannot recall where he found the image, since the incident occurred two years ago and he didn't take careful note of it at the time.
The image — wherever it came from — is now known as #351PL_AA0001D001_P. That's how it was referred to in the letter Sheridan received from Meltzer, the attorney. Meltzer said the image is owned by his client, Alaska Stock Image.
In Meltzer's four-page letter, he included a screen shot of Sheridan's web site, showing Palin's image and the original image, from the Alaska Stock Image web site.
There's only one difference.
In the photo from Meltzer's client, the words "AlaskaStock.com" are watermarked across Palin's face and there is additional white lettering at the bottom of photo. Sheridan, it would appear, did not go to AlaskaStock.com's web site to obtain the photograph. There were no watermarks on the image Sherridan used at the time.
So, where did the red-blazered portrait of Palin come from?
A woman who answered the phone at Alaska Stock Image said the photograph was taken by the company's owner, Jeff Schultz. When asked about the image, Schultz politely referred questions to whichever attorney contacted the restaurant owner. (Shultz said there were more than one lawyer that worked with his company and he was unfamiliar with this particular case.)
Voicemail and email messages for Meltzer left Tuesday evening and Wednesday were not returned. Voicemail messages left Wednesday at the governor's office in Alaska were not returned.
So, how did Schultz come to own the Palin portrait, which he, and at least one attorney, are litigiously protecting?
"Jeff has had the pleasure of taking Sarah Plain's official state photo," according to a profile of him on the Copyright Alliance web site.
Indeed, smaller, closely-cropped version of the portrait of Palin appears to have been available on the Alaska governor's official web site back in 2008. It can still be found there when accessed through archive.org, a web site that allows visitors to see what web sites looked like in the past.
The portrait of Palin was used by another web site, the Catholic News Service, in August 2008 with the following credit: "CNS/Jeff Schultz, Alaskan governors office."
Schultz is a professional photographer based in Alaska. Among the copyright images on Schultz's web site are at least 280 of Palin. (Images of Palin include one where she is wrapped in an American flag, holding a freshly caught fish, playing hockey on a frozen lake and holding a shotgun over her left shoulder. Several are from Palin's time in the governor's office, including several from the "Governor's Inaugural Ball" from 2007.)
It is unclear if Palin herself is aware of Schultz's effort to guard against uncompensated usage of her image. Palin's own efforts to control her brand include an unsuccessful attempt to trademark her name and that of her daughter, Bristol.
Back in Manhattan, Sheridan said he still resents having paid Meltzer and his client for leaving the Palin image on his web site.
"Maybe if we had gone to court we could have proven it actually was legitimate for us to use at the time," he said.
Update: The image was used as Sarah Palin's official headshot, according to Sharon Leighow, who was deputy press secretary for Palin.
"He took the picture. We were allowed to use it as the official photo," Leighow said. But Schultz always retained the rights to the photo, she said.

Leighow is now the press secretary to the current Alaska governor, Sean Parnell. But during Palin's tenure, Leighow said the official picture of Palin was widely distributed.