Chris Christie's National Platform at Local Town Halls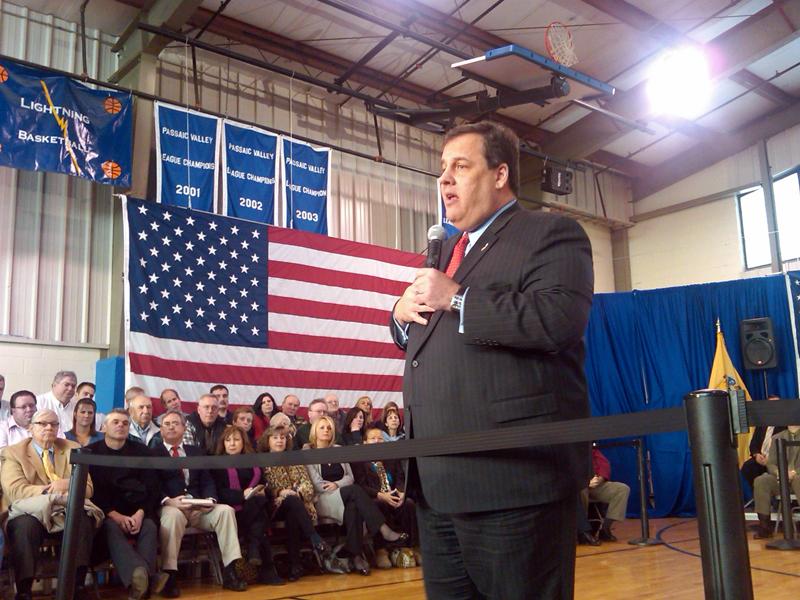 On Wednesday, New Jersey Governor Chris Christie goes to Washington to give a high profile speech to the conservative American Enterprise Institute.

No doubt the national audience will hear some version of the stump speech that Governor Chris Christie has honed in more than 20 animated town halls that have become YouTube sensations.

The crowds have been building and they come for his bluntness and maybe for his form of roller derby rhetorical slam down.
At the Lincoln Park Park Police Athletic Center on Tuesday, it was standing room only. The media risers were packed with cameras. Governor Christie's backdrop: a massive American flag.

He told the crowd that New Jersey could no longer afford the benefits it gives its state workers. To drive his point home, he said that as an asthmatic, he paid more for health care when he served as US Attorney than he does now as governor. It is just that self-effacing directness that keeps them coming back for more.

"When I was on the federal plan paying much more in premiums, my copay at the pharmacy when I went to pick up my inhaler was $55," said Christie. "Since I started working for you," — think a Lewis Black inflection here — "I'd go to the pharmacy and pick up my inhaler, it is $15."

In answer to a question on the impact of President Obama's health care overhaul, Christie said "Obamacare" would only make the state's Medicaid funding crisis worse, something the White House disputes.

"You put your finger on the biggest problem with Obamacare, which is Medicaid and what is going to explode — Medicaid costs, which by the way, we share 50 percent of those costs and this year alone in our Medicaid system in New Jersey we have a $1.4 billion dollar deficit."

When small business woman Shelia Brown got up to ask why Governor Christie had not joined in with the dozens of other states challenging the constitutionality of the Affordable Health Care Act, Christie said he wanted "New Jersey taxpayers to get a free ride for once." He reasoned why pay lawyers to do what so many others were already doing. He said if the federal courts ultimately declare the law unconstitutional in any state, New Jersey would be the beneficiary of that ruling as well.

Christie is a confident man who thinks he's having a national impact just a year in office. He says he's not running for President in 2012, but he projects like a national player.

"What I said on January 11 was in New Jersey, it is time to do the big things. We don't have any time to waste," recalled Christie of his State of the State address. "And interestingly, two weeks later, the president of the United States gave his State of the Union Address and he said 'it was time for America to do the big things.' And I was sitting there  in my living room with Mary Pat and i said hey, we're getting somewhere."

Lincoln Park is in Morris County — real Republican territory — and many of those who attended the town hall meeting praised Christie's efforts. But a delegation from Bernards Township  challenged Christie's cuts to suburban schools. Carolyn Graziano, with the Bernards Township Committee, said a property tax cap that Trenton imposed makes things worse. 

"We only spend like a little bit under $13,000 per student and you have heard Newark,  some of these other schools are spending $24,000, $28,000, and with the two percent cap ,we can't get any more money. There is no where to get any more money from."

Parents in Graziano's school district privately raised over $400,000 to try and restore cuts to their full day public school kindergarten.

Christie blamed the state Supreme Court for mandating additional funds for urban school districts, as well as a lack of accountability in those inner city districts.
 
Then, just minutes after Christie's question-and-answer ended, police ordered the crowd and the media to leave, so Fox News could shoot an exclusive with the governor.