Niche Market | Tiny Doll House
New York is a city of specialists from foodies to academics, laborers to shopkeepers. Every Wednesday, Niche Market will take a peek inside a different specialty store and showcase the city's purists who have made an art out of selling one commodity. Slideshow below.
Tiny Doll House
314 E. 78th St.
New York, NY 10028
What makes small things so precious? Perfect, miniature replication of objects in the physical world have tantalized people forever. Maybe they make the world more tangible, graspable, easier to know. Perhaps they give us a false sense of power. Whatever it is, Leslie Edelman at Tiny Doll House will tell you that it's a delight that's as enduring as it is popular. He sells tiny wine glasses, wedding cakes, turkey dinners, toy cars (that's mini of the mini) one-inch top hats, three-inch long kitchen tables, umbrellas, gold faucets, beaux arts desks and on and on. His inventory seemingly encompasses all objects in existence of all time in miniature form behind little display cases, in an what's approximately a 12-by-20 foot room. How much do the gems go for? Well just like in real life, you can buy a bed for $16 and you can buy a bed for $600, depending on what you're looking for.
It's a busy shop — over the course of an hour on a cold afternoon there was a woman who walked in on a whim and left inspired to take her old dollhouse out of the closet.  "I'll be back for some lumber!" she said. A few minutes later, a regular customer, a dapper designer named Alfred Durante, dropped in to buy teeny pieces of fashionable baggage that he was planning to give as a gag to his friends, who had neglected to unpack their bags after moving. The store's stock ranges from assembly materials to wallpaper to half-foot long Persian rugs to mini-clothes that range in style from modern to Victorian to medieval (everything is to scale).
Edelman said people like to come in and see the goods in person — he doesn't even have a catalog online. As any true dollhouse hobbyist will tell you, it's not just for little kids, and when it comes to creating a dollhouse world, they'll go to the limit, which could mean filling the refrigerator with food and drawers with family photos (as one customer told me). Leslie himself originally got hooked years ago while building dollhouses for his nieces. He said he's still happy in his job 20 years after buying the Tiny Doll House.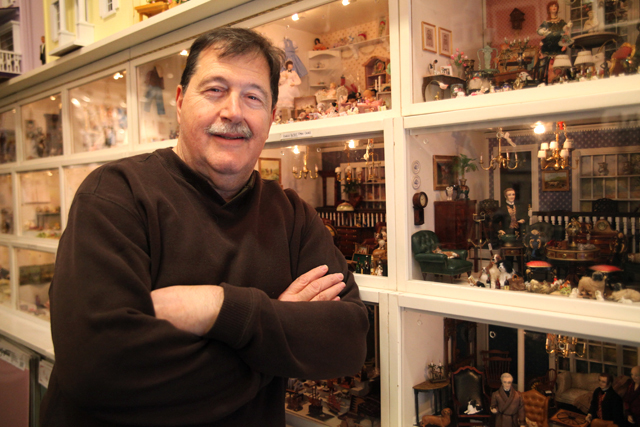 What do you sell here?
Basically, what we sell is everything related to dollhouses and miniatures, and anything needed to construct dollhouses, refurbish dollhouses, finish dollhouses and then populate them and furnish them as well.
We have a very wide range of interior furnishings from simple manufactured pieces, which are good for children to play with and use in their dollhouses all the way up to handmade collectable pieces, which are intended for the adult collectors who are in the hobby.
How do you organize all these thousands of pieces?
On the side where the handmade items are we tend to organize them into loose categories: here's the effect of antique shops, and then we've got a pastry shop, and kitchens and a meat market, hat shop, a ladies dress shop -- things like that.
Who are your clientele?
My clients are everyone from two to 92. We have children, we have teenagers, mothers, all the way up to adult collectors. Many of them I've seen from when they were five-years old and now they're coming back and they're 19 and refurbishing their dollhouse, and some of them are coming back with their own child.
How do you match customer with product?
By listening, listening to what they're saying, to what they're asking for, and also who they're buying it for has a lot to do with it. If they're buying it for a very young child you tend to steer them toward items that don't have little legs that can easily pop off and things like that.
What's the most popular item that you sell?
I would say our most popular items tend to be pianos, bunkbeds, kitchen sets, cribs, things of that nature. Items that children can relate to very easily.
Where do the pieces come from?
The manufactured pieces tend to be coming in from the Orient, China, Thailand, etc. The handmade pieces are from all over the world: from the U.S., England, Switzerland, France, Spain, Germany, all over.
Is there much competition in this business?
There used to be more shops here in Manhattan, unfortunately a lot of them have disappeared so there doesn't tend to be a lot of competition in the city, in the tri-state area. We just cater to being very specialized in doing what we do and trying to do it as best as we can.
What's your business philosophy?
My business philosophy is basically to sell things that I love. I'm a collector myself, so I tend to buy things that appeal to me, and that I feel would appeal to the ultimate consumer.
How has the business changed over time?
I can't say it's changed drastically. I think people are wanting a little better quality. Of course, doll houses, like everything else, have to keep up with the times so we have flat screen televisions, computers, cell phones and everything else, laptops, that emulate everyday life.
What's the appeal?
I think it's just the fascination with small things. For me, it's the fascination that someone can actually sit and make something, replicate something in miniature that's just, you know, the detail is incredible. If you look around you can see the items that are just so perfectly formed except that they're 1/12 of the size that they should be.
What would you say is the most prized item in the store?
Some of my most prized items are handmade pieces of furniture, for example an English style breakfront ... that was handmade in England. It's like $2,800 and just magnificently detailed. Every time we get one, after waiting a year for the man to actually make it, they invariably sell.
Do people create different styles of houses, in the way they might decorate their own homes?
I think a lot of doll housing has to do with the fantasy of all of it, and so when people might live in a very simple, contemporary studio apartment and they want a doll house, it's going to be much more elaborate, generally, something more of a fantasy, you know, that they cannot live in at the moment. So they're living vicariously through the dollhouse.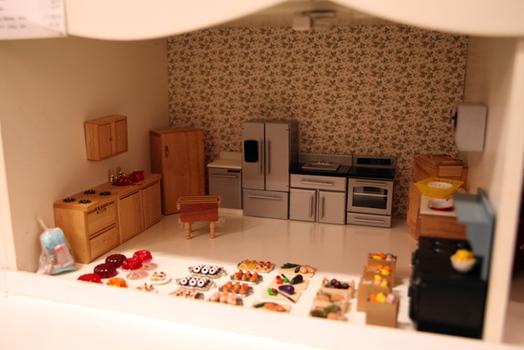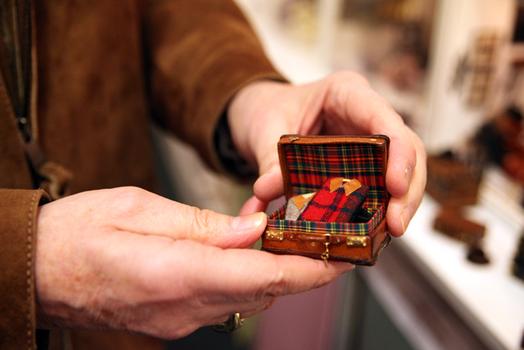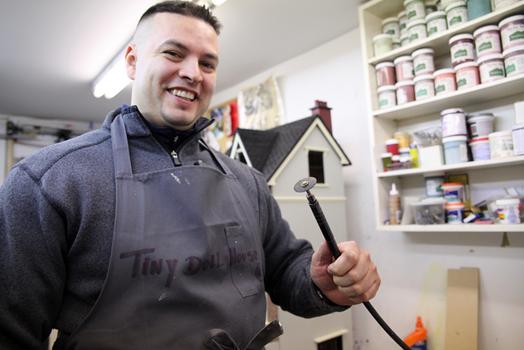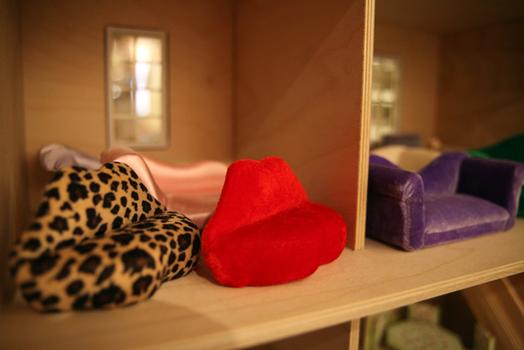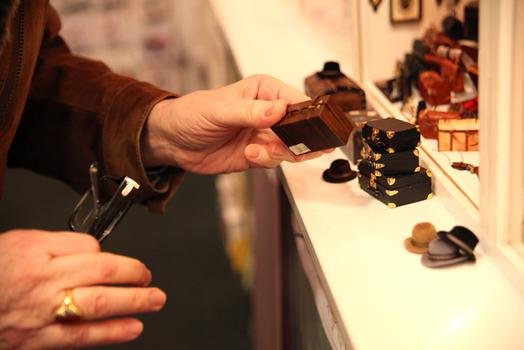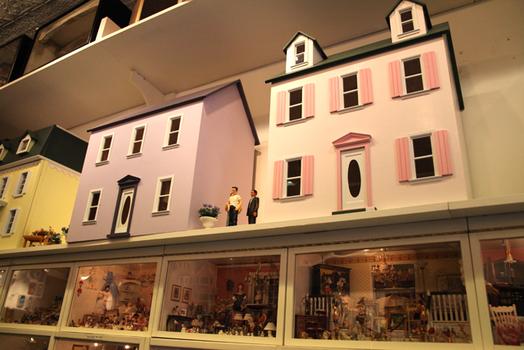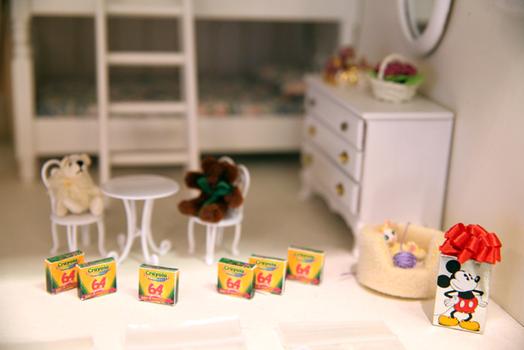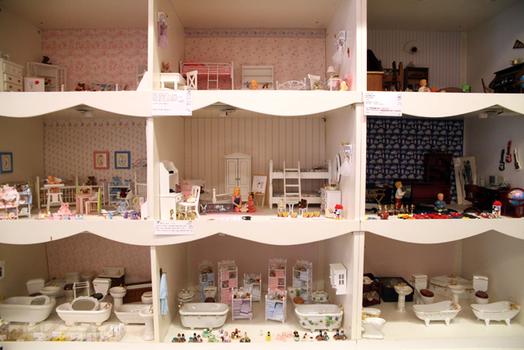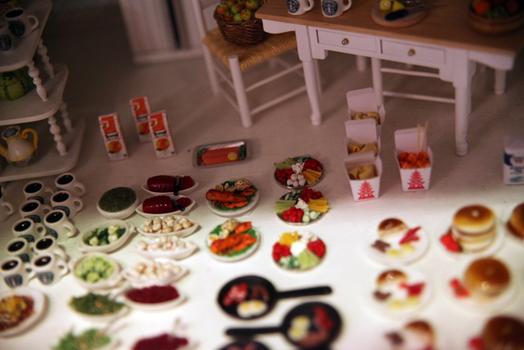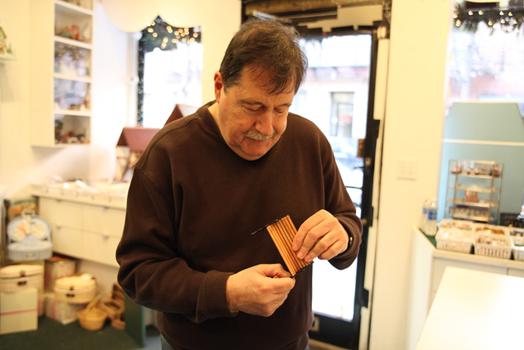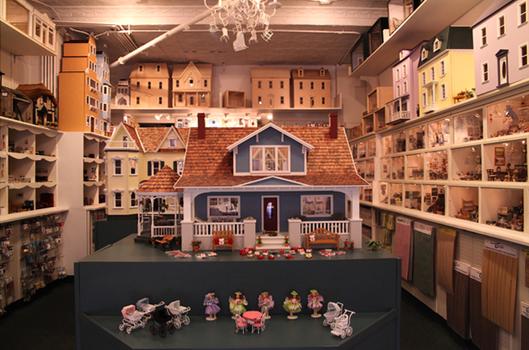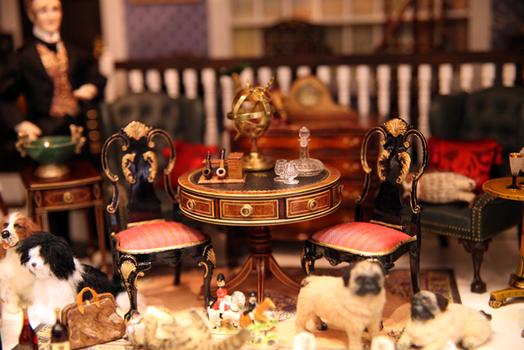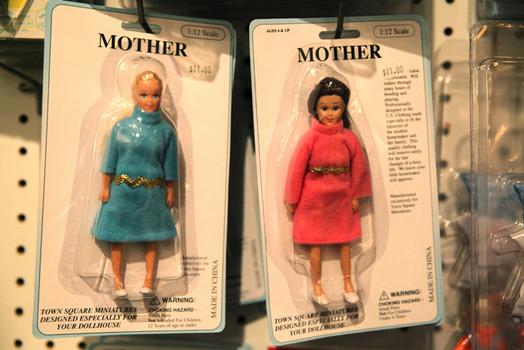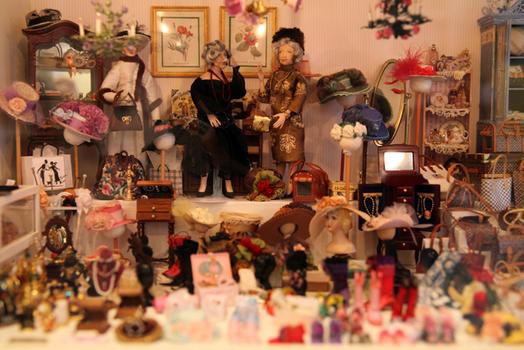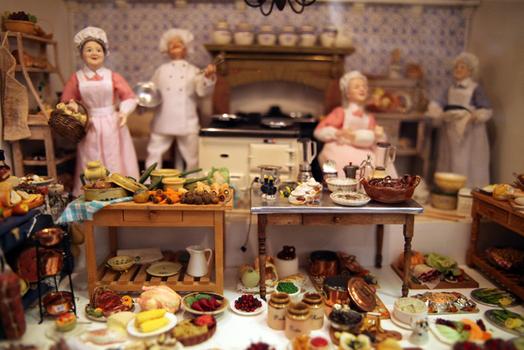 of