Not Just a Pretty Face: Show Dogs with More to Show
The Westminster Kennel Club (W.K.C.) Dog Show is often compared to a fashion show, and there is a certain justice to that: 2,500 dogs modeling the outfits given to them by nature and enhanced by a battery of grooming products. But behind this somewhat strained analogy is the often related assumption that dogs on the 'runway' are divorced from real life, just as models are sometimes presumed to be vapid. It was pleasing to discover, therefore, that a number of show dogs also have multiple titles in field sports and obedience—competitions that require them to use both their DNA and their brains—and an even larger number of retired champions go on to careers as therapy dogs.
U.C.D. A.K.C./U.K.C. C.H. (see below for link to acronym explainer) Fancibul's Conquistadora, a French bulldog known to her friends as Sweetums (below left), was a dream come true for owner and handler Brownyn Bresnahan. "My mother and I took a trip to France, and when we went to the Eiffel Tower in Paris we saw a group of French bulldogs with their owners. My mother said it was her dream to have a French bulldog, and to go to Westminster with that dog." The search for a suitable Frenchy was long and rocky, and sadly, Bresnahan's mother did not live to see Sweetums, but the perky brindle made her debut at Madison Square Garden in 2005. 
Bresnahan is a self-taught owner handler, so it was enough of an achievement to "finish" a dog (acquire enough points at shows to become a champion) for Westminster, but not enough, apparently, for Bresnahan, whose eye was caught by an obedience class being held at her local club: "It was like watching a canine ballet. Magical. So beautiful! I wished I could have a dog that did those things, so I started taking classes." 
Obedience titles duly followed, and Bresnahan says the two types of competition called out different facets in her dog. "In obedience the dog really has to be able to think and solve problems quickly and accurately. In conformation, a dog has to have a 'Look at Me' attitude." Sweetums, now 11, is retired from showing, but not from challenging pursuits. She is part of Harvard University's Canine Cognition Lab, and has four diplomas from the University(!). Bresnahan says that the lab's goals are to understand more about how dogs think and feel, and Sweetums participates in a range of (non-invasive experiments that test such things as anticipation, perceptions of fairness, and how well dogs read our body language.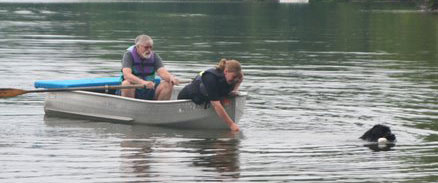 Another prodigiously titled Westminster competitor is Dwight and Christine's Newfoundland, V.N. G.C.H. Bear N Mind's The Guardian C.D., D.D., W.R.D. or Clancy (see below for acronym explainer). Clancy (right) was the 2010 W.K.C. Newfoundland Best of Breed Winner, and here is the rest of his statistical profile:
V.N. – Versatile Newfoundland. The title is awarded by the Newfoundland Club of America (N.C.A.) to dogs that have earned their A.K.C. Championship (C.H.); Companion Dog Obedience Title (C.D.); Draft Dog Title (D.D.) Water Dog and Water Rescue Dog Titles (W.R.D.)
G.C.H. – Grand Champion – After achieving his A.K.C. Championship Title, Clancy defeated the required number of A.K.C. Champions to earn his Grand Champion Title.
C.D. – Companion Dog Obedience Title – Basic A.K.C. on/off lead healing, recall, etc. competition obedience.
D.D. – Draft Dog – N.C.A. Title awarded to Dogs that successfully work off lead, pulling carts within maneuvering courses and during a one mile freight haul with a loaded cart.
W.D. –  Water Dog – N.C.A. Title awarded to Dogs that successfully work off lead and in the water to retrieve articles from the water returning them to their handler; pulling a stranded boat to shore with a rope/bumper held in Clancy's mouth and swimming alongside the handler then pulling the handler back to shore.
W.R.D. – Water Rescue Dog – N.C.A. Title awarded to Dogs that successfully work off lead and in the water at a high level of water work.  In addition to water work, work above, the dog must to retrieve articles thrown from a boat (the dog jumps off the boat to work) and the rescues a "drowning" person from the water.
Impressive as this is (think of his business card) it appears that glory was not the primary motive. Gorsuch notes: "Especially with Newfoundlands, there is so much you can do with your dog beyond the confirmation ring. Newfys just enjoy being with (and working with) their family whether that's in the show ring, obedience ring, water or draft trials, tracking or even agility. The bond that is created between you and your dog as you learn all these working aspects—amazing!"
He says that this is a breed that combines a loving and an independent personality. "Working trails require your dog to sometimes act and react independently and away from you. In addition to lots of training, they must be mentally confident so they perform without hesitation." Clancy seems to fit the bill perfectly, as he's "very smart, a bit stubborn, quick to learn and very affectionate." And, says Gorsuch, "from a physical and mental fitness point of view, all the competitions can work together to create a sounder, more complete dog."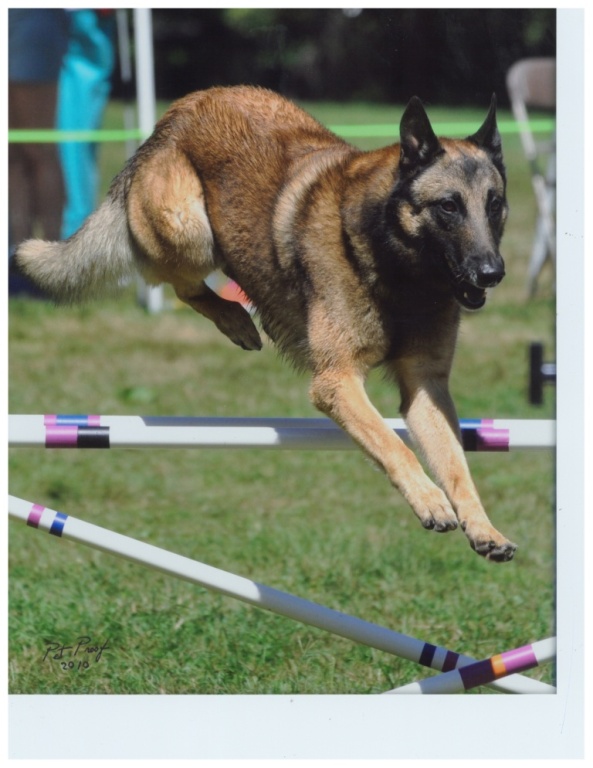 Debbie Keith has also campaigned her Belgian Malinois C.H. Broadcreek's Starstruck CD GN RAE NA OAJ OF PT CGC* to multiple titles. The breed was originally a herding breed, but is used extensively for police and security work now. She describes "Hunter" (left) as an intelligent and devoted companion and "also a goof ball and a social butterfly with both people and dogs."  She says these highly observant dogs have no trouble distinguishing between the two different types of competition: "I often hear people say 'Get your championship before you do obedience or they'll sit and look at you [waiting for an instruction] in the breed ring.' I've found that my dogs can discriminate where they are and act appropriately for the situation. They wear different collars for breed and performance and take that cue as well as their surroundings. I think all of the competitions I do with my dog just add to the bond we have. We are a team no matter what we do!"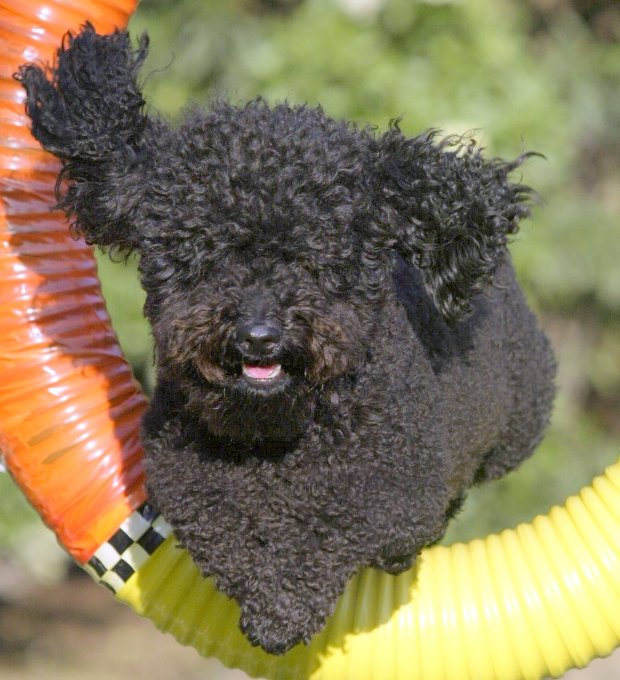 Hunter successfully came back this year after a cancer scare, and illness is one of the other fronts on which highly-trained dogs can operate with almost miraculous effectiveness. Sweetums the Frenchy is a therapy dog (when she's not writing term papers for Harvard, presumably) and Wes (Champion Balrion Weathertop Nor'wester, C.G.C.) a Labrador retriever, is the mascot of his own literacy program, Nor'wester Readers, which was started by his owner and handler Wendi Huttner.  
A successful conformation show career is not a necessary prerequisite to a successful therapy career: 11-year-old Baldwin, a pulik (at right), was a rescue himself, and appears to be paying back for his own good fortune. Baldwin, sometimes dressed as a doctor, works with The Child Life Program, in Los Angeles. According to owner Susan Hartzler, "He takes his work seriously and can't wait to cheer up the kids…Baldwin seems to know what each child needs so I follow his lead."  In his off hours, he competes in agility trials.
While Westminster celebrates the canine ideal in all its glorious diversity, these busy, versatile dogs are a reminder that "only connect," as E.M. Foster urged us, can be achieved in many different ways with dogs.
*For a complete list of American Kennel Club titles and their meanings click here: AKC titles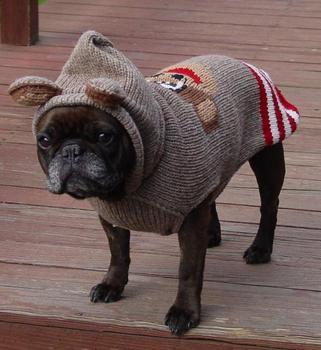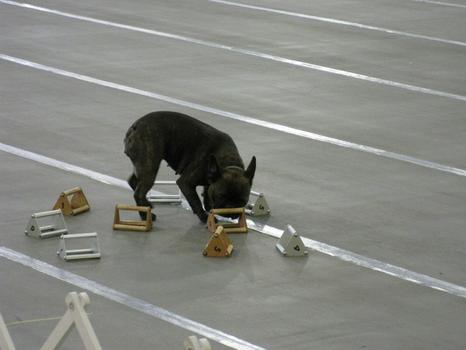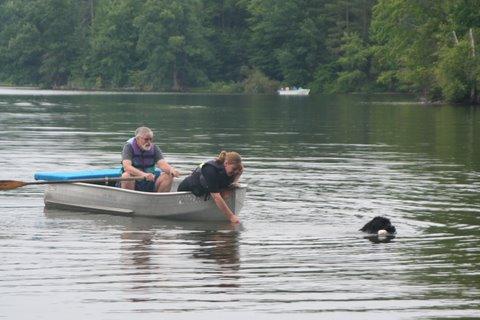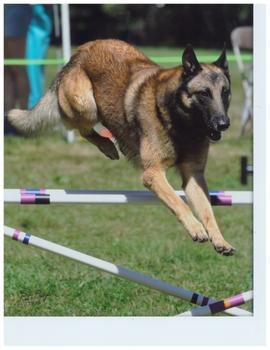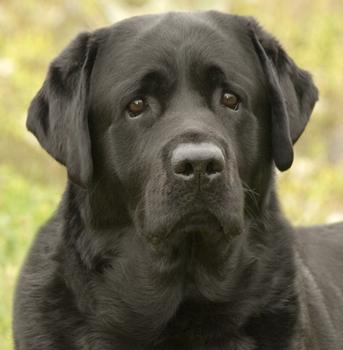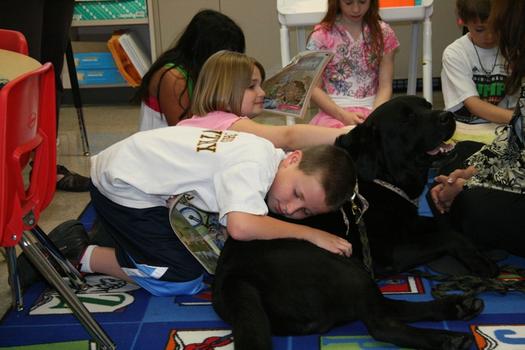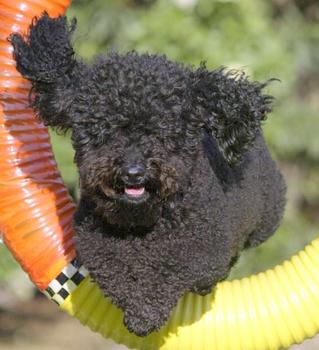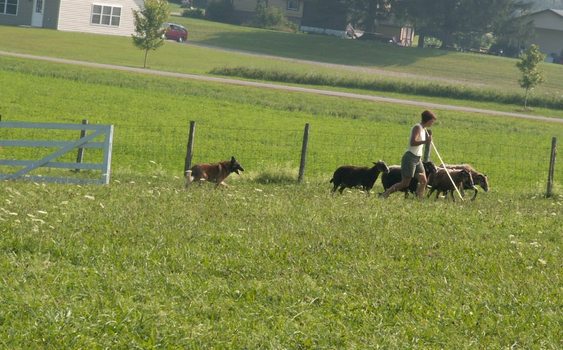 of