WNYC's First Music Director is a Pioneer in the Broadcast of Classical Music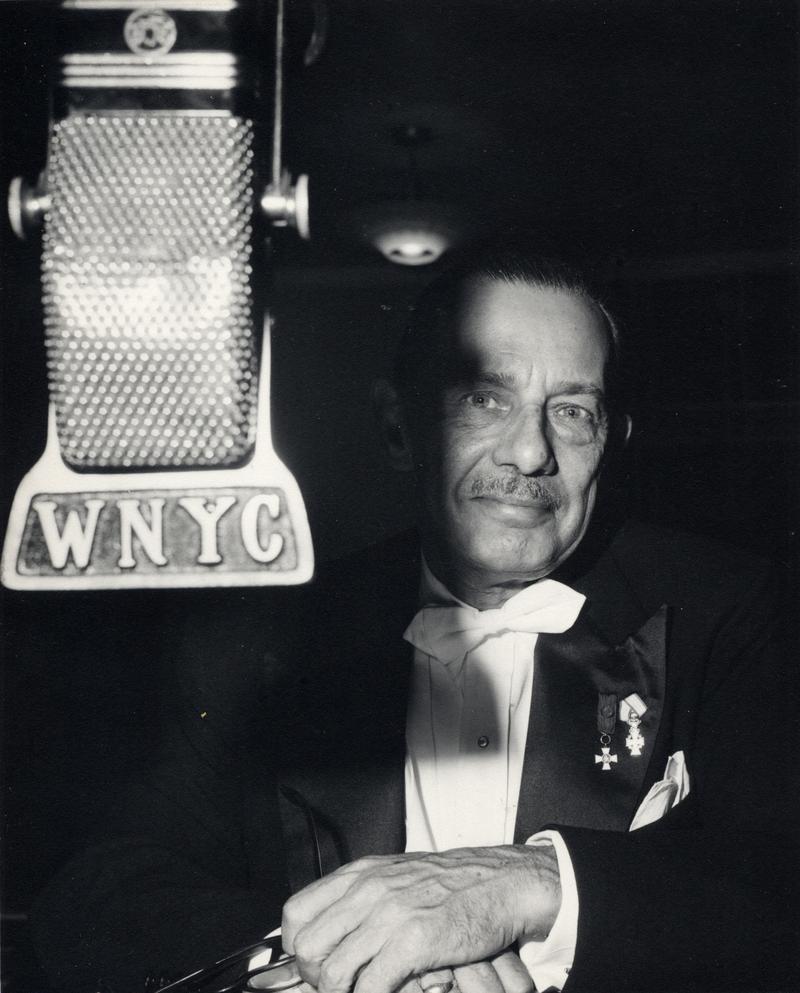 WNYC's first Music Supervisor (Music Director) Herman Neuman was a an accomplished conductor and composer and oversaw the department from its beginning in 1924 to 1967. He continued to do his regular "world" music program (classical), Hands Across the Sea into the 1970s.
In the station's earliest days, Neuman also acted as staff pianist. In a 1964 interview he recalled he would give as many as five piano recitals a day, announcing the selections himself from a standard volume called Masterpieces of Piano Music. Neuman said that many of the vocalists he accompanied were "song pluggers" who were dispatched to the station by music publishers to sing their latest songs on the air and encourage the sale of sheet music.
Neuman started the Masterwork Hour in 1929, radio's longest running program of recorded classical music. At the time, the station could not afford phonograph records so the program was done with review copies and the generosity of a Brooklyn attorney, who made his large personal collection available to WNYC. In 1936 Neuman began Hands Across the Sea, a program "devoted to the international exchange of serious music." Under his leadership and that of Station Director Morris Novik, the American Music Festival was launched in 1940 and continues to this day. Neuman was also a conductor who led orchestras in this country and abroad. In 1936 he went to Europe and conducted concerts of American music in Oslo, Copenhagen, Warsaw, Prague, Budapest, Berlin, Vienna and London. Neuman died in 1976 at the age of 80.
________________________________________________________________________________________________
Broadcast on WNYC Today in:
1926: Captain George Fried and the crew of the steamship President Roosevelt are honored at the Merchant's Association luncheon at the Hotel Astor. Fried and his men were responsible for rescuing the crew of the sinking British freighter Antinoe in the North Atlantic several weeks earlier.
1937: New York Advancing hosts Rebecca B. Rankin, Director of the New York City Municipal Reference Library. The focus of the talk is proportional representation under the city's new municipal charter. Note: Rankin's work included the promotion of resources and services of the library to its intended clients. When budget cuts forced her to curtail the traditional publications used for publicity and outreach, Rankin took the pioneering step of employing radio to communicate with prospective customers in the local government and their constituents. Rankin and her staff prepared and presented over 300 radio talks between 1928 and 1938. The success of this publicity strategy was demonstrated by an increase in patrons and requests. The weekly broadcasts over WNYC also succeeded as an outreach service by communicating information.
1941: America Tells Its Story, the 35th program on WNYC's 2nd annual American Music Festival, features the "folksongs of the Negroes." Performing are Huddie Ledbetter, a.k.a. Leadbelly, Ann Graham and the Oleander Quartet. The quartet is composed of George Boyd, Cecil Murray, Howard Scott and George Hall, with Elijah Lamar at the piano. The quartet sings "Ain't It A Shame";  Ann Graham sings "What Kind of Soul Has Man;" "When This World's on Fire" and "The Cradle of the Lord"; Leadbelly sings "Good, Good, Good," "Talkin', Preachin'," "Blood Done Sign Your Name," "Gallis Pole," and "Leaving Blues." 
1950: WNYC's 11th annual American Music Festival features Miles Davis on trumpet with Jay Jay Johnson on trombone, Stan Getz on tenor sax, Tadd Dameron on piano, Gene Ramey on bass, and Art Blakey on drums. They perform "Conception"; "Ray's Idea"; "That Old Black Magic"; "Max is Making Wax"; and "Woody 'N You." Read more and listen!
1969: Mimi Poser talks with Thomas M. Messer, Director of the Solomon R. Guggenheim Museum, on Round and About the Guggenheim. Note: Messer was the museum's director for 27 years (1961-1988).
1984: Nancy Shear hosts Americathon 1984 at the Public Theater. Welcome is by Joseph Papp, producer of the New York Shakespeare Festival, and the introduction by WNYC Director Mary Perot Nichols. Songs from 5 Decades is performed by Elie Siegmeister on piano and Elizabeth Kirkpatrick, soprano. The Traveling Song, Lullaby, The Tale, and Biography are performed by Meredith Monk, piano & voice.
1995: Peter Schickele and Christopher O'Reilly perform for Around New York. 
2007: Spinning on Air with host David Garland features songwriter Essie Jain. Originally from London, Jain left her home town for New York in pursuit of her muse. Having performed traditional Irish music and studied opera and classical cello back home, she cleaned her aesthetic slate and started writing austere, intense, lovely songs in a personal style. Jain talks about her compositions and plays piano, guitar and sings her songs in the WNYC studio. She is joined by guitarist Patrick Glynn and drummer Jim White. Listen!