In the Run-Up to Westminster, Two Pups Say 'I Do'
Katiria Toro cradled Precious Princess in her arms all night. "This is gala wear," Toro said of the teacup Chihuahua's satin dress. "Most people call this one the 'Red Carpet' dress."
Vincenza Falcone brought Lilly, a Shih Tzu who wore a luxury pet outfit designed by Oscar Newman. "Lilly is supporting her friends," Falcone said.
The 135th Westminster Kennel Club Dog Show will be held on February 14 and 15 in Madison Square Garden. But across the street at the Penn-Top Ballroom at the Hotel Pennsylvania on Friday night, the Pre-Westminster Gala Puptials was the center of Midtown West's canine attention. Not to be outdone by Spring Fashion Week, which is currently underway in New York, approximately 50 dogs participated in Friday evening's canine fashion show. The runway was followed by a "puptials" ceremony meant to join two Chihuahuas. Around 500 people attended the event. A portion of the event's proceeds went to Sean Casey Animal Rescue.
"The whole thing is to show the latest products on the market," said Ada Nieves, co-chair and creative director of the gala, now in its sixth year. "And to have the doggie wedding."
Bandit Rubio, a Chihuahua already on the inside track of the East Coast canine pageant scene, won the evening's fashion show. Owner Anthony Rubio did a victory lap on the runway, with Bandit's giant black costume wings in full splay. Bandit's win was no surprise to some, as he recently topped the 2010 New York Barking Beauty Pagent, took Best in Show at the 2009 Tompkins Square Halloween, and has been honored at Macy's Petacular.
After the show, many owners prepared for the gala's crowning moment: the puptials. Chihuahua Morgan Smalltown Scandal a.k.a Gogo would be tying the knot with fellow Chihuahua Envi Walkin on Sunshine a.k.a Scarlet, in a ceremony officiated by an ordained priest.
As the ceremony took place, Darsey Mitchell sat to the back of the ballroom holding Millie LaRue, a four-year-old Yorkshire terrier, in her lap. "Millie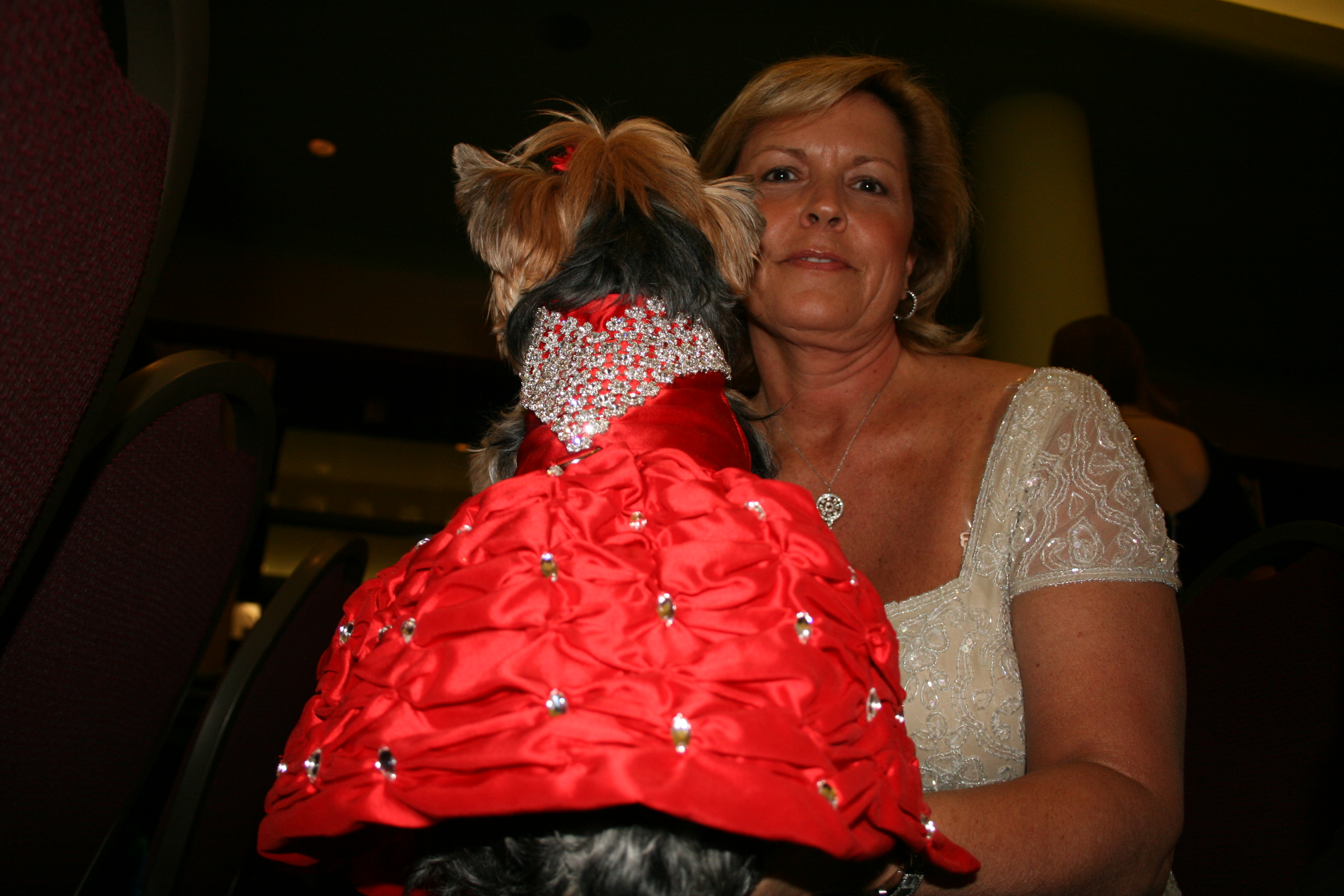 debuted this piece earlier this week in Florida," Mitchell said, holding LaRue up to present the terrier's $5,000 red-and-white gown. "Then we flew up here for this. Millie walked the runway, but just as a guest...These are real Swarovski crystals, 882 of them." Mitchell identified the fabric of LaRue's gown as "Valintino peau de soie satin."
After the ceremony, the remaining gala attendees milled and mingled, eating "human cupcakes" and drinking beers.
Bandit Rubio's owner, Anthony Rubio, was stalled at the ballroom door as fans clambered to get a photo with him and Bandit. "He was born with these little lines on his eyes, like a bandit," Rubio said. "And so, I said, 'That is it, oh no, he's going to break everybody's hearts. He's the heartbreak Bandit Rubio.'"
Gladys Delgado-Garced took in the last of the scene while young women danced to Duran Duran's "Hungry Like the Wolf" on the runway. She was dressed in a shimmering red-and-pink jacket, with Pierre Garced, one of the evening's models, in her arms. Pierre Garced was dressed in the same fabric as his owner's. But his get-up had red flashing lights on it. "I had him in a robot outfit earlier," Delagdo-Garced said. "People went crazy."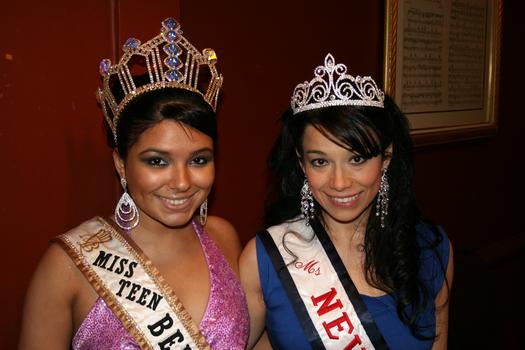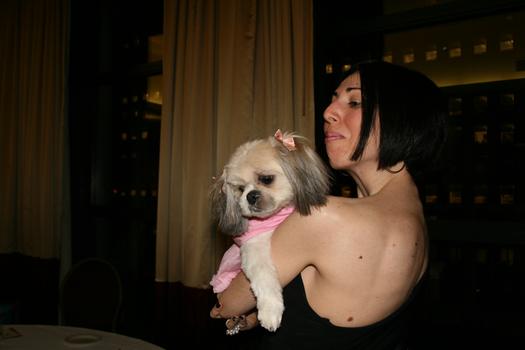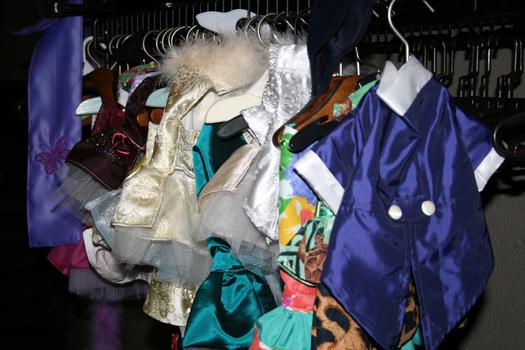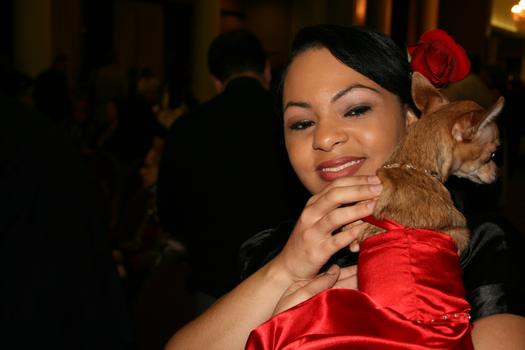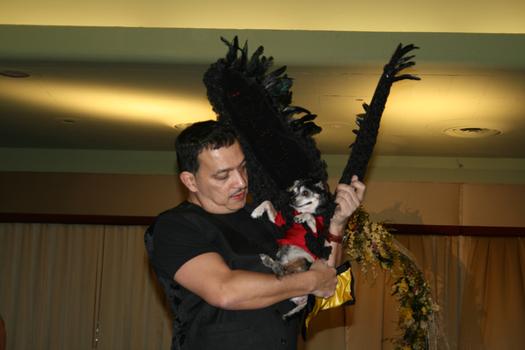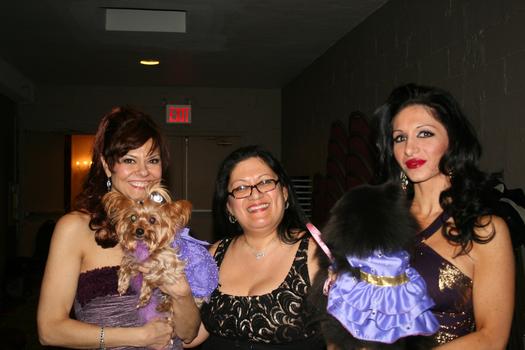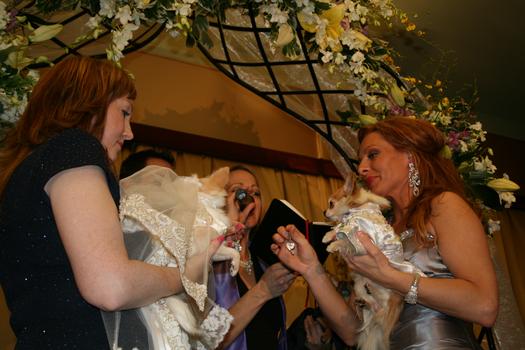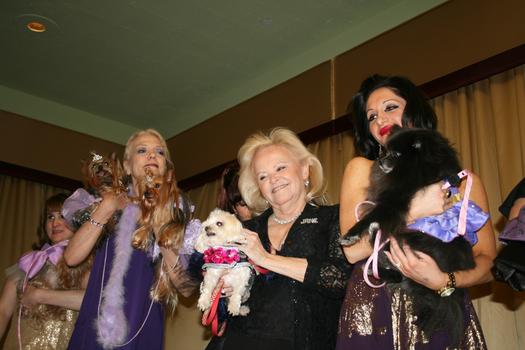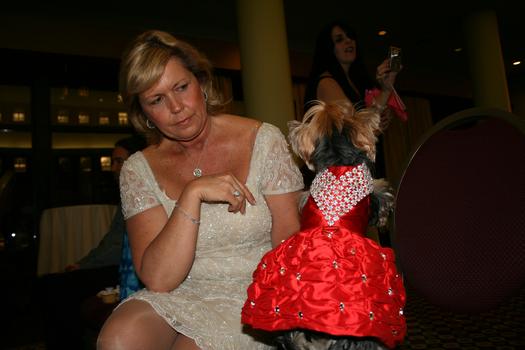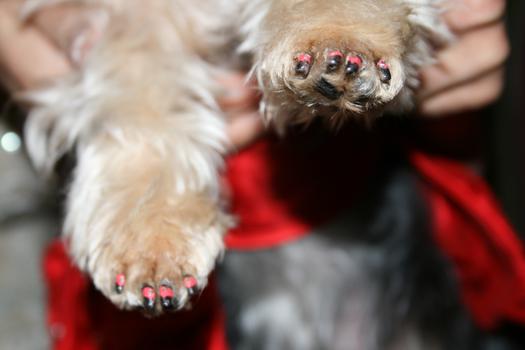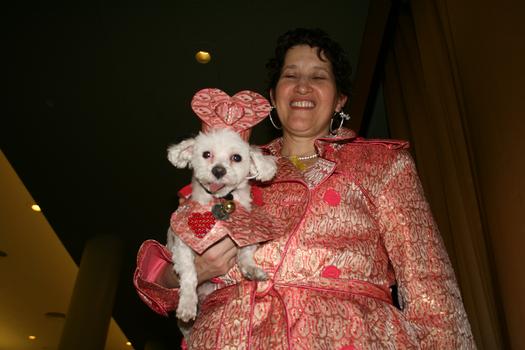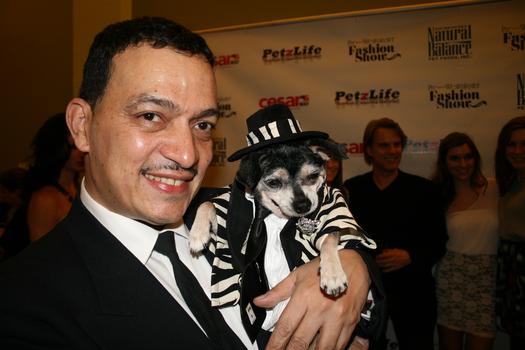 of