Singles Try Improvising Their Way Into Coupledom
If you Google the term 'dating events' in New York City, 20 million results pop up in 22 seconds.
The offerings range from speed-dating services for former Ivy leaguers, Jewish seniors, professional thirtysomethings and just about any specific group of romantically unattached people you can think of. There are also gatherings called meet-up's, scavenger dates and erotic mixers. But there's a new kid on the singles' block: Improv Dates — a service described as improv comedy-meets-speed dating that promises you can 'laugh your way to Valentine love.'
A recent class was full of singles who signed up to see if the tenets of improvisation could lead to bona-fide romance. But if the thought of combining speed dating and performing feels somewhat terrifying, one of the founders, Zohar Adner, said give it a chance. (PHOTO LEFT)
 "We've never had a runner," Adner said. "We'll have people who say, 'Oh, I can't stay for the whole thing,' but they always stay."'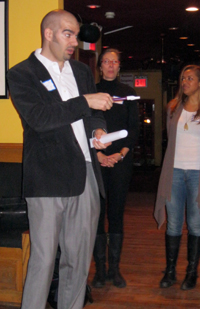 Thirty-four-year-old Adner, who is single, was is gearing up to facilitate the sixth event since he and a partner launched Improv Dates last summer. The class tonight is for 38- to 48-year olds. 
Incorporating what's known in the improv world as "yes anding" -- or learning to accept and add to what your partner is gives you -- is something Adner believes singles in the city might find invaluable when it comes to making a connection.
"If we could provide an environment that does that for people all the better -- particularly in a cynical town like New York where people come in and say, 'Oh gosh, this is going to be terrible.'"
In the backroom of Turtle Bay NYC, a bar on East 52nd Street,  men and women arrive in ones and twos. They check in, snack on pretzels and sip complimentary drinks included with the $40 entrance fee. Participants are armed with cards distributed to help them keep track of the other singles they'll meet every seven minutes as the night progresses. Adner coaches the group of 14 on how to get the most of the exercises with their partners:
"You guys are here to find connections. ... You're not here to figure out if the person you just talked with is your life partner -- just is this the kind of person who I would like to have a full date with?"
A slide-whistle sounds when it's time to switch tables and move on to the next date.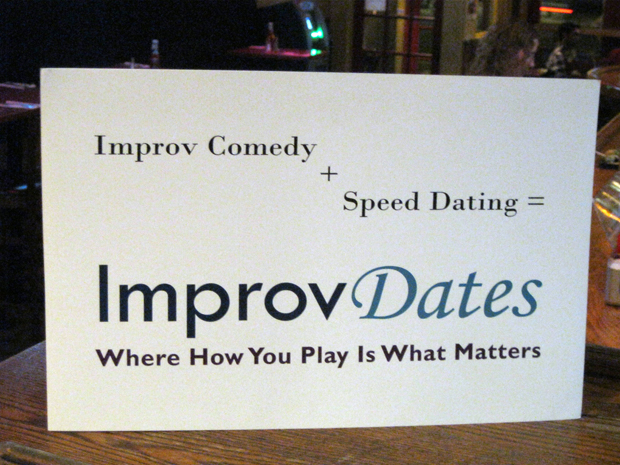 Pairs are coached to speak gibberish to each other describing their day, exchange imaginary gifts and answer questions such as would you rather live in outer space or under the sea? As the night progresses and the drinks flow, the body language opens up slightly and the laughs come easier.
One of the participants who was giggling the most is Randi F, an engineer from the Bronx who didn't feel comfortable sharing her full name. She's been single for a few years and said she wasn't looking forward to attending.
"Actually, I walked in here feeling quite drained from the day at work, and it was invigorating," she said.
She thinks the immediate face-to-face interaction is part of the appeal.
"I've done online dating, but I've never met anyone who has really clicked so for me. I like the personal experience with someone and getting a sense of their energy and presence is really important and I think that's why this is great."
It was Charlie DeBenedittis of Brooklyn's second try at improv dating. He said the class is fast but learning how to just show up and play is teaching him patience.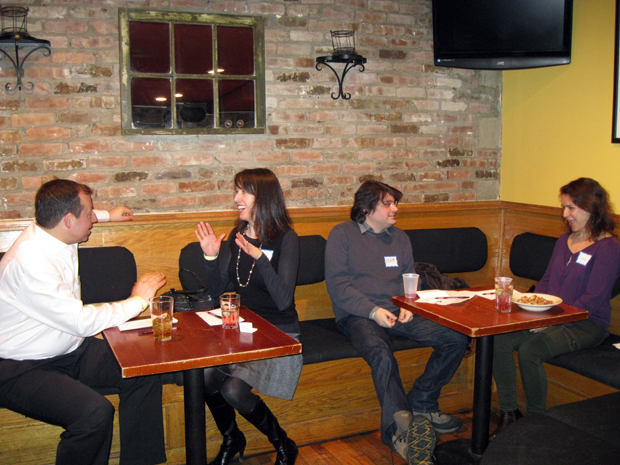 "It seems like in New York we're all in a rush, and I imagine that in other places it's a little slower and people maybe hang in there longer to make choices.
Of those who took the class, 12 found matches -- meaning that they'll receive the contact information and go out on a date with someone who also chose them. Adner said that's a pretty good outcome, even though he said it's still tough for those who weren't selected.
"If you're still single, whatever you've been trying to do hasn't worked so being open to new ideas and activities is going to help to make the change you're looking for."
And what about the potential success of finding love while impersonating space aliens--? Improv Dates' longest relationship so far lasted four months but recently broke up. One part of that couple just headed back to class.