Twitter Responses To Military Announcement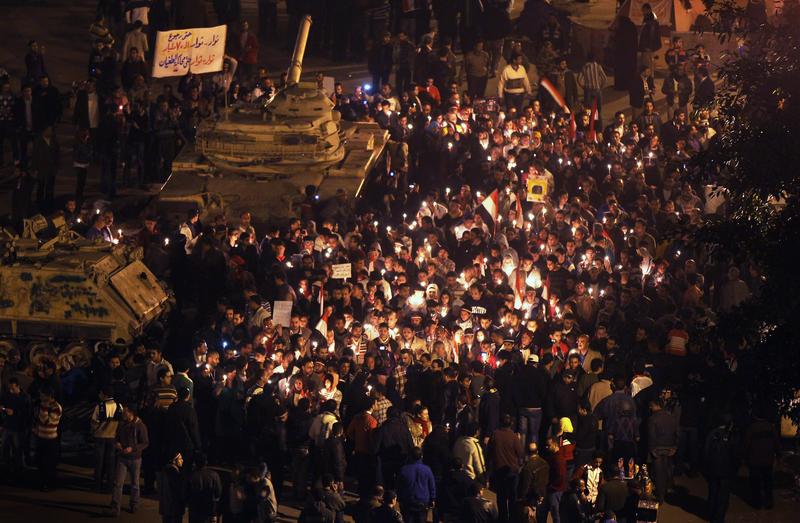 BREAKING—Egyptian military commanders told protesters in Tahrir Square that all their demands would be met today, but they were not. On twitter, the day started off with joyous pronouncements that the revolution had succeeded, followed by remarks of uncertainty, and now we're seeing anger, disappointment and promises to march to the palace in Cairo tomorrow.
The story is developing minute by minute.
Thamer Saeed Salman wrote from Cairo:
The level of anger in #Tahrir is off the charts, the crowd won't wait till tomorrow. This is going to produce a very disturbing scene #Egypt
Sultan Sooud Al Qassemi, columnist for The National, wrote after the speech:
I don't expect less than 10 million protesters on the streets of Egypt tomorrow.
Mathew Cassel, a journalist in Cairo wrote at 1:05 PM EST:
masses chanting: "hey la hey la hey la, hosni mubarak yemshi al-laya" -- hey la ... hosni mubarak leaves tonight! #jan25
Dima Khatib, Al Jazeera's Latin America correspondent wrote just after 1 PM EST:
THE ARAB TSUNAMI ... unstoppable now.. UNSTOPPABLE #jan25 #sidibouzid #arab
and at 12:05 EST:
Will Mubarak still be in Egypt when his last TV address will be aired? Is he still in #egypt now? We don't know #jan25
Mona Eltahawy, Egyptian blogger and columnist wrote at 11:24 EST:
If #Mubarak really gone, huge MABROUK to brave sisters and brothers in #Egypt but revolution was vs regime, not just Mubarak #Jan25
@Egyptocracy wrote at 11:20 EST:
To everyone in this revolution, we do not want this to turn into an army coup d'etat. This is a civil revolution! #Egypt#Jan25 #Tahrir
Wael Ghonim, the Google executive who started the Facebook Page "We are all Khaled Said" that helped ignite the protests wrote at 10:30 EST:
"Mission accomplished. Thanks to all the brave young Egyptians. #Jan25."
But a few minutes later Ghonim retracted some enthusiasm, becoming more cautious:
"Guys, dont do much speculations for now. Just wait and see #Jan25."
The head of the ruling party, Hossam Badrawi, said he expects Mubarak will "address the people tonight to respond to protesters demands."