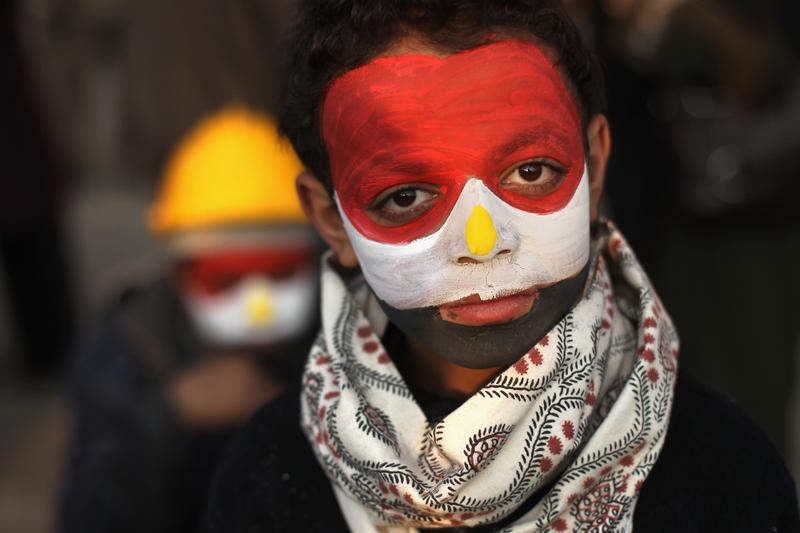 "This belongs to the Egyptian youth," declared Wael Ghonim in an interview with Egypt's most popular talk show. Ghonim, the internet activist who became a symbol of the repression that characterizes the Mubarak regime when he was released from captivity after nearly two weeks, was of course talking about the now sixteen-day-old pro-democracy movement that has shaken Egypt to its foundation.
Looking at the multitude of young faces in the many powerful images of anti-government protesters that have streamed out of Egypt since the uprising began, there is no doubt that the youth of this country are the ones propelling this revolt. Their numbers are vast. The median age of Egypt's population of 80 million is just 24. As Ghonim said, perhaps as a reminder to non-Egyptians who are dubious of their revolution, it was not the Muslim Brotherhood who took to the streets demanding a better life, but the "'Facebook youth' who went out in the tens of thousands on January 25."
Egypt's youth is fundamentally disconnected from its leaders and elites, and they aren't interested in re-litigating the past. "The reality of the moment is that most of the people expressing their grievances have absolutely little interest in going back and revisiting the revolutions, the coups, the anti-imperialistic rhetoric of the past, and are more focused on what has happened during their lifetime," said Tarik Yousef, senior fellow at the Brookings Institution and author of "Generation in Waiting: The Unfulfilled Promise of Young People in the Middle East," during an interview for the Wave of Change podcast with Takeaway host John Hockenberry.
Hosni Mubarak, Egypt's autocratic president, has held power for nearly 30 years. Many young people in Egypt have no memory of a time when he did not occupy the Heliopolis Palace, Egypt's presidential residence. Egypt's youth is "a generation that has seen very little by way of its own aspirations, expectations, and dreams of a better life," according to Yousef.
A government indifferent toward the plight of the youth isn't just true of Egypt. It can be found in many other countries in the region as well, Yousef said. Out of the young generation's dejection, a disconnect has emerged from the people in power who have ignored them. Yousef said that disconnect "is partly at the core of the anger that was seen expressed, the grievances that are pouring into the streets, and they are calling in some cases not just for a change in the person who rules, but wholesale change in the regimes that underlie the societies that govern this very generation."
"Theirs is a generation of young men and women who have been betrayed by the systems of governance that exist at the moment throughout the region in most countries," Yousef said. "Betrayed by not having economic opportunities, by having the wrong kind of education, by not securing a livelihood, not being able to settle down and form families."
Going forward, Yousef said, Egypt's hardest test will be fostering a new civil society among the youth, the kind that has been suppressed since long before they were born. "How do you begin to rebuild civil society when you haven't had any genuine civil societies for 30, 40, 50 years? How do you rebuild the institutions when there is very little trust?" Yousef asked.
While it sounds like a daunting task, Yousef remains optimistic about Egypt's chances of thriving as a democracy. Egypt and its citizen have numerous, unique advantages that could contribute to their success that many of their regional neighbors lack, he said, like a "homogeneous population, a sense of 'Egyptness,' and a sense of nationhood that has evolved over time."
Though such advantages are likely to buffer against the sort of sectarian and religious clashes that have plagued other nations in the Middle East, the world must understand that Egypt will inevitably stumble as it learns to walk as a democracy. "People of this region at large have the right to make mistakes by voting democratically," said Yousef. "That is one of the outcomes we're going to have to accept if we're going to give them a chance to democratize, to build up their civil societies, to become more politically sophisticated."
"The endgame is going to be a better Egypt, a stronger Egypt, a more prosperous Egypt, and a more responsible and active Egypt within the region and within the international community," Yousef insists.