For Fashion Week, a Primer on the Secretive Group That Predicts Color Trends
Designers are poised to showcase their latest trend-setting styles on the runway starting Thursday at Mercedes-Benz Fashion Week. But who comes up with the color trends that are evident on the catwalk? It turns out a single New Jersey company has a hand in the color of roughly half of all garments sold in the U.S., according to NPD, a market research group. 
The big names in fashion are all associated with a strong point of view and a distinctive style: Ralph Lauren, Tommy Hilfiger, Donna Karan. But people in the business say trends are rarely decided by individuals. Instead, they are decided by a committee.
One of the most influential such committees is a group of 10 people whose names are a secret. They meet in Europe twice a year -- May and November -- at the invitation of Pantone, a company based in Carlstadt, New Jersey, whose only business is color.
Publisher and designer David Shah, who runs the meeting, said he seeks opinions from a broad swath of industries.
"I have people who work in the car business, who work with big store groups," Shah said. "I can't tell you the names. They're involved with everything from furniture through to clothing and knitwear."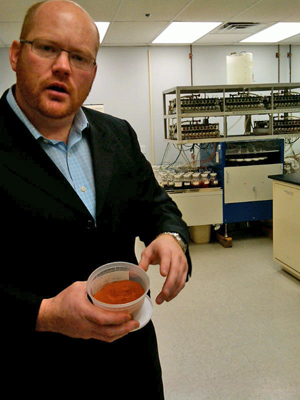 The group meets in a room with white walls so everyone can clearly see the objects their colleagues have brought as inspiration.
"One of our committee [members] came last winter and he came with a basket full on onions, and chopped up all the onions to show how the beauty of the color of an onion is," Shah said.
(PHOTO RIGHT Brooks Tippett, Pantone vice president for operations, shows a dye mixture that will turn fabric bright yellow.)
When show-and-tell is over, it's on to the hard part: distilling 10 people's inspirations into a single forecast. Two years ago, this group zeroed in on Pantone's 2011 color of the year: Honeysuckle – a sort of coral pink.
Pantone has plenty of competitors in the color forecasting field. And it might be that they're wrong about honeysuckle.
But the company also has a core business: creating color standards. There are 1,925 color shades in all, each with a unique identifying number. Honeysuckle? It's 18-2120.
In the dyeing room at Pantone's New Jersey headquarters during a recent visit, 12 stainless steel machines hummed and belched steam. One of them was rinsing a canary-yellow piece of cloth. In the next few hours, it was dried, cut and sent to clients all around the world.
Laurie Pressman, vice president for fashion, home and interiors, said the goal is to provide a vocabulary - through swatches and color books and computer files – to enable developed-world companies to talk to their overseas suppliers.
"What you have now is so much production shifted to Asia. ... It's very key to have a standard way to communicate from the design side all the way down through the supply chain," Pressman said.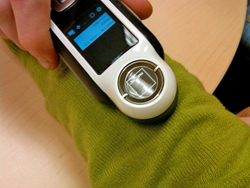 The system is also used in Latin America. Nacha Rejas' company, ASA, arranges contracts between labels and their suppliers in Peru. She said since adopting the Pantone system about a decade ago, productivity and accuracy have improved.
"When a customer phones us up and tells us, 'These are the colors we are going to use for a specific style, and the codes of the Pantone are blah blah blah blah,' I can work very quick and save a lot of time," Rejas said.
Rejas said she's now able to compete with Chinese exporters, turning around some orders in as little as 30 days. And her clients, in turn, can respond to trends in fashion even faster.
But here's a question that cuts to the heart of what fashion is: why does it really matter?
"Sometimes just the slightest off shade can make the difference between making the sale and not making the sale," said Marshal Cohen, chief industry analyst with the NPD Group, a market research group. He added that consumers may respond to small differences in color, even if they never take notice of it.
"If somebody goes out and says, 'Pink is right,' but you go out and create bubblegum pink rather than pastel pink, that can be a difference in hitting a home run with a consumer or ending up with markdowns that you can't give away," Cohen said.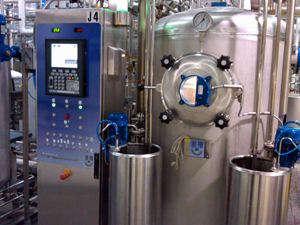 John Crocco, creative director for Perry Ellis, called color forecasts "a self-fulfilling prophecy", but he said his company is already producing lots of honeysuckle-pink men's oxford shirts this year, in the expectation they will sell.
(PHOTO RIGHT Pantone dyeing machines.)
---
Pantone Facts
Number of Employees:
Over 100
Revenues: 
2010- (through third quarter) $28.8 million
2009- $32.5 million
2008- $42.1 million
History:
1963: Lawrence Herbert, a color matcher at Pantone, a printing company in New York City, invents a system for standardizing and matching colors. Previously, different printers might mix a different shade of ink for "sky blue" or "barn red." There was no precise way to accurately communicate color and no color consistency from printer to printer.
1980s: Pantone develops a separate palette for textiles, for use in the fashion and home furnishings industries.
2007: Pantone is acquired by X-Rite, Incorporated (NASDAQ:XRIT), a manufacturer of color management systems, for $174.4 million.
Building the brand:
2005 – Pantone partners with Fishs Eddy for a collection of plates, bowls, and teacups
2008 – Pantone launches a mug collection in partnership with W2
2009 – Pantone launches an app that recognizes colors captured by the iPhone's camera
2010 – The first Pantone hotel opens in Brussels
---
Test your Pantone skills below




Listen to WNYC's Richard Hake speak with Ilya Marritz on The Takeaway.