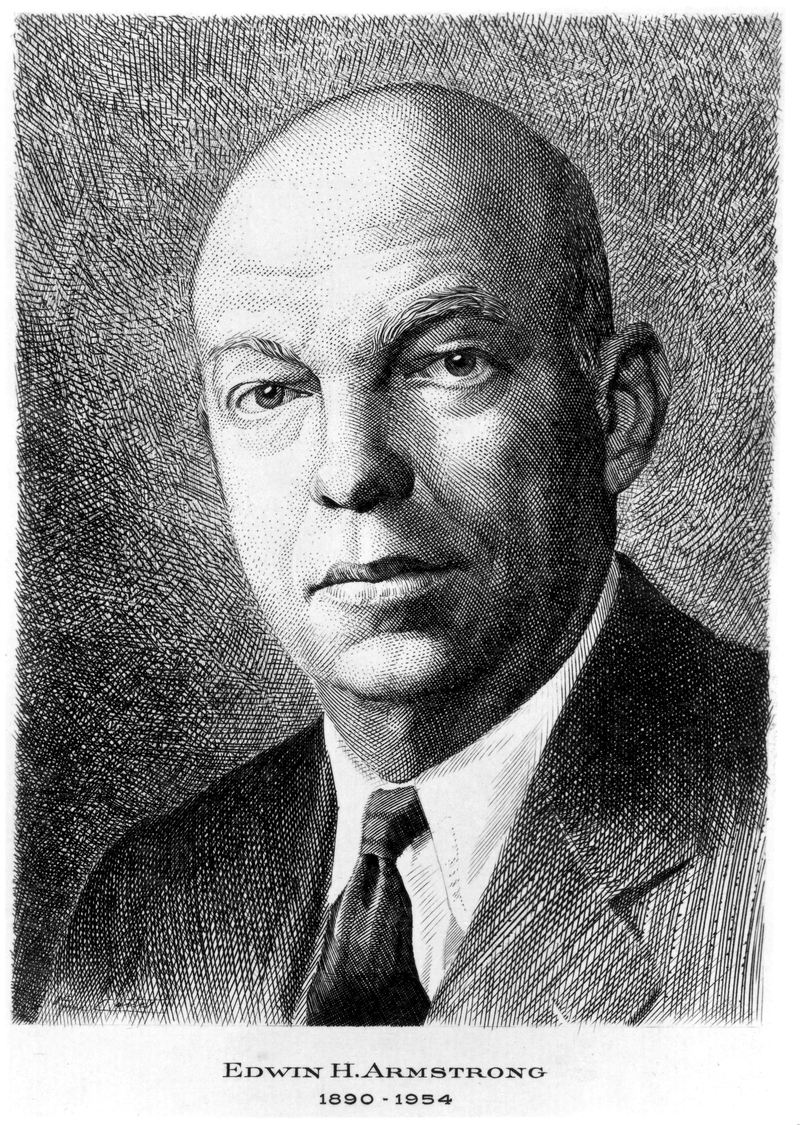 In a rare appearance behind the microphone, Major Edwin H. Armstrong, the inventor of frequency modulation (FM) broadcasting, addressed the WNYC audience 63 years ago today. The occasion was the launch of WNYC's new FM transmitter.
Armstrong said, "On an occasion such as this it's really very hard to express how an inventor feels.  I can only say as a citizen of New York and as a native born New Yorker how proud I am to be here on an occasion like this. And to tell you all how much I know what you have been through here, to get the engineering and to get the program technique and to put into operation what you have here today, a top flight radio station from a top flight manufacturer…And with the product you now have and the technique the staff of WNYC has developed, I want to tell you that next summer in the middle of the static and lightning storms, with Goldman's Band on the air, the citizens of this city have a treat in store for them. And I can tell you I will be one of the first to listen to it."
Writing in the September-October 1966 WNYC Masterwork Bulletin, Director Seymour N. Siegel described the event and its result. "Deputy Mayor John Bennett in the presence of Major Edwin Armstrong , the inventor of FM broadcasting, Frederick Lack, the Vice President of the Western Electric Company, and other guests, pushed the red button which activated a new 10,000 watt transmitter.  In conjunction with a six bay cloverleaf antenna, 597 feet above the ground on top of the Municipal Building, WNYC-FM launched an 18 kilowatt signal across the City.  For the first time, your municipal station enjoyed as much power as any other FM station in the metropolitan area.  Known as the 'high fidelity voice of New York City,' WNYC FM began 24-hour-a-day operations in 1957.  An upsurge in FM listening brought an overwhelming response to the many live concerts and other musical programs presented by the Municipal Broadcasting System."
Audio courtesy NYC Municipal Archives WNYC Collection.
______________________________________________________________________________________
Broadcast on WNYC Today in:
1927: Ceremonies dedicating the new county courthouse at 60 Centre Street and Foley Square. Speakers included the man who would become Chief Justice of the U.S. Supreme Court, Charles Evans Hughes, and Senator-Elect Robert F. Wagner.
1939: Meeting of Lincoln's Birthday Committee for Democracy and Intellectual Freedom. "Discussion: What democracy and freedom of thought and research actually mean to American's men of science." Speakers: neurologist Walter B. Cannon; chemist Harold C.Urey; sociologist Robert S. Lynd; anthropologist Franz Boas; Senator Louis B. Schwellenbach. 
1954: British-born jazz guitarist Sidney Gross discusses the guitar as a medium for jazz interpretations on Adventures in Jazz.  Note: This program began in October 1953 and apears to have run through 1956. Gross, a former R.A.F. bandleader, taught a class by the same name at Columbia University in 1954. Billboard also described Gross as the "repertoire chief" of Urania Records in 1956. 
1985: New Old and Unexpected features two of three piano finalists of the International American Music Competition held in 1981 and 1982. The excerpts are from the broadcast that was carried live during the competition in 1981 with hosts Tim Page and Paul Jacobs. Stephen Drury performs  Philip Glass's Modern Love Waltz (1977) and the Prokofiev Sonata #7, Opus 83 in B-flat.  Lisa Moore performs Albright's Five Chromatic Dances.
1995: Broadcast of The Poet's Voice - Pablo Neruda: "The Chilean poet was a controversial figure, a guru of sensual verse - tactile, political, personal, and darkly surreal.  Neruda helps spur a revolution in Spanish literature."
2005: In the old days, there was one thing every entertainer HAD to know how to do. As Sara Fishko tells us, percussive dancing, or tap, has a special place in showbiz history. "Here is the next Fishko Files." Listen!