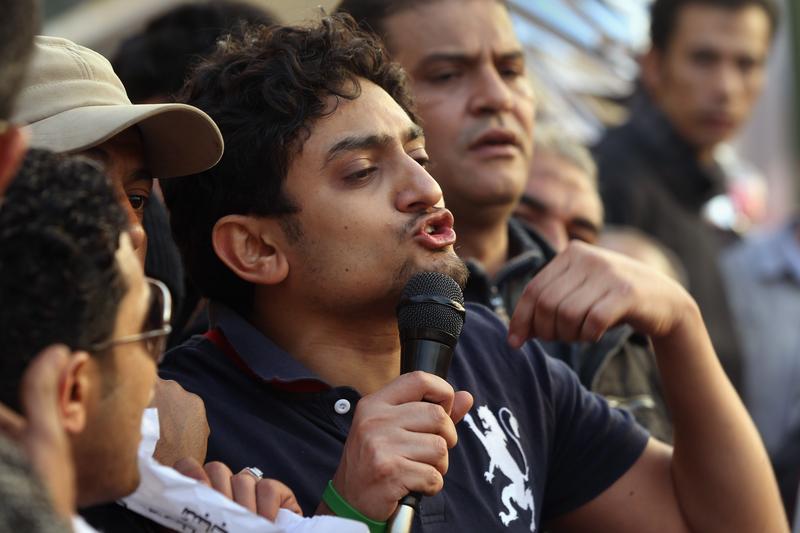 He thinks of himself as just another body among the faceless masses gathered in Cairo's Tahrir Square, demanding a new era in his nation's politics, and a better future for all the people of Egypt. Yet, it was a heartbreaking interview with Wael Ghonim, broadcast on one of Egypt's satellite channels last night, that drove thousands of Egyptians to march on their Parliament for the first time, refueling Egypt's two-week-old pro-democracy movement.
Ghonim, a marketing executive at Google, has become the face of the internet-based youth movement calling for the ouster of Egypt's autocratic leader, Hosni Mubarak. Using social networking tools like YouTube, Twitter, and Facebook, Ghonim helped inspire the protests that have brought a government thought to be stable to its knees, and became a symbol of that government's repression when he disappeared for twelve days.
His release from captivity yesterday, followed by an emotional interview with Egypt's DreamTV, further emboldened the anti-Mubarak protesters on the fifteenth day of their revolt. But Ghonim accepts none of the credit. "The heroes were the ones on the street," a tearful Ghonim told the DreamTV interviewer.
"I find him to be a fascinating new example of leadership in the way in the interview he protests being made into a symbol, or being anointed the leader," Micah Sifry, co-founder of Personal Democracy Forum and editor of techPresident.com, told The Takeaway's John Hockenberry on the Wave of Change podcast. Sifry attributed Ghonim's humility to his background in the world of the internet. "That is so in tune with the net's way of doing things," he said.
But Sifry worries that through the reductive lens of broadcast media, Ghonim may find himself anointed as leader of Egypt's pro-democracy movement. Traditional broadcast media, both in the U.S. and in the Arab world, "will do to him what they do to these sort of spontaneous new leaders, which is push them onto a pedestal and disconnect them in some way from their base," Sifry said.
Nonetheless, Sifry said, Ghonim, as well as the anonymous others who have propelled the pro-democracy movement online, are emblematic of a new paradigm for leadership. "Leadership in the old sense of the charismatic man on the white horse who we're all supposed to adore is now being replaced by people who are really great network-weavers," according to Sifry.
"People using the internet have become a wild card on different national and global stages, now," Sifry said. "I think the critical question as we watch events unfold over the next few days is whether they can take this explosion of energy and excitement and sense of freedom and organize it so it really does cover the entire country and makes it impossible for the status quo to continue — and no one really knows the answer yet."